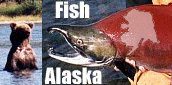 Alaska Guided Fishing Expeditions
(315) 298-2500
| | |
| --- | --- |
| During the mid 90's I spent several summers working for an outfitter in Bristol bay, Alaska. Like everyone else, I instantly fell in love with both the fishing and the area. After a few years a couple of things happened. My son was born, and it didn't take to long to figure out that I didn't want to spend 3 1/2 months away in Alaska. And a great opportunity came up to buy my own operation on Lake Ontario. However I | |
also knew I wanted to keep going back to Alaska if possible.


My last full season there I had seen advertisements for a new Inn being started by long time residents of the area. I decided to see if I could purchase a boat & work with the new Inn to run my own service for a few weeks a year.
Well the Inn was nicer than I could have hoped. It is in a great location, yet still maintains a rustic charm. It has all the emenities & even a few luxuries!
| | |
| --- | --- |
| It's hard to beat when you can go 100 yards out the door, catch fresh run Salmon, stare at the beauty of the Alaskan bush and a little while later be enjoying cable tv, or lounging in the hot tub!!. | |
Add to that a few great meals and I new I had found a home for my Alaskan excursions.


The main thing I thought I could offer was the one on one, or one on two experience. Although most lodges & outfitters have one guide to two clients, their schedules are still tied to the overall group of 6 to 20 or more to coordinate meals or to make sure one group doesn't feel they got less than another.
With two guys and myself, we're on our own! If were ready to quit for dinner & a fresh run of fish come in with the tide. We can stay and keep fishing until dark! Oh wait a minute I forgot, it doesn't get dark! Ok we can stay for a couple more hours. But you get the idea, we're flexible. If there are several good holes to try we'll do it! Were not stuck fishing 1 or 2 while 4 other groups from our camp our fishing the others.
| | |
| --- | --- |
| The time frame for these trips is approximately the 26th of June till the 15th of July. During that time the available species are the following: King salmon, Sockeye salmon, Chum salmon, Pink salmon(on even years) Rainbow trout, Char, Dolly Varden, Grayling & Pike. The Sockeye & Char are the most numerous, followed by the rest. | |
| | |
| --- | --- |
| | When you think you are ready for fantastic fishing, unbelievable scenery, and great times give us a call for details on planning your trip!! |
---
| | |
| --- | --- |
| RATES | |
7 days, 6 nights-- $3200.00 per person ( minimum 2 people)
5 days, 4 nights-- $2450.00 per person ( minimum 2 people)
Additional costs:
Figure between $800 to $1000.00 dollars round trip airfare from the east coast to Dillingham AK all flights go through Anchorage.
Night in Anchorage- $200 (hotel & meal)
Fishing License- $100.00
Tips: Because I am an owner/guide, tips are appreciated but not mandatory. They are left to your discretion.
(315) 298-2500
| | |
| --- | --- |
| | |
| Lou Vallone from Rhode Island with a fresh run Sockeye salmon. | Dick Jenison from Rhode Island & Florida(lucky stiff!)with a King salmon in full Alaskan spawning colors! |
Click Here to see the Alaska Photo Gallery

[email protected]
(315) 298-2500