2001 Lake Ontario Pro-Am Team Tournament Champions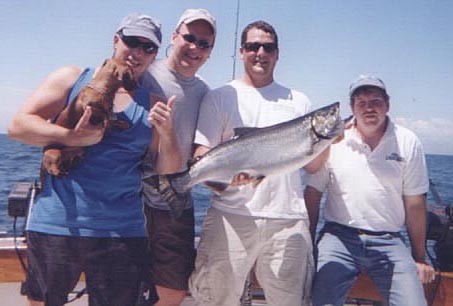 (left to right: Andy Bliss, Scott Lewis, Tom Allen, and Capt. Tom Burke)
Click here to see more pictures from the tournament
The Story:
The Lake Ontario Pro-am derby was scheduled on the 13 & 14 of July with a blow off day for the 15th. We kept the 11 & 12th open for practice. Everyone fished the 11th for a couple of hours then came in when the lake got nasty. We then had strong west & north west winds continue to blow making for no practice on the 12th. Even the first day of the tournament was cancelled on the 13th due to bad conditions.
We were finally able to fish for 4 hours on the 14th which constitutes a legal tournament day. Team Cold Steel caught 2 mature salmon in the 20 pound class, 2 lake trout over the slot limit (30 1/2 inch) a half inch extra was added for tournament purposes. These fish were in the 12 to 14 pound class and two immature Salmon 6 to 10 pounds. We had two other lakers that were about 30 1/4 inches, even though they were as fat as our 2 keepers they had to be thrown back. We also had a 17 1/2 inch jack salmon (1 year old King) that was a 1/2 inch under the minimum of 18 inches, not to mention the 6 lb salmon which threw the hook inches from the net!! Having to throw these 3 fish back cost us valuable poiints, but we still finished the 1st day a respectable 3rd place with a 139 points (2 points from 2nd place and 27 points from 1st).
On the second day (July 15th), the weather was gorgeous and the pressure was on. My team came through with flying colors!! We boated 12 Salmon & Trout! We had a nice 8 lb Brown, a 12 lb lake trout, & a gorgeous 13 pound Steelhead along with 9 king salmon from 3 to 21 pounds. The last one was the 21 lb king landed 2 minutes before the end of legal fishing!! We did about as good as we could do. Now we would have to wait & see how the competition did.
As we all lined up to weigh in it started to sound like we had boated the most fish. However the 2nd place team, just 2 points ahead of us, had ten fish & some were bigger then ours! The scoring is 10 points per fish & 1 point per pound, it was going to be close!!
As the weigh in progressed it was looking like it was coming down to us and the 2nd place team(team Buffa) The first place team from day 1 came in with only 5 fish, knocking them out of contention. we went first and ended up with 137.80 pounds, for 12 fish, for a total of 257.80 points. We sat down & waited for Team Buffa to weigh in! It was hard to watch as some of there big Kings were weighed. With each fish they were gaining on us. The last fish was weighed for a total of 141.80 They had us by 4 pounds or points, but we had 2 more fish for 20 extra points meaning we had beaten them by16 points. Take away the 2 points they led us by the 1st day and we had captured the title by 14 points!!!!!
Everyone likes to win & we were very excited. We won over 7 thousand dollars in cash & prizes along with the prestige of beating 31 other very talented pro fishing teams. There was also an amateur division with 24 teams.
Our second day total was the highest among all 56 teams during the 2 day tournament!!! When it was over, everyone was commenting on the great 2nd day catches, The next 2 months look like they will have tremendous fishing. Especially with big King salmon!! A 32 pounder was the biggest of the tourney, but there were more kings then you almost ever see at this time of year. We couldn't celebrate too hard that night, we had to go out the next morning with a family from southern NY. On a short trip we had a 9 lb laker and a 3, 14,16 & 24 lb salmon, making a couple of teenage boys very happy!! We will be taking a few deserved days off & then fishing on the 21, 22 & 23 of July.
Click here to see more pictures from the tournament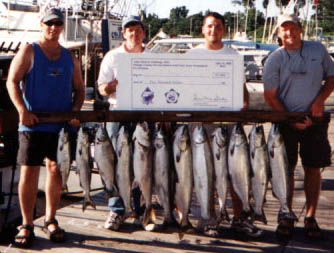 info@coldsteelsportfishing.com
(315) 298-2500
for booking or other info