Archived Fishing Reports
Coldsteel Sportfishing Oswego, NY Fishing Report 3/16/16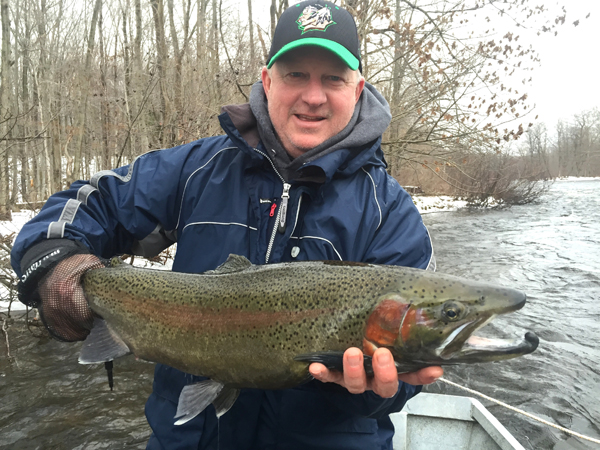 Spring is breaking & our snow melt is all but gone! The Salmon river is running 1700 cfs plus runoff which is on the high side. Unless we receive significant rain, flows should start to come down a bit over the next week.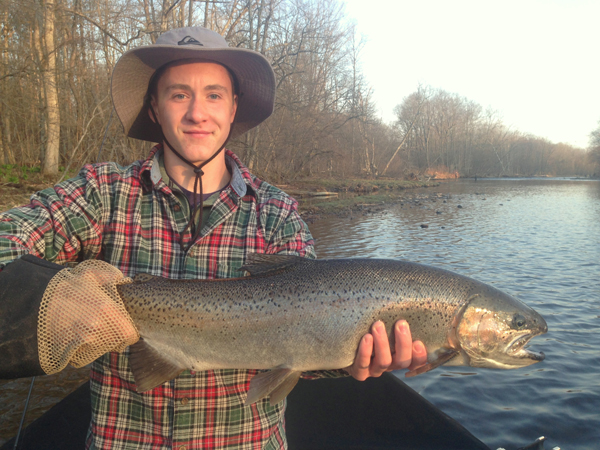 Steelhead are starting to spawn & the hatchery is preparing to take eggs. Over the next 4-6 weeks with warming water temps & dropback steelies, river action should be good!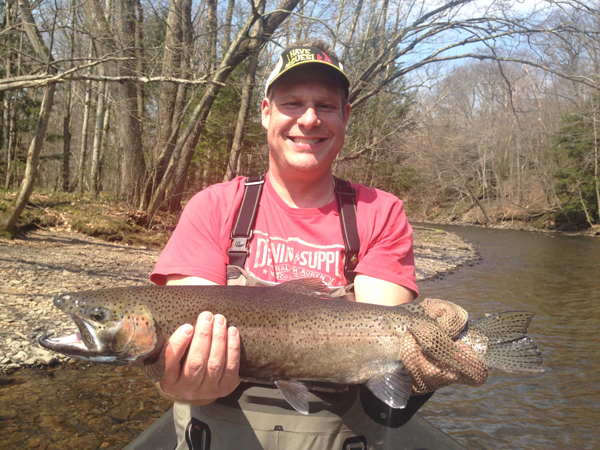 Due to disappearing snow & ice, rainfall & warmer temps. Spring Brown trout fishing has already been going on for a few weeks! Action should only improve as their metabolism increases and warming continues.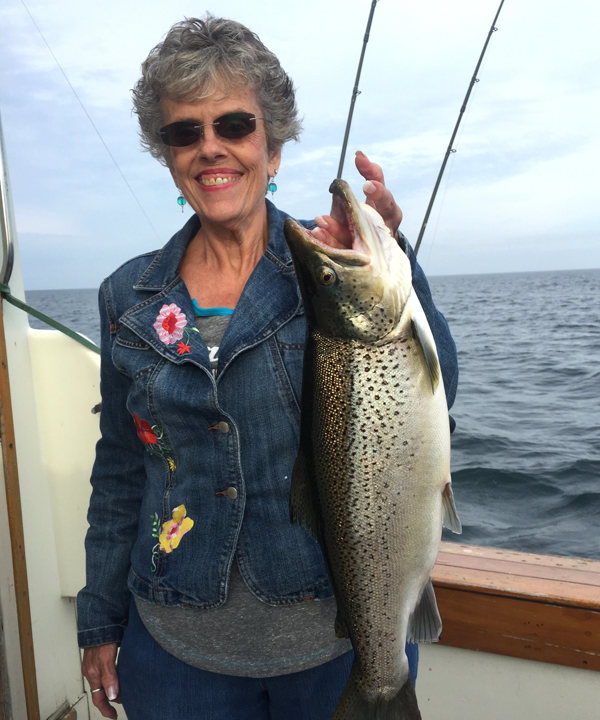 We will be running driftboat trips from Altmar to Pulaski on the Salmon river. And lake trips from the Lil Salmon river in Mexico to the Oswego harbor area from now till May.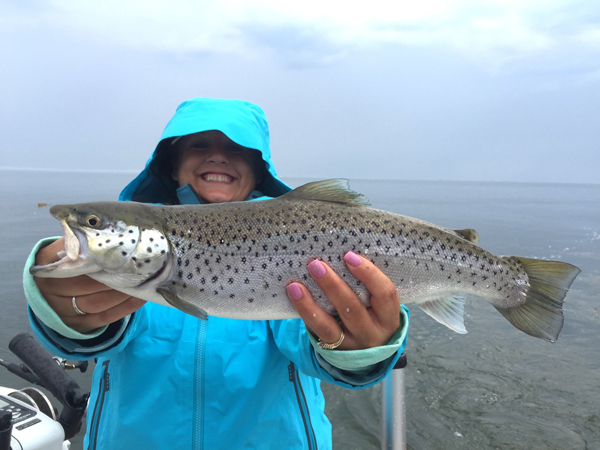 A few prime dates are still available. Call today for details or booking info.
Tight Lines,
Capt. Tom
Coldsteel Sportfishing Oswego, NY Fishing Report 5/18/15
Sorry for being nonexistent with reports the last few months. We have been busy!! The spring season on Lake Ontario out of Oswego has been off to a great start.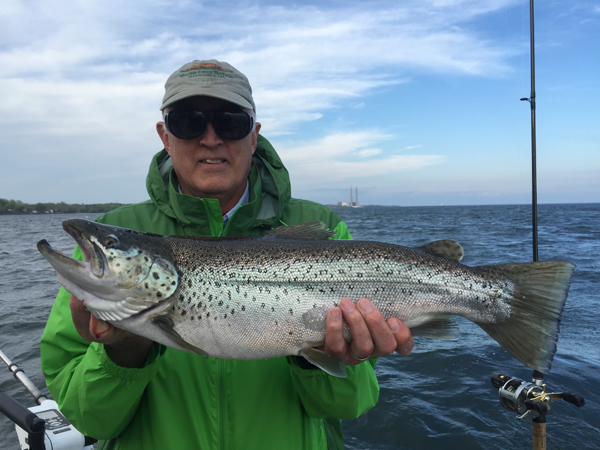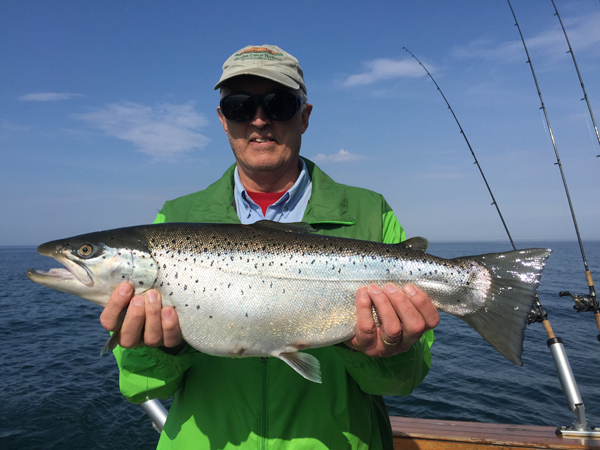 We have been trolling from the shoreline out to 140 feet of water for a mix of Brown trout & Lake trout with a few Steelhead & King salmon mixed in.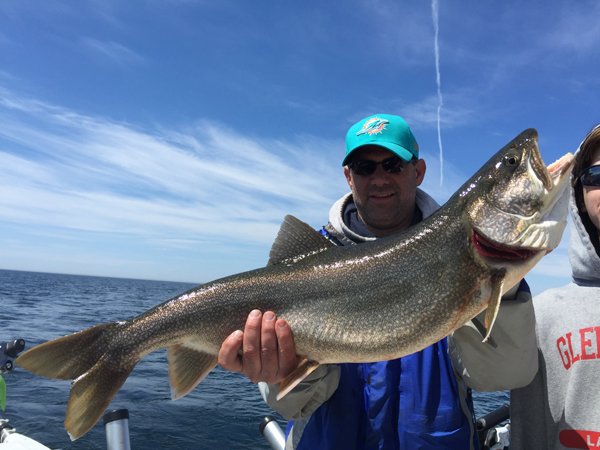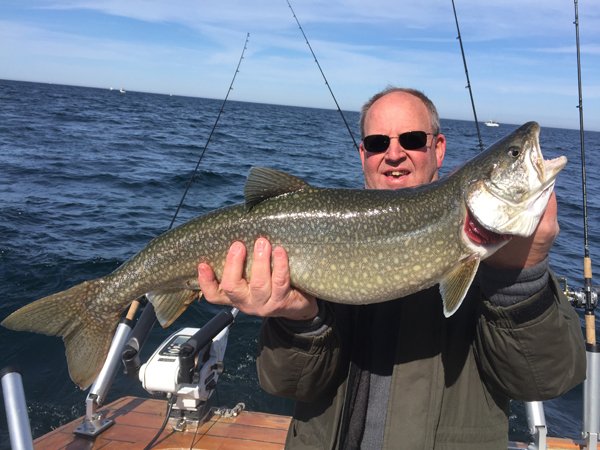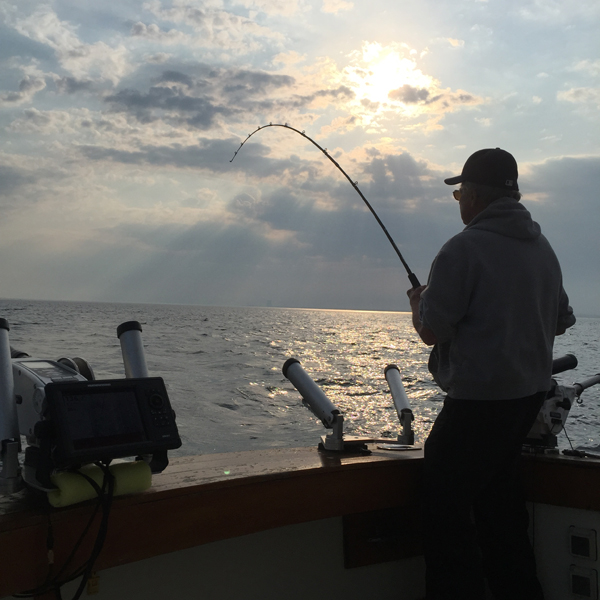 A combination of stickbaits & Michigan Stinger spoons gave been producing best for the most of the species. With cowbells & spin & glows catching the lakers. Some good dates still available this spring & summer so give us a call!
Tom
Fishing Report 2/9/15
We are currently in a very snowy & cold snap, but we have had a good steelhead season.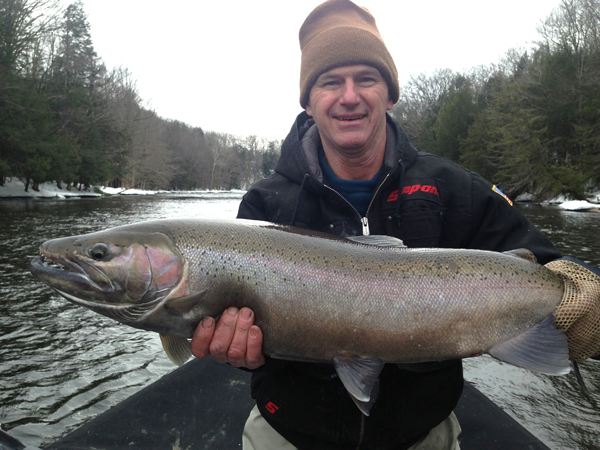 As we turn warmer over the next few weeks we should have increased water flow and very good steelhead fishing.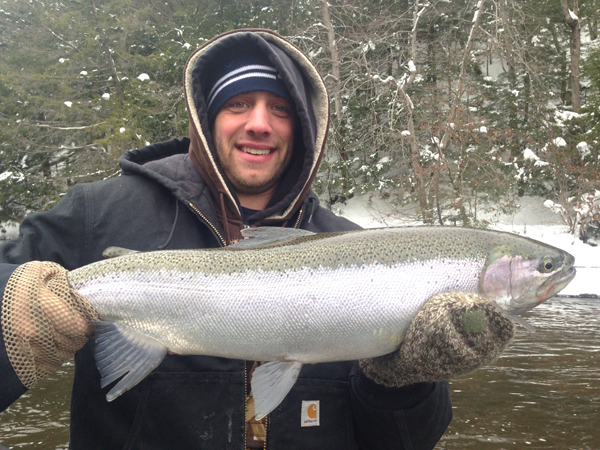 Our late winter through spring steelhead fishing is from now until May 5th.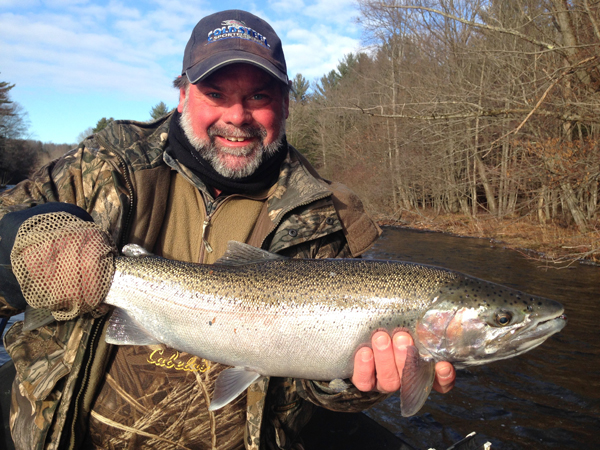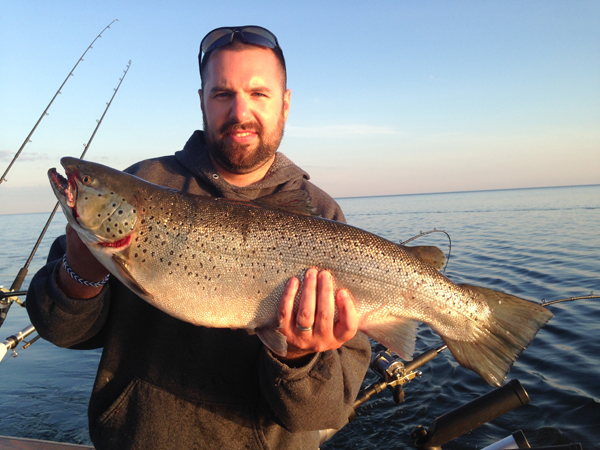 Our spring brown trout fishing on lake Ontario should start around mid April through June. July till early August is our Salmon & trophy Brown trout combo time.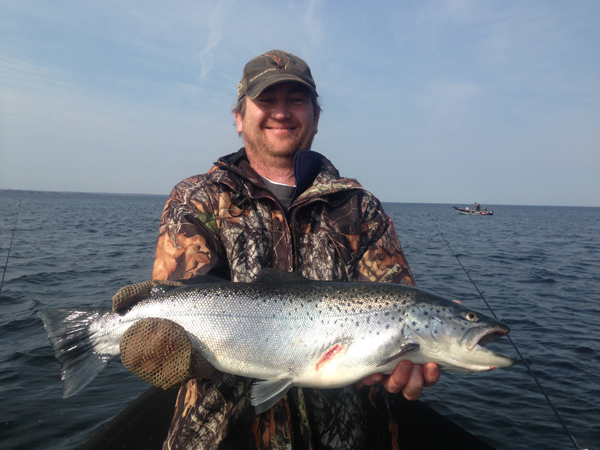 And mid-August to mid-September is our big salmon time with a mix of Coho & King salmon.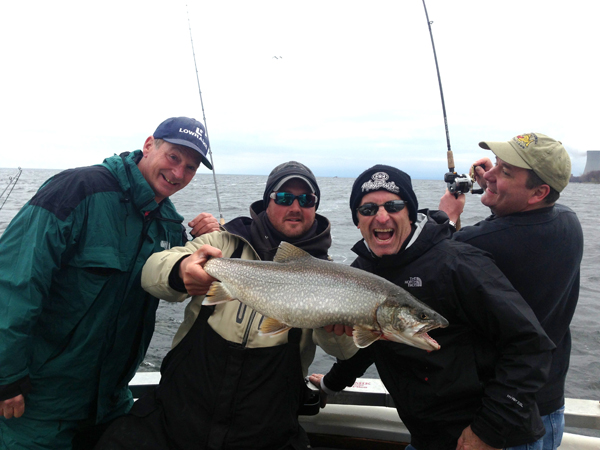 This is a great time of year to avoid the crowds on the Salmon River. Or get your summer date booked on lake Ontario, especially if your looking for a weekend. Call Tom at the numbers listed below for further info or to book your date!!
Fishing Report 8/1/14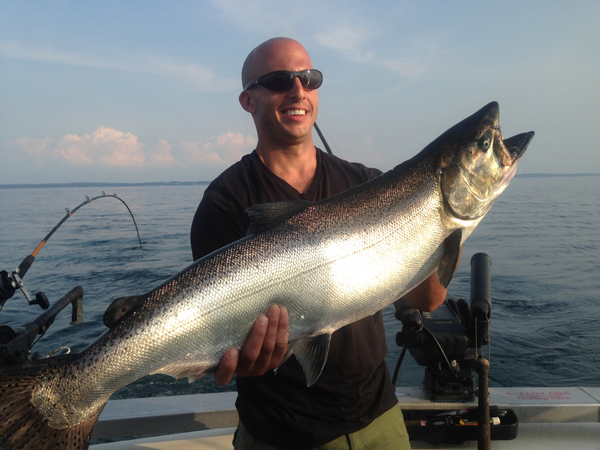 Summer fishing is finally here! With the thermocline set up we now have Kings, Browns, Laker's & Steelhead mixed together.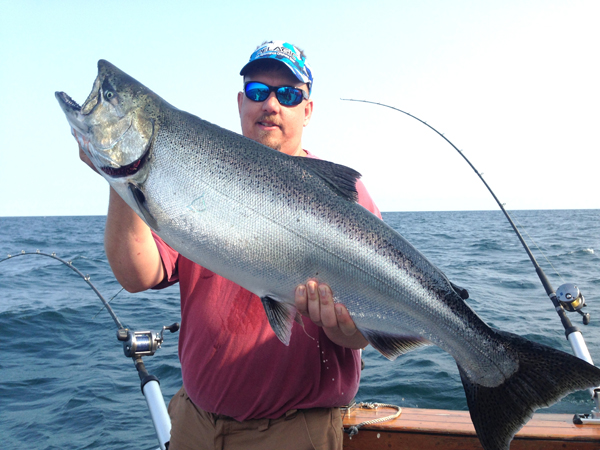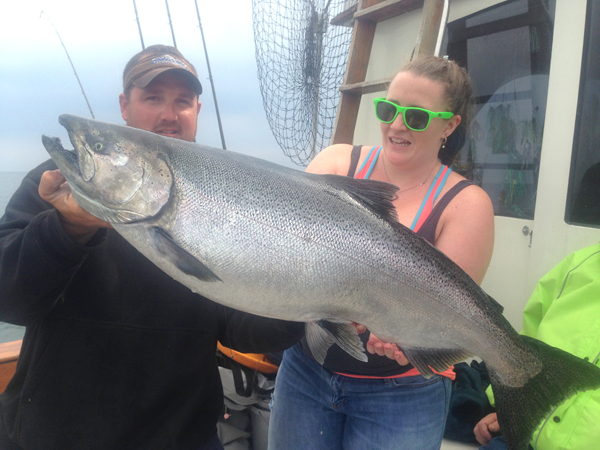 We will mainly target Kings & Browns and catch the others along the way.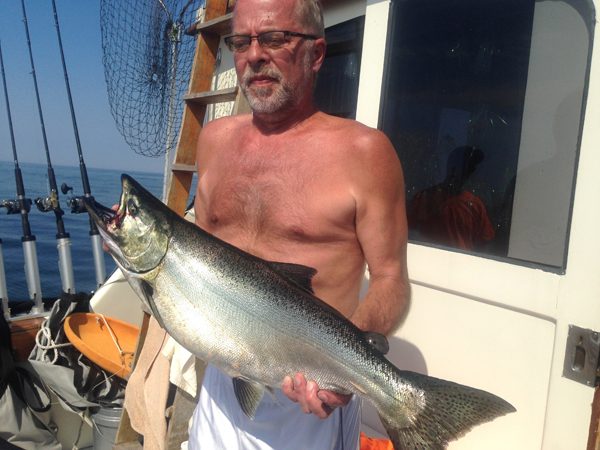 In another couple of weeks more Kings & Coho salmon will show up!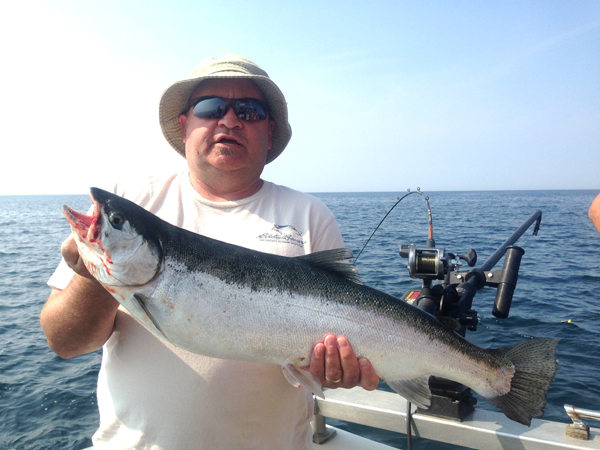 We have scattered openings throughout the remainder of the season and hope we can accommodate all our regulars who call last minute. For booking or other info call Tom @ 315-391-8079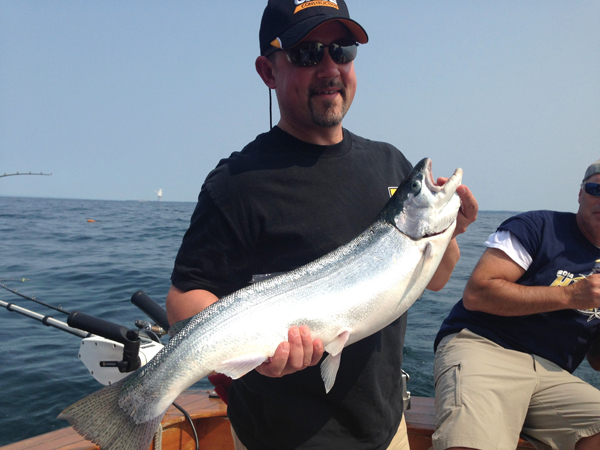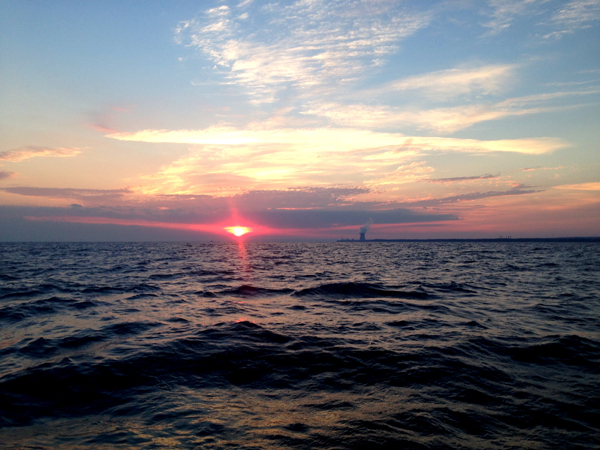 Sunrise (above) and sunset (below) on beautiful Lake Ontario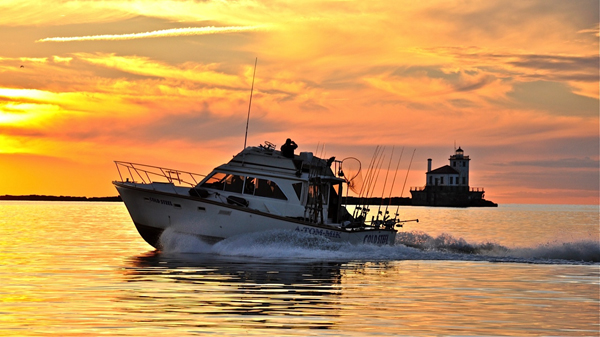 Fishing Report 2/26/14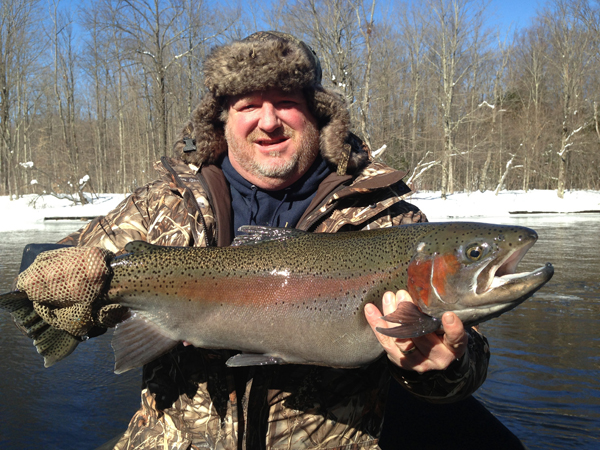 Despite a cold snowy winter, the Salmon river has fished well for the most part. It has been a strong run of Steelhead since October and we have good numbers of fish in the river.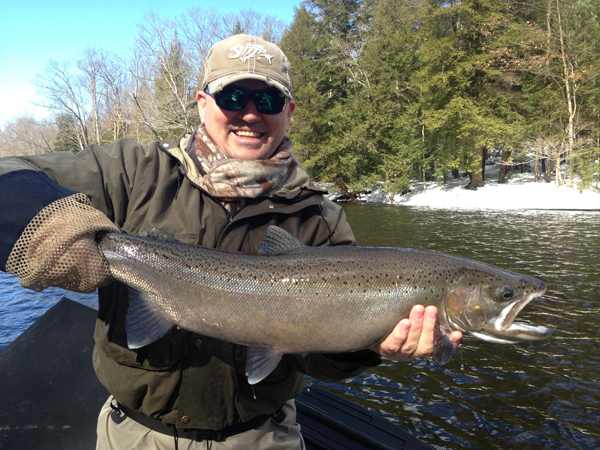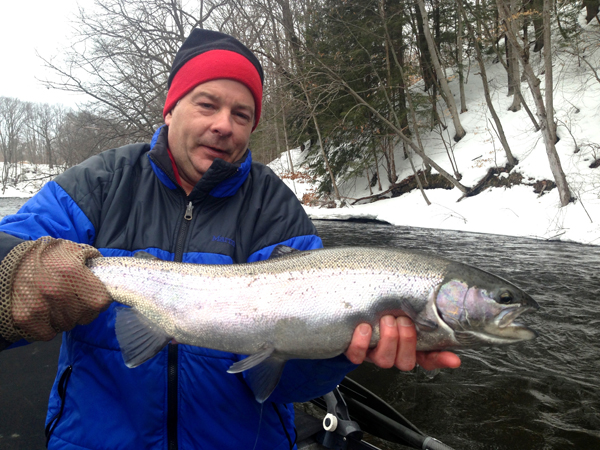 Eggs, beads, flies & plugs have all worked. Some days anglers have been confined to the upper river due to slush.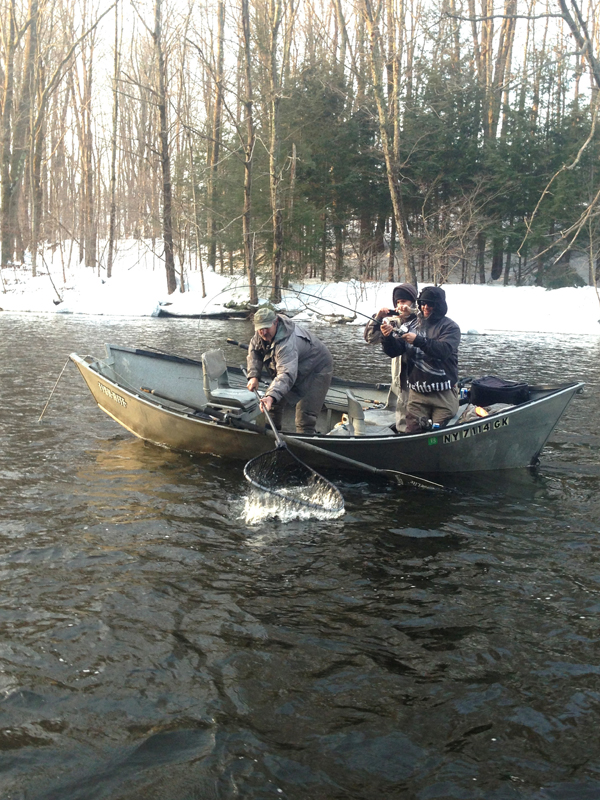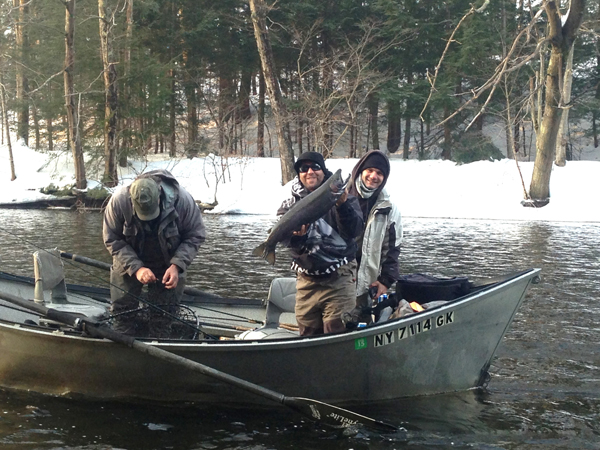 But during a warm up last week we saw fish throughout the river. Although we are in another deep freeze this week, the March/April spring season is just around the corner!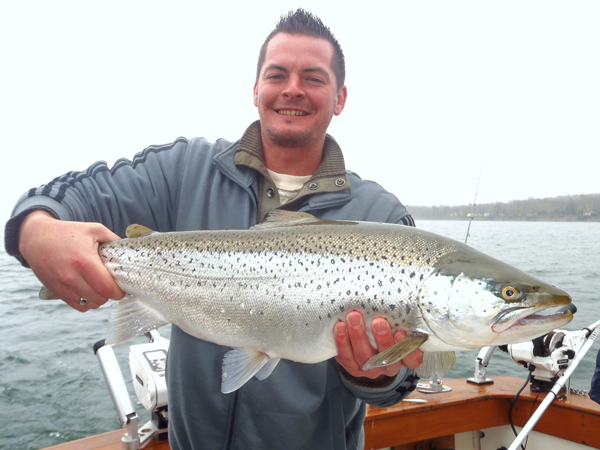 Call today to book your driftboat trip or spring lake Brown trout trip!!
Fishing Report 6/18/13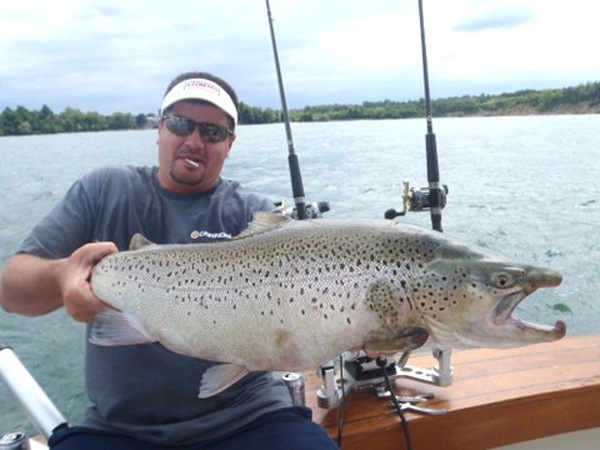 So far the fishing season on lake Ontario can be described as Big fish & mixed up! Constant wind from many directions have kept our fish on the move & scattered. However the mixed bag we have been catching & early tournaments and derbies on the lake along with the bait we have been seeing has shown that there has been and will be BIG fish this year.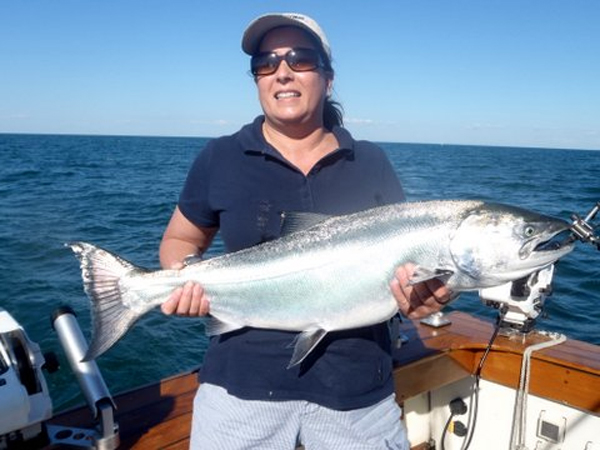 The spring LOC derby top 20 boards were amazing for early season. The top 20 salmon board ranged from 24 to 29 pounds!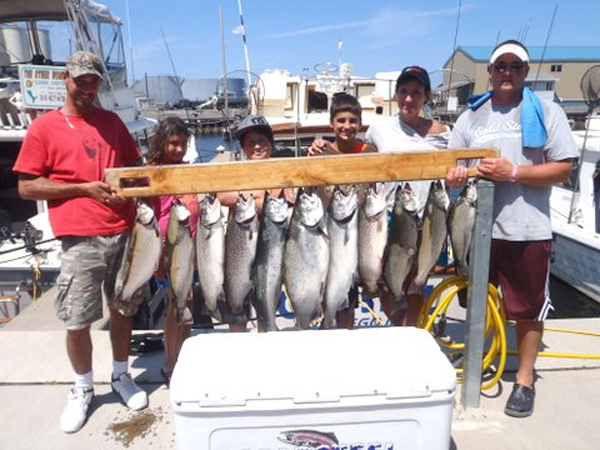 The top 20 Lake trout board ranged from 21 to 27 pounds, wow!! The Brown trout ranged from 12 to 16 pounds! Will we see 20 pound browns this summer?? Although the LOC derby is lakewide, including the ports of Henderson, Oswego, Fair Haven, Sodus bay, Rochester, Point Breeze, Olcott & Wilson. It is a great early indicator of what's going on in the big lake!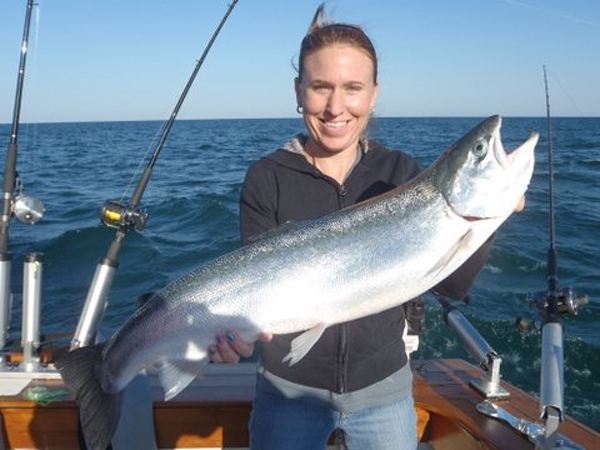 One good thing about weather is it seems to average out. Hopefully this means we are in for a fairly stable summer with light winds & Hot fishing!! Here is our schedule for the rest of the lake Ontario season.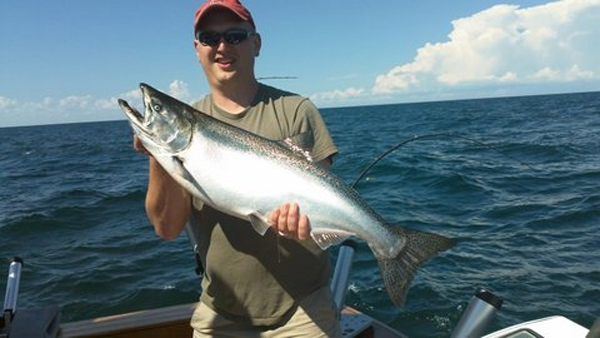 Summer Kings!

Late June through early August- A mixed bag of all trout and salmon species, concentrating on trophy Brown trout from 8 to 17 pounds with a 20+lber always possible!!! Also catching King & Coho salmon, Steelhead & Lake trout.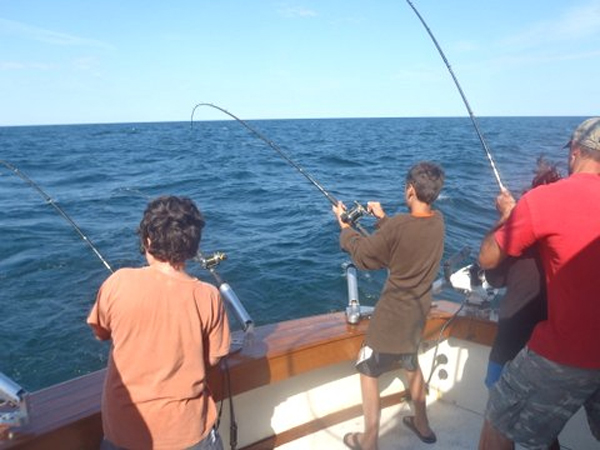 Summer Brown Trout Triples!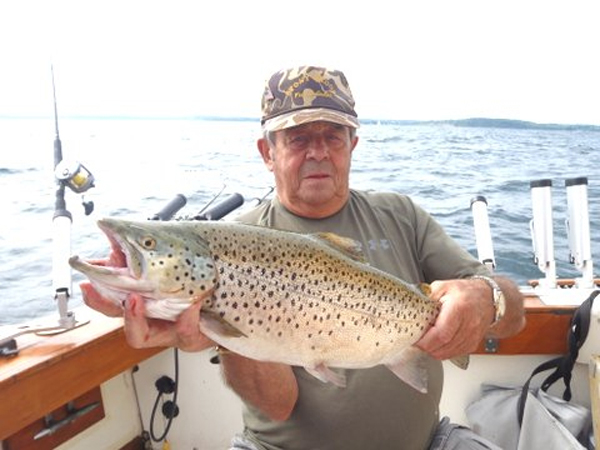 Early August to mid September- Although we will still see an occasional lunker trout, this will be the time for monster King salmon and their acrobatic cousin the Coho salmon. We will fish out of both Oswego and Mexico Point(near the mouth of the Salmon river) as thousands of adult salmon start migrating towards their home rivers feeding heavily to prepare for their spawning run!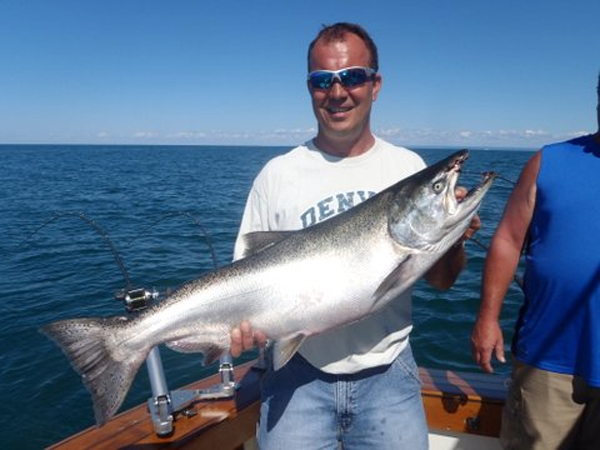 16 to 22lb Kings and 5 to 10lb Coho will be the average. With monster Kings from 25 to 35lbs and Coho to 20 pounds in the mix.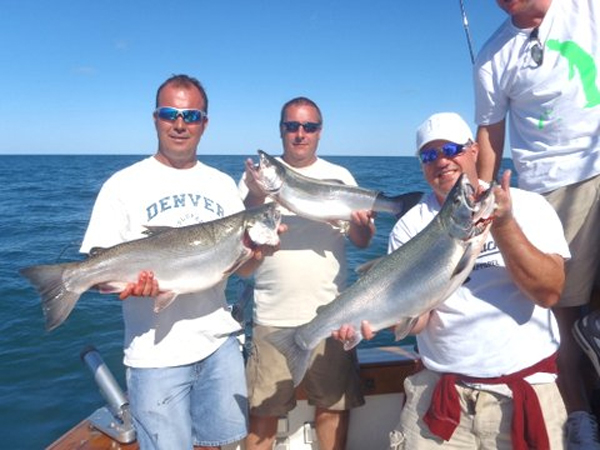 Cohos!

The kids are getting out of school & dates are going fast! So call us today for a fantastic summer trip!!

Important dates- Summer LOC derby- June 15th to July 28th http://www.loc.org/
Fall LOC derby- August 16th to Sept. 2nd

See you on the water!
Tom
Fishing Report 2/14/13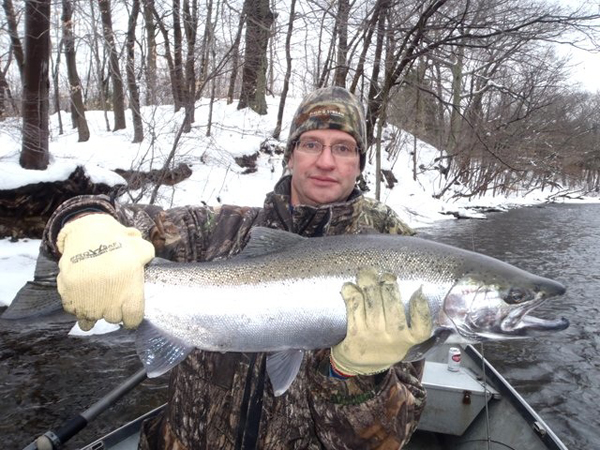 We are finishing up a great winter steelhead season, with good numbers of fish and decent water flows. If you have cabin fever get out of the house now and catch a few steelies! You don't have to wait another month for the spring season to start!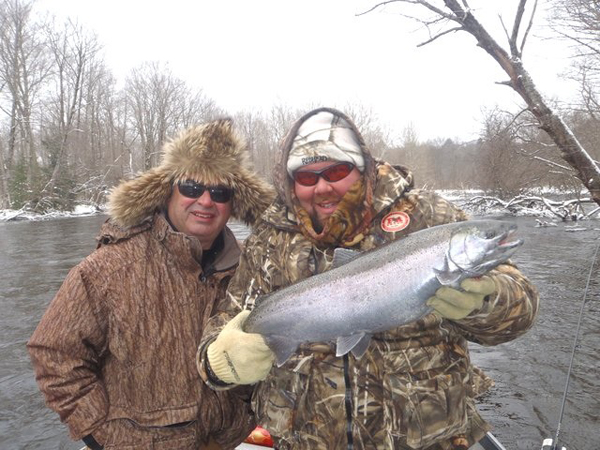 For those of you waiting for spring, the time to book that late March/April Salmon river float trip is now! If the river isn't your thing, try the exciting near shore Oswego harbor/mexico bay Brown trout action.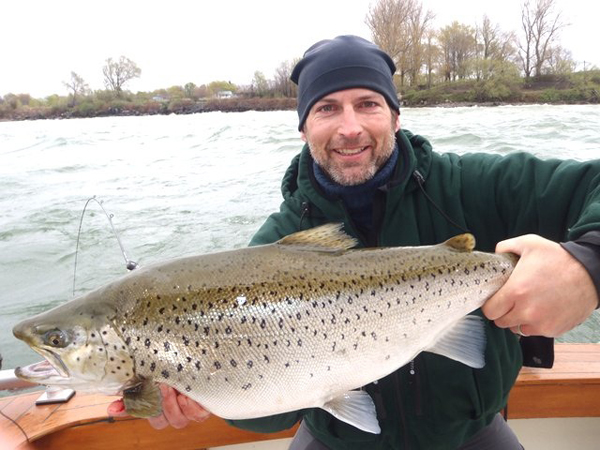 Last season saw tremendous spring Salmon fishing throughout lake Ontario. This year we have our fingers crossed for a repeat!!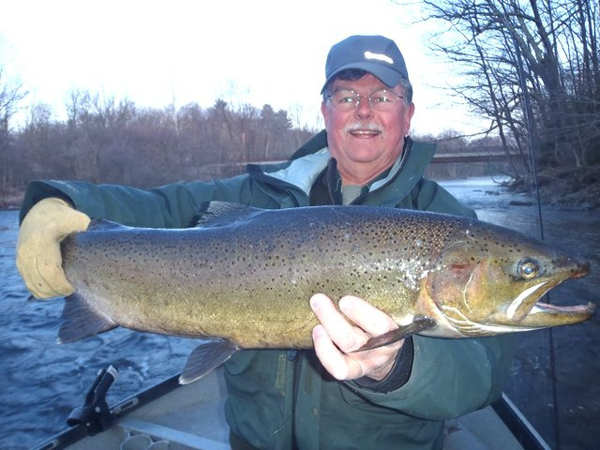 For our late summer/fall salmon fishermen, this year's dates thankfully are booking fast! So if you haven't already, please call and get your days in the book.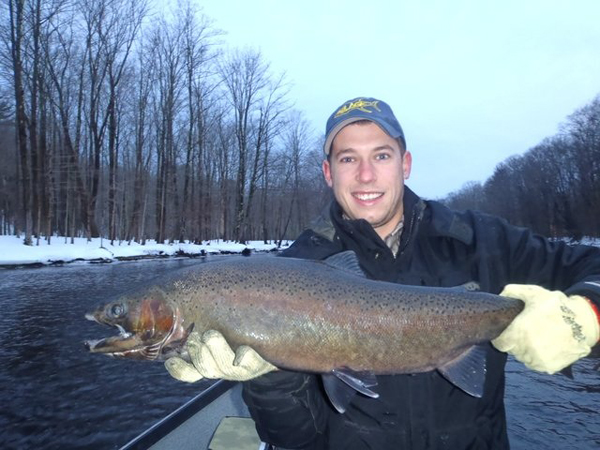 We hope everyone is having a good 2013 so far! And look forward to fishing with you soon!
See you on the water!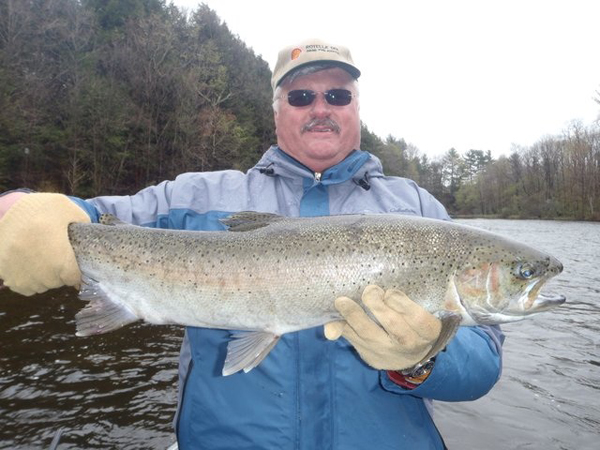 Capt. Tom
Fishing Report 1/17/13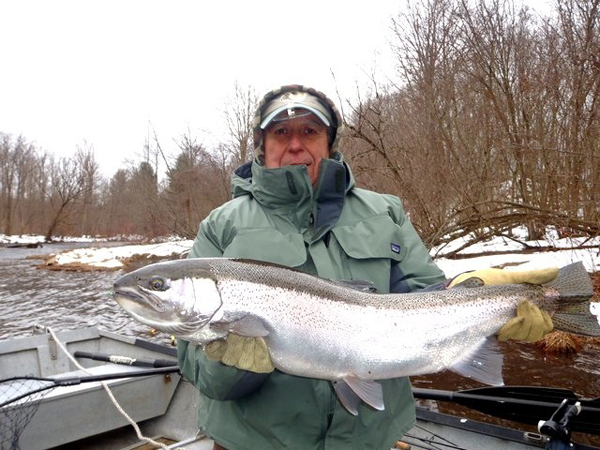 First a great year on the lake. Then a terrific fall on the river!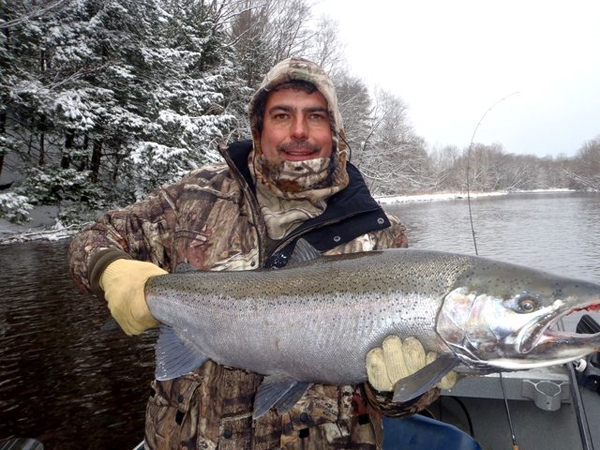 Now the late fall into winter steelheading has been just as good. We have seen steady runs of trout from 3 to 17lbs with an 8lb avg.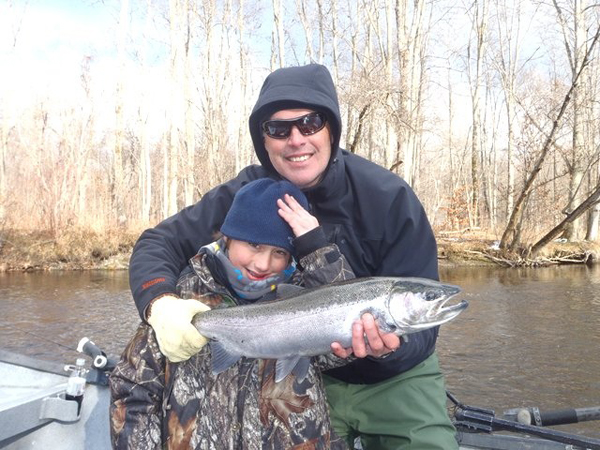 The recent warm up we just had sent water levels back up & brought in fresh fish! There is another 8 weeks of winter steelhead fishing left.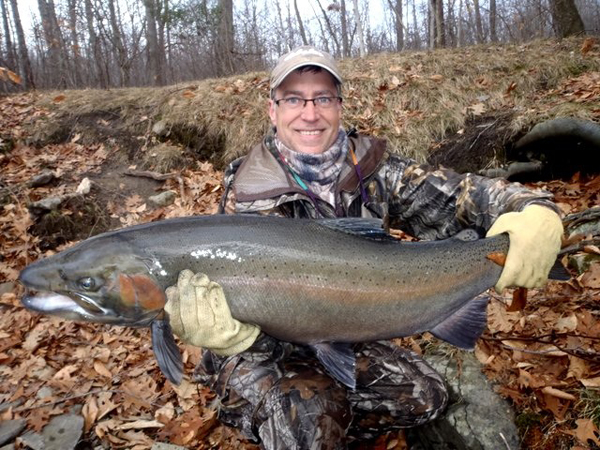 Between the driftboat, heater & handwarmers its not that hard to stay warm! For the less hearty souls, spring will be here before you know it.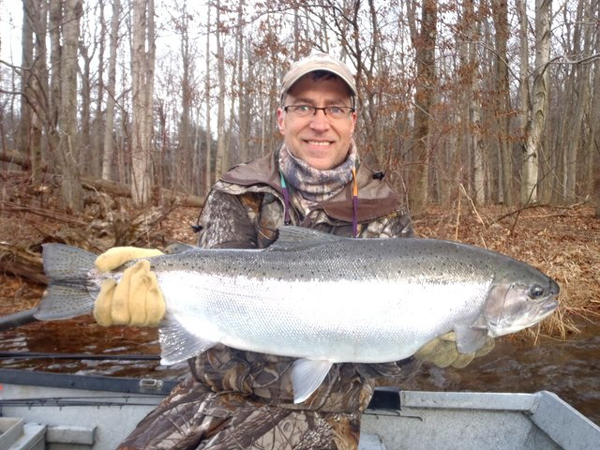 Late March and April float trips are booking fast! And late April & May spring shoreline Browns are always a blast!!! Give us a call.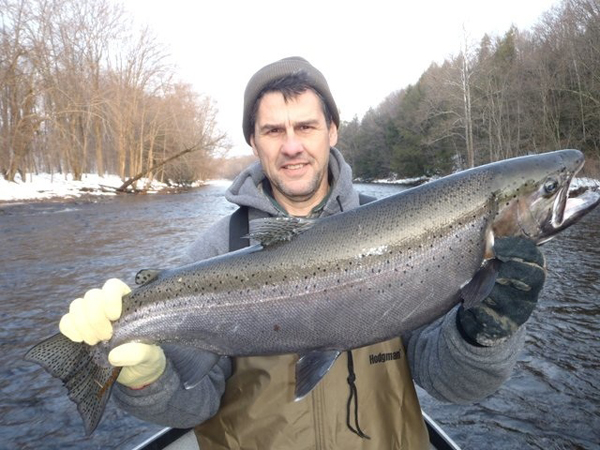 Fishing Report 10/17/12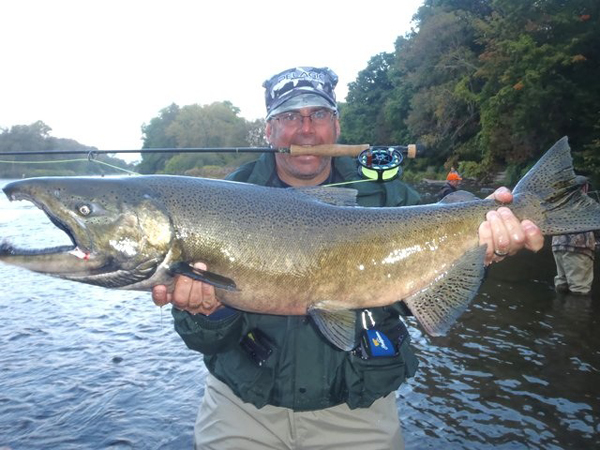 Even though it was a great lake season in 2012, most of us thought it would be a little tougher on the river with very low water conditions……..We were wrong!!!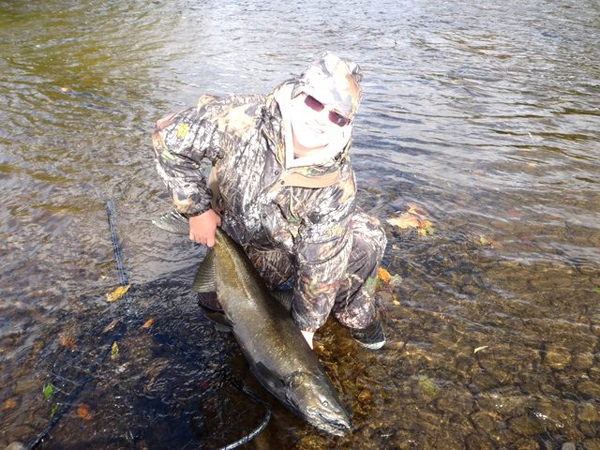 After a few small spurts of fish in early September, the river would get big & steady runs daily from mid September to nearly mid October of big Kings & Cohos.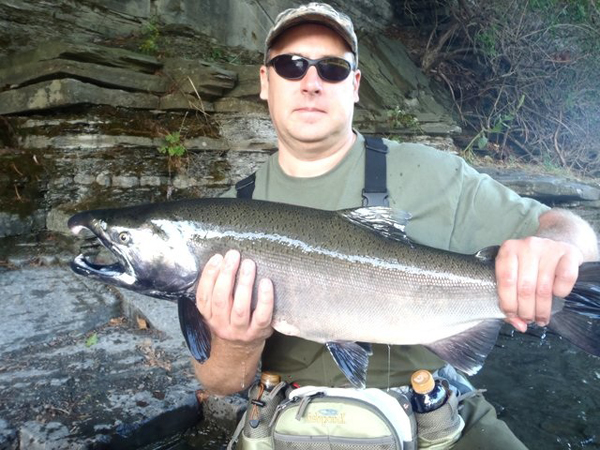 As we write this report the fresh salmon numbers are dropping, but chrome Steelhead are right on their heels!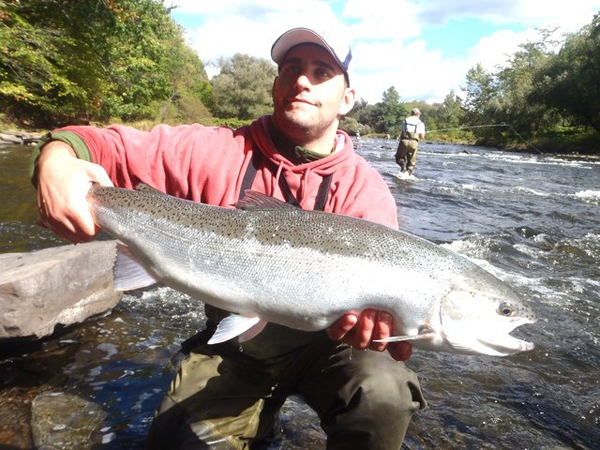 The Salmon river still has some salmon spread from top to bottom, but over the next few weeks they will dwindle as Steelhead start to fill the river, not to mention some big Browns as well!!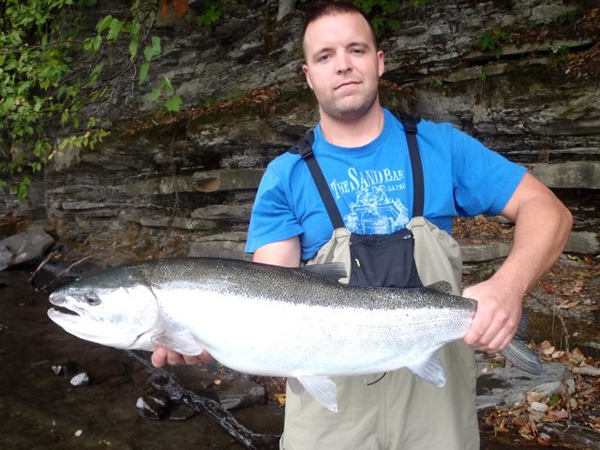 Anglers should start switching to egg patterns & egg sacs to "match the hatch" for hungry trout.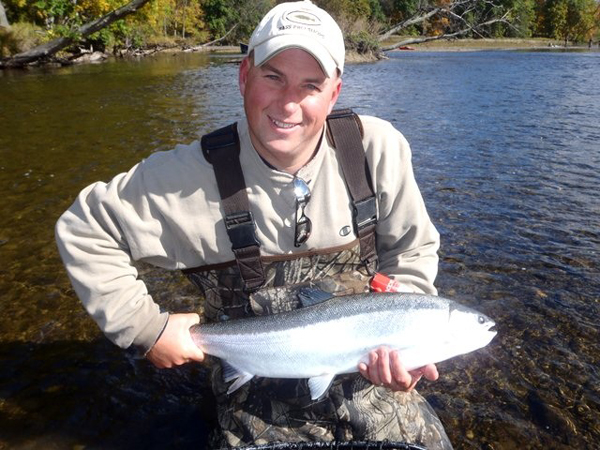 Just like last year blue, pink, chartreuse & white have been good.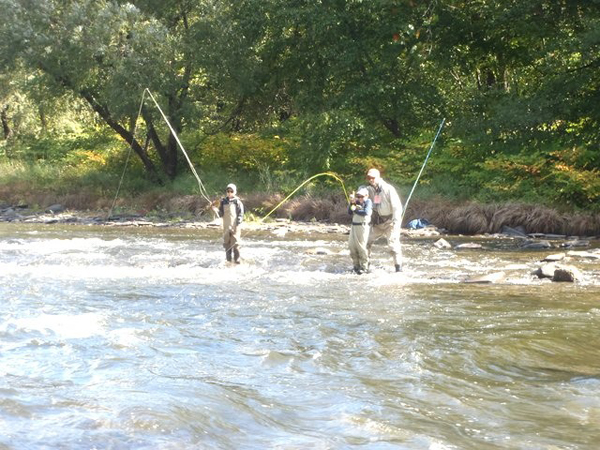 We have just a couple dates left for October & November. But for those who don't mind it a little colder, there are some great December dates left!


See U on the water,
Tom
Fishing Report 8/13/12

KINGS-KINGS-KINGS!!!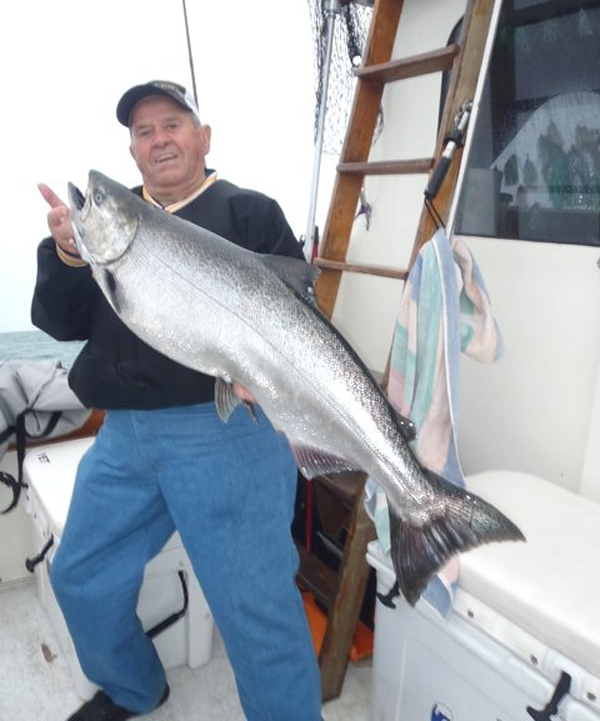 It is that time of year. When large adult King & Coho salmon move toward their home streams in preparation for their spawning run up the river, although the King fishing has been pretty good all season this year.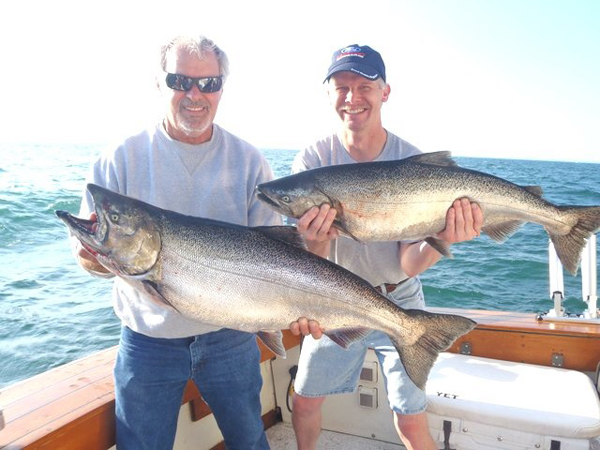 The last few weeks have seen many more moving into traditional staging areas(90 to 150' of water east & west of Oswego).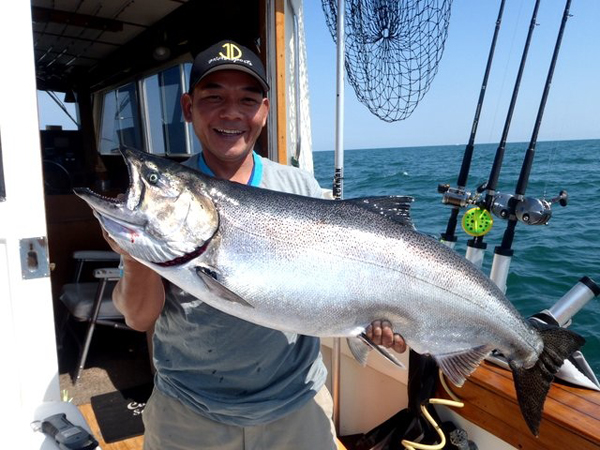 Many more are still offshore, not quite ready to move in yet. We are seeing larger Kings this year, 25 to 30lbs. With some to almost 40lbs already caught.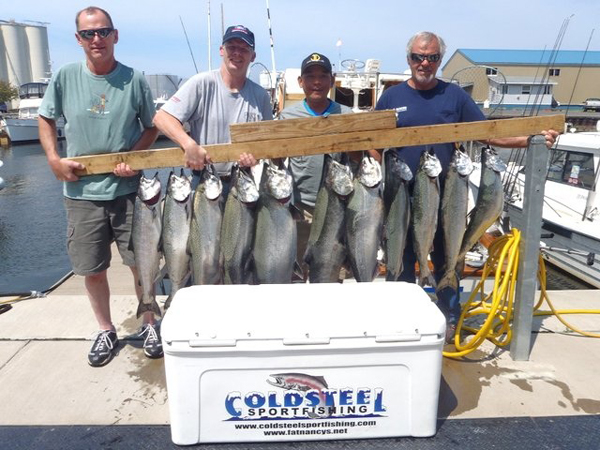 We are also expecting good numbers of Coho salmon to start moving in any day.
Time to wait is no longer!! We should see hot fishing for salmon till at least mid September.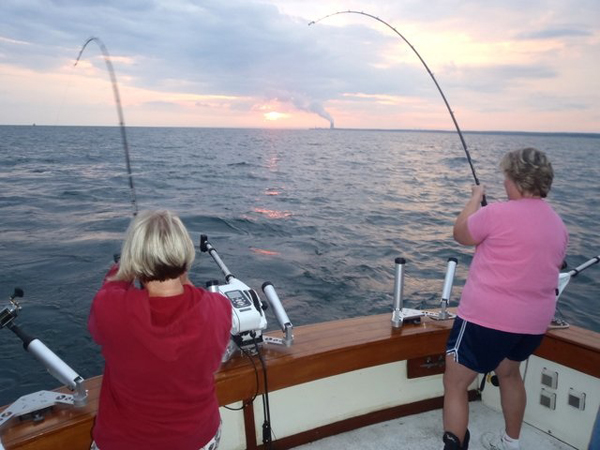 We will be fishing between Oswego & the Salmon river during this time.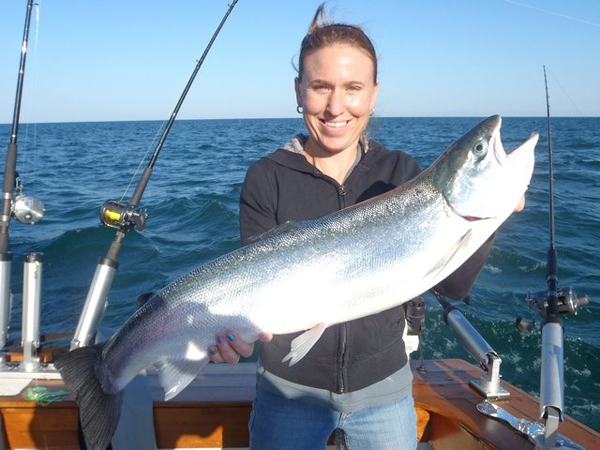 Call today to book a date before their all gone. Remember the fall LOC derby is August 17th till September 3rd, with over $52,000 in prizes.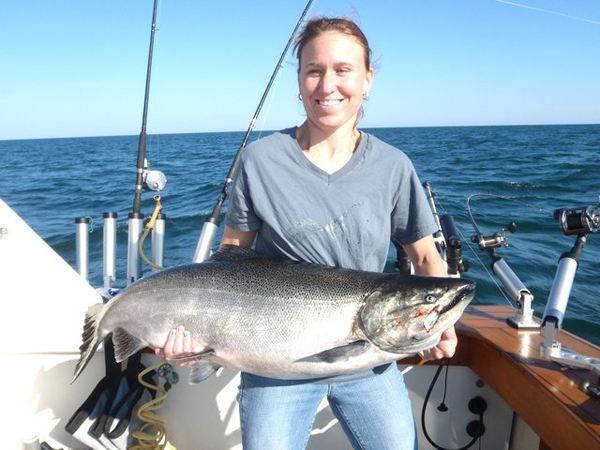 See you on the water!
Fishing report 7/27/12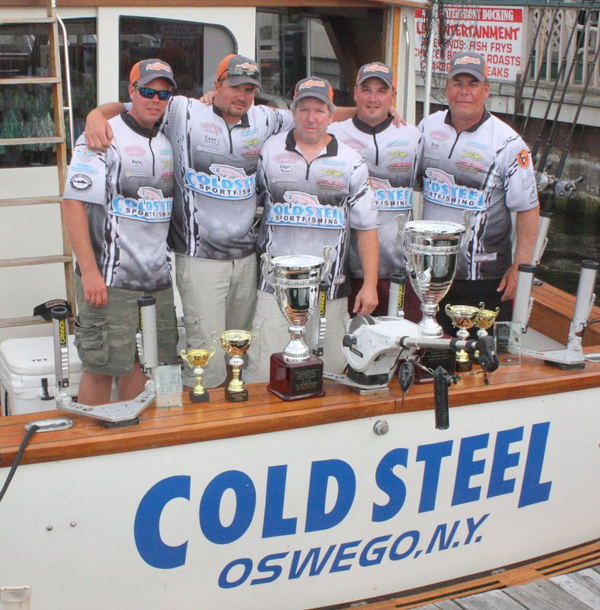 I want to start off by thanking my tournament team for another great job this year in the lake Ontario Pro Am series. Bringing home our 3rd overall title in 4 years!! Great fishing in all the ports made for an exciting year!!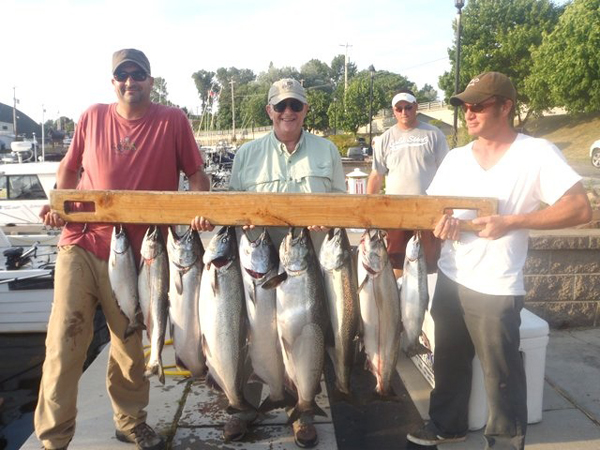 We are now back at home to finish what has already been a great season with lot's of big trout & salmon.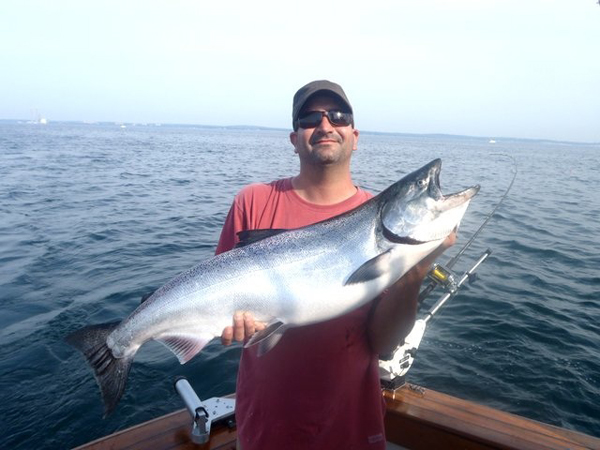 We will be catching a nice mix for another couple of weeks. And then the focus will shift to salmon only as large groups of adult salmon start to stage in the east end to ready for their spawning runs up the Salmon, Oswego and other east end rivers.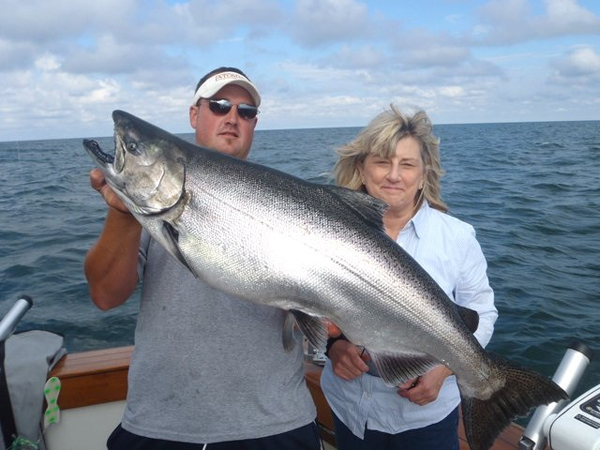 With Kings being caught over 30lbs all year. There is a good possibility of seeing 40lb+ fish this year!!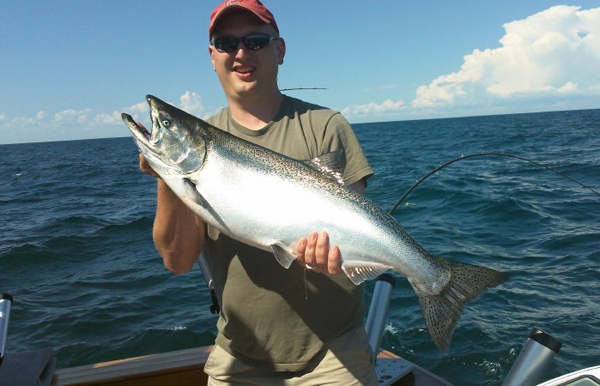 With the economy still sluggish, we still have good dates available throughout the rest of the season. So whether you would like to catch deep water kings, or bottom hugging monster browns over the next few weeks out of Oswego...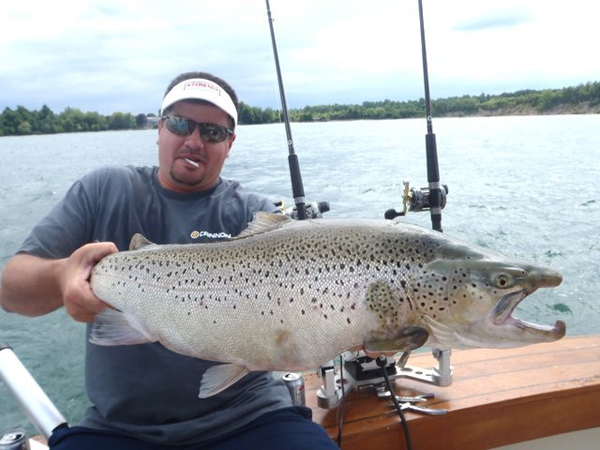 Or you want to experience the mayhem in front of the Salmon river in September as we target big kings and crazy coho's. Call us today and we will set up a trip you won't forget!!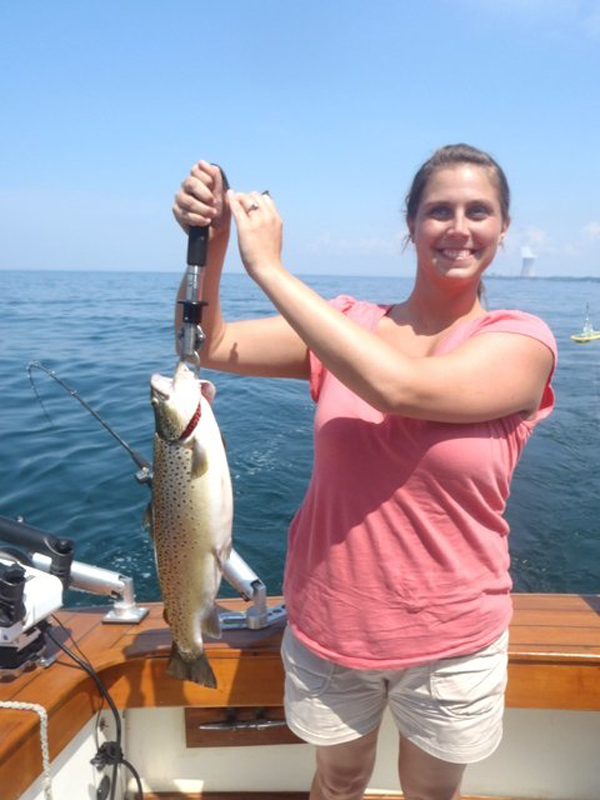 PS- A few dates still available for the fall LOC derby, August 17th to September 3rd!!

Salmon River and Lake Ontario Fishing Report 4/30/12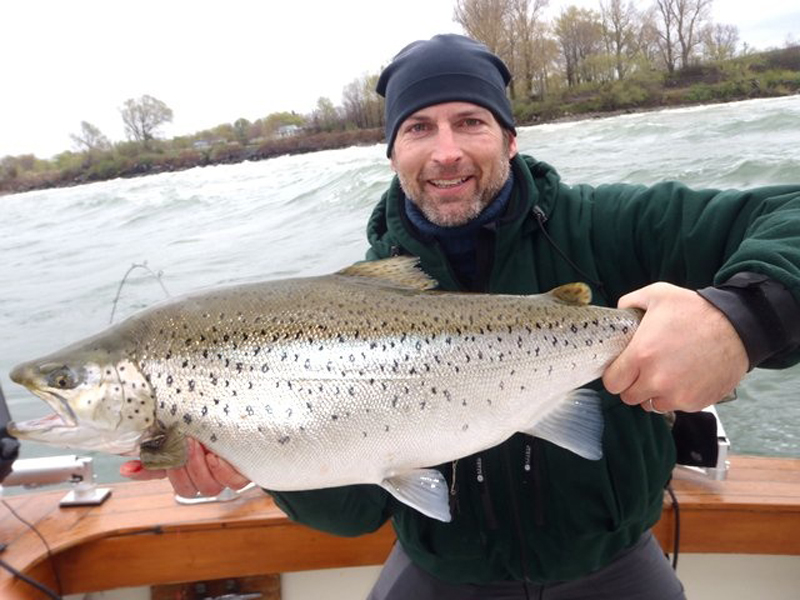 A great season is near the end on the Salmon river, but the season on lake Ontario is off to a fantastic start!! The Brown trout and King action across most of the lake has been incredible!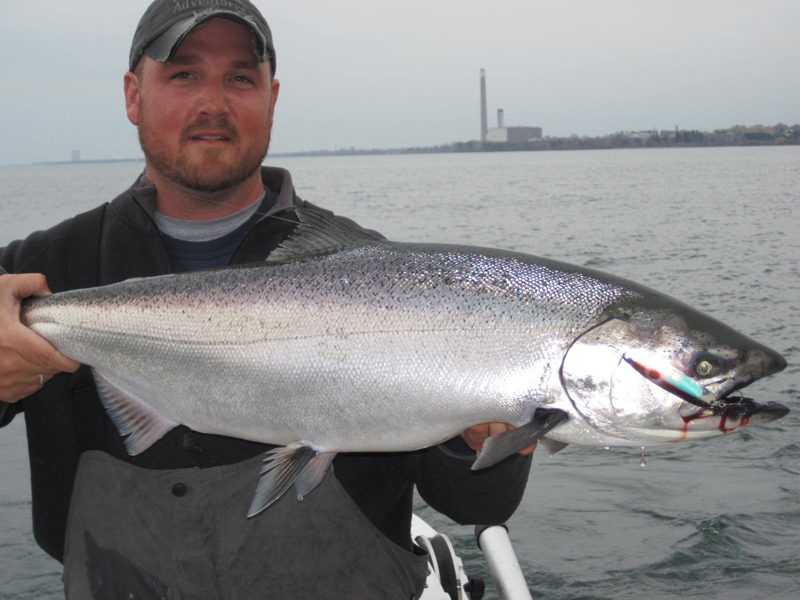 If you're one of those people who have been dying to come up, but find yourself saying "maybe next year" This is your year!!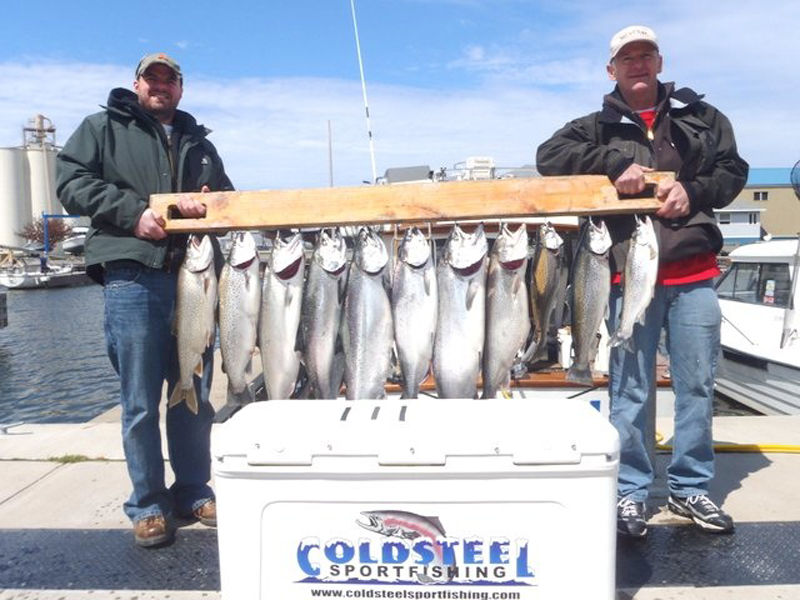 Lots of Browns & Kings with Lakers & a few Atlantics mixed in! There is not much more you can say.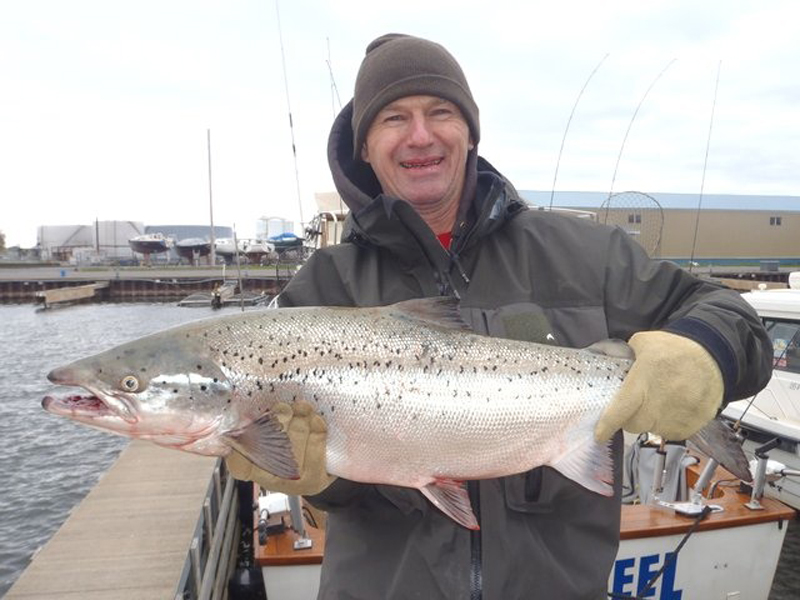 The action is near shore and most boats & most locations around the lake are having equal success. Look at the pictures and call today if interested.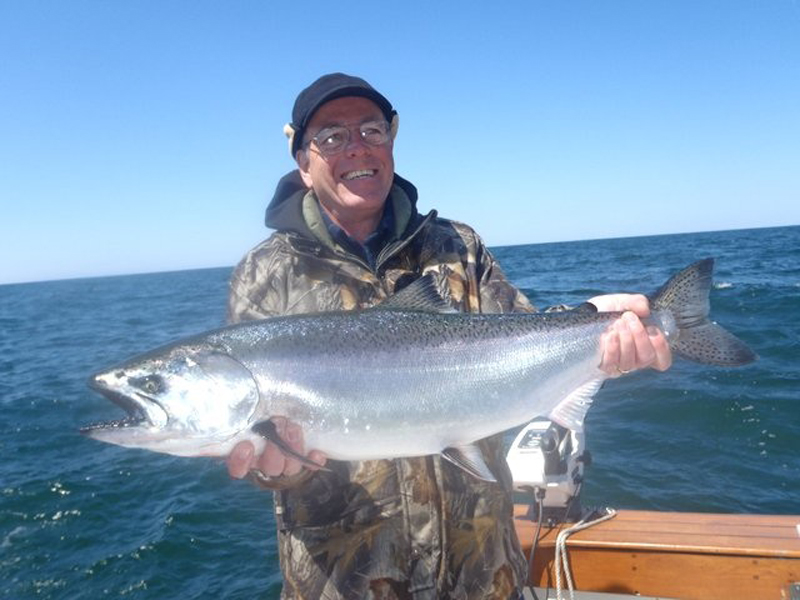 We have two boats available capable of running two trips a day. So most days have an opening.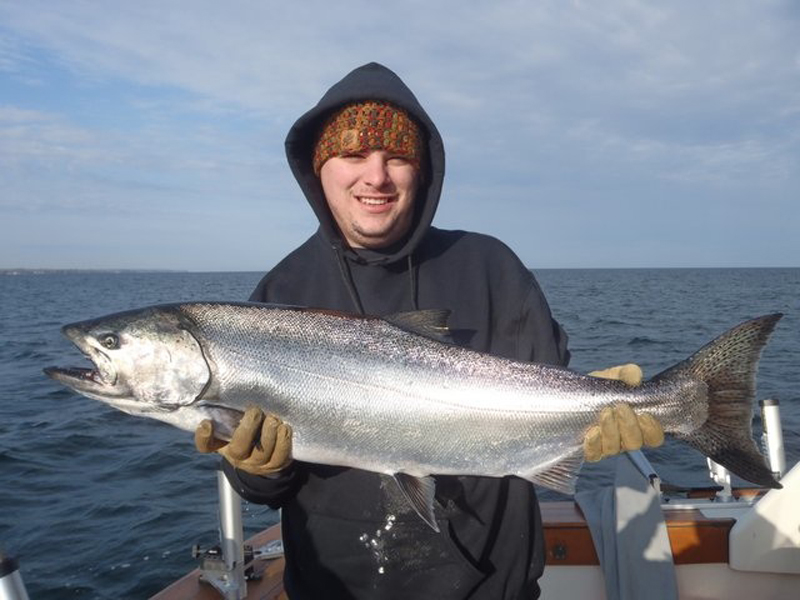 Fishing Report 4/16/12

We are in the stretch run of another fantastic Steelhead season on the Salmon river.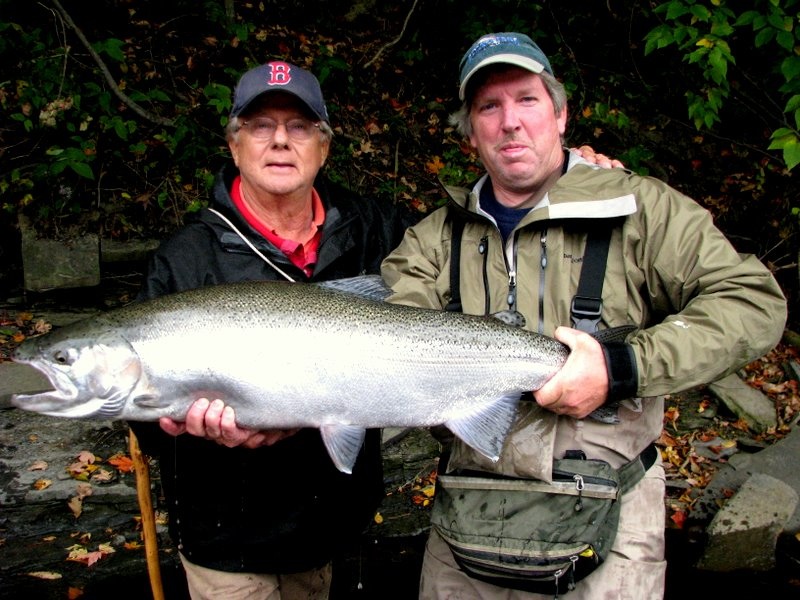 From late October through April we have seen steady action with lots of steelies, and some of our biggest as well! We are expecting another good week and then probably seeing things wind down by the end of the month.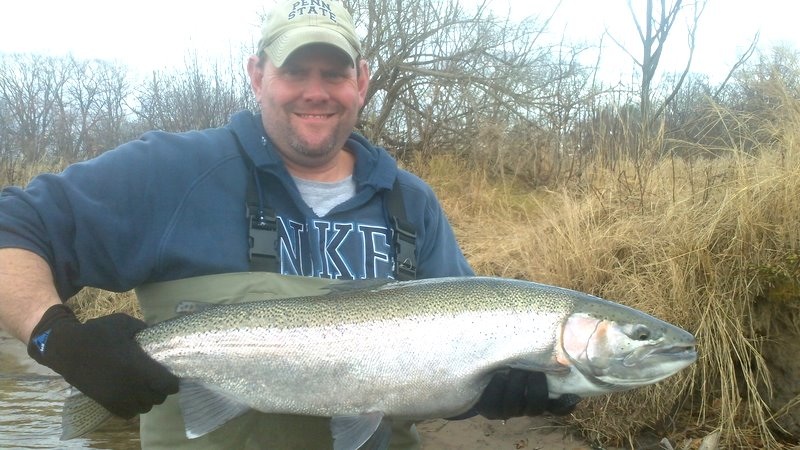 No worries though as our mild winter & warm spring has provided an early and fabulous start to our 2012 lake Ontario season!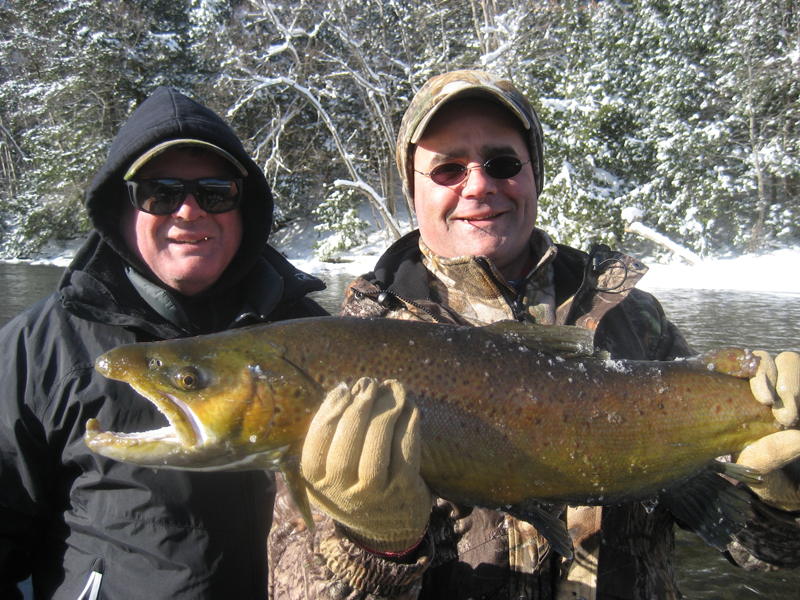 Brown trout seem to be jumping in the boat along the entire shoreline of the lake. And an unusually plentiful amount of spring Kings seem to be as well!!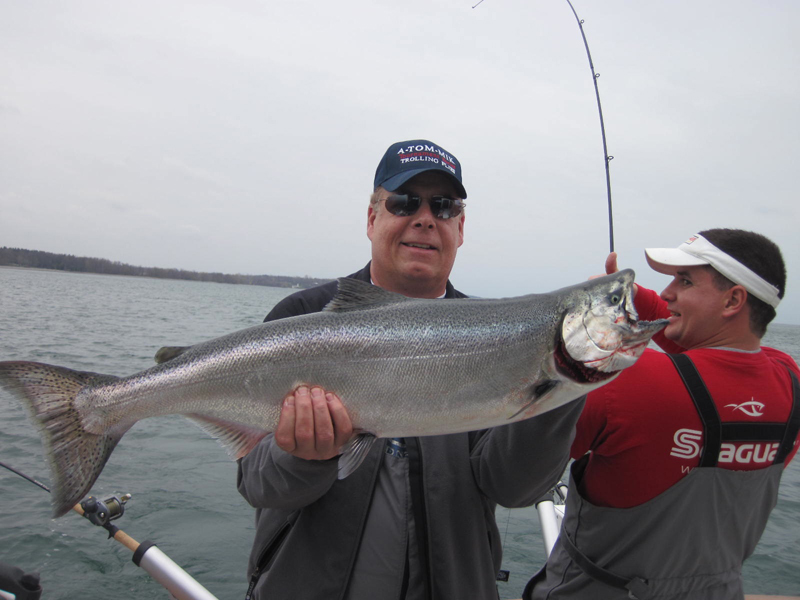 We saw allot of 2 to 12lb Kings last year, so I guess it's not that big of a surprise after all.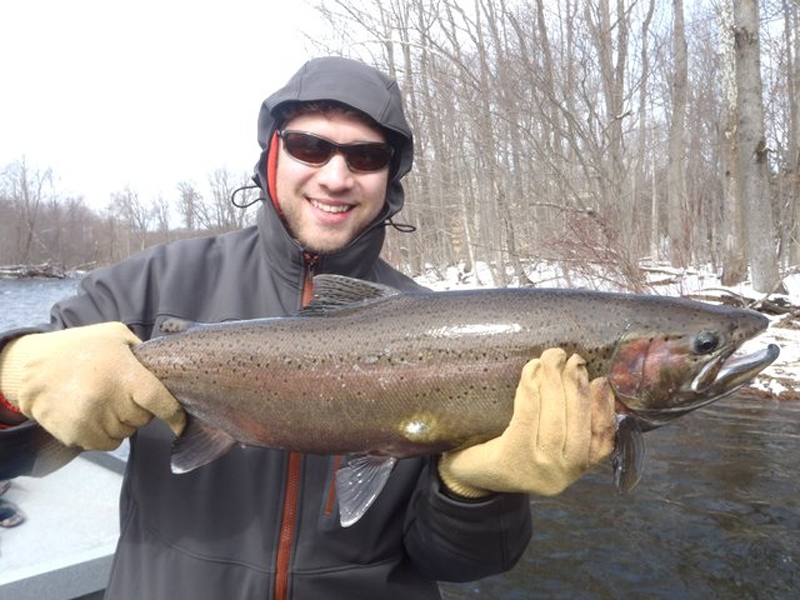 The rest of April is booked. However we have several good dates available in May and throughout the rest of the season.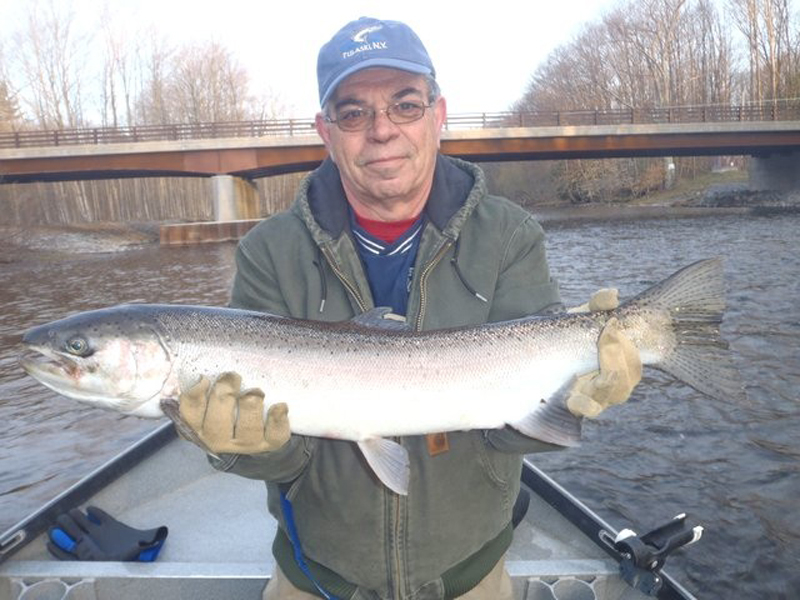 If you are not already in the books, call today to get in on the action!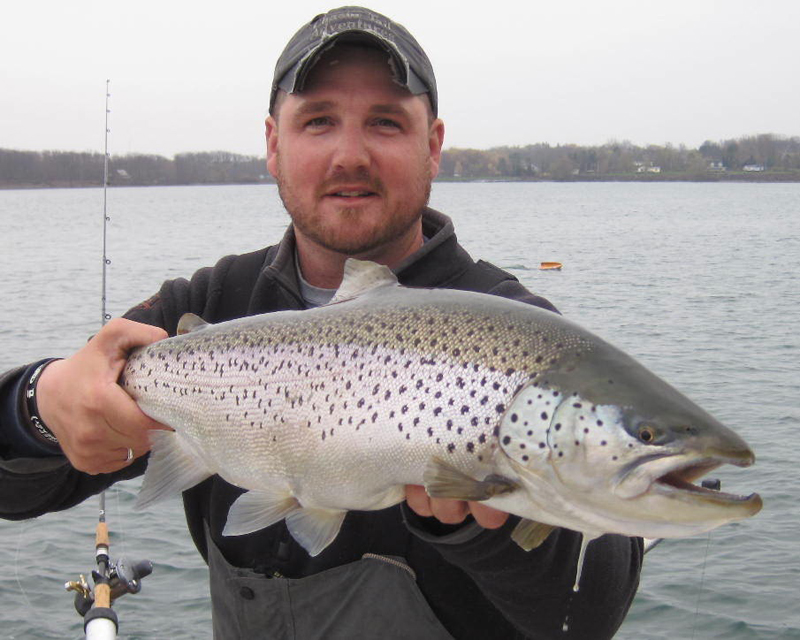 Fishing Report 3/20/12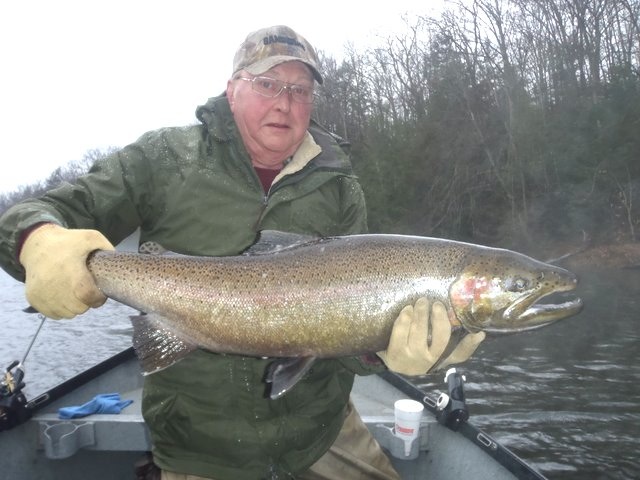 We have reached spring transition fishing on the Salmon river. Spawning is going into full swing and we are already catching dropbacks(spawned out) everyday. Temps in the 70's are melting the last of the snow on Tug hill, causing the river to go higher.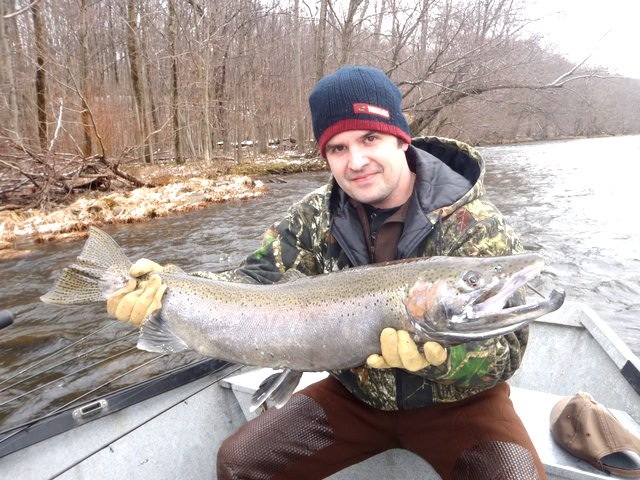 1800 cfs starting tonight. It will probably go down soon as well with most of the snow gone, unless we get substantial rain.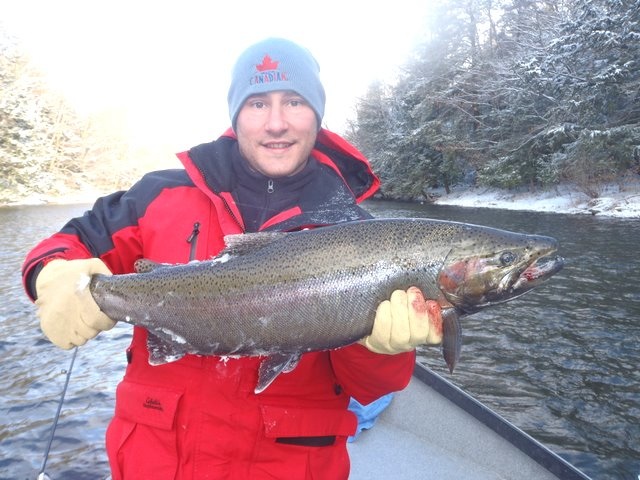 With the warm weather the Salmon river should soon be filled with hungry spawned out steelies!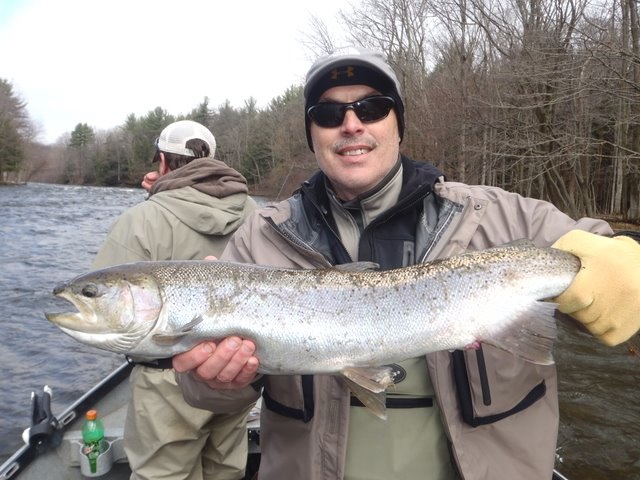 So if you haven't been up yet the time to come is now!!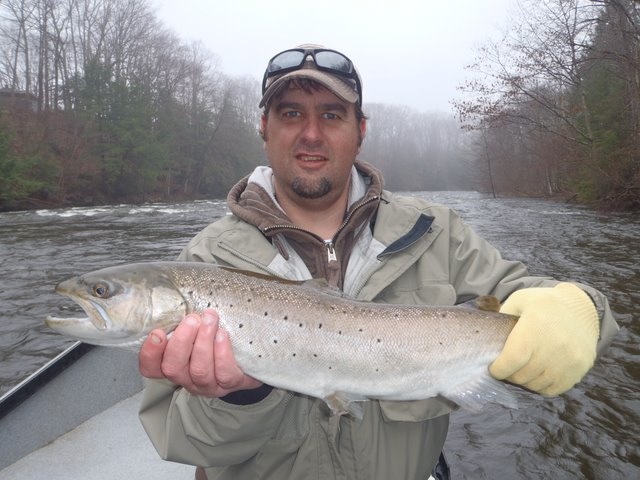 Brown trout fishing along the shoreline has also been very good! Although slowed a bit the last few days with south winds clearing the water some. Nothing a little northwest wind or rain won't cure in a hurry.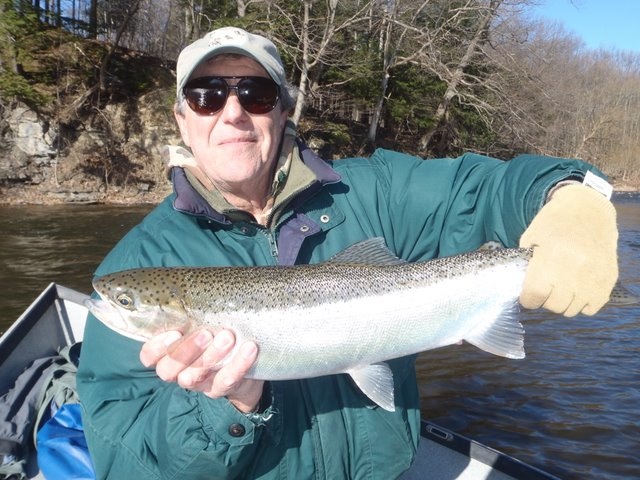 It might be March! But spring has sprung!! Get up here and do some fishing!!!
Fishing Report 3/2/12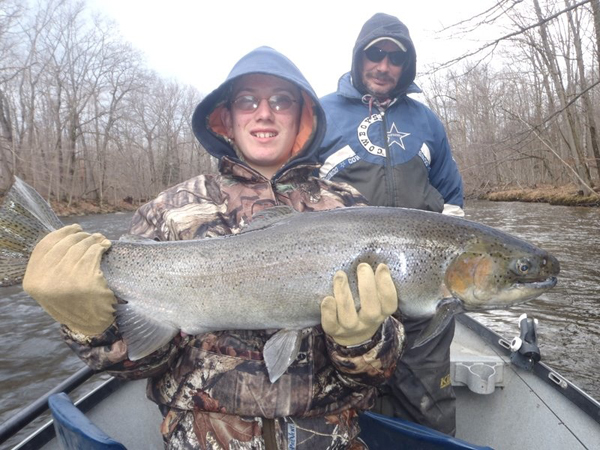 With continued warm winter temps we are already seeing some spawned out fish and evidence of fish starting to move towards the spawning gravel.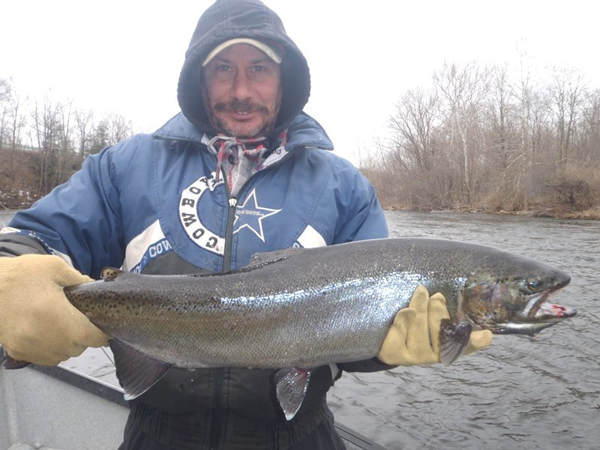 We are also getting fresher fish moving through the river, but not everyday. If conditions stay the same we should see decent fishing through March, without worrying about big runoff! Nothing has been hot.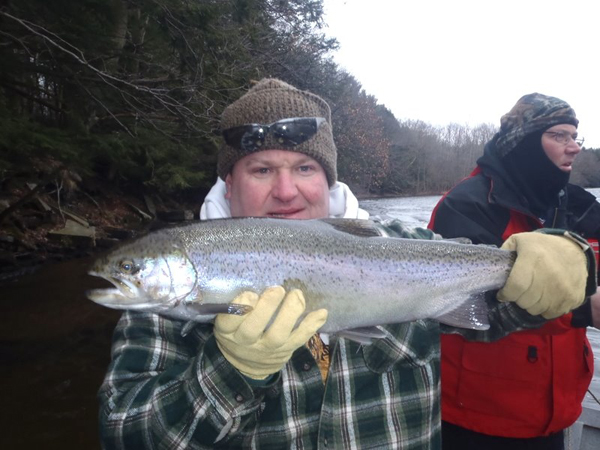 Instead we have been taking fish on sacs, flies & plugs.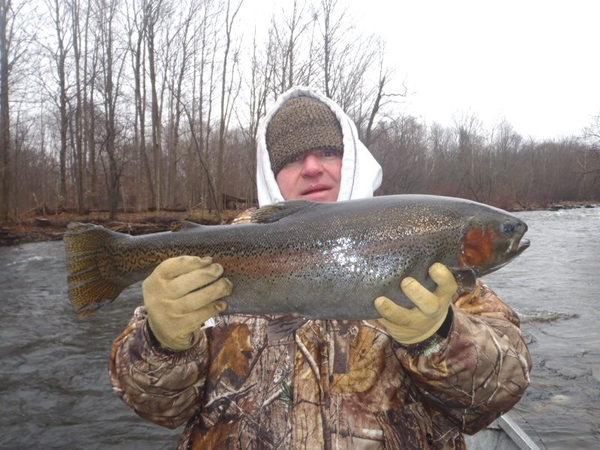 Late March & April days are going fast, so call today!!
Fishing Report 2/13/12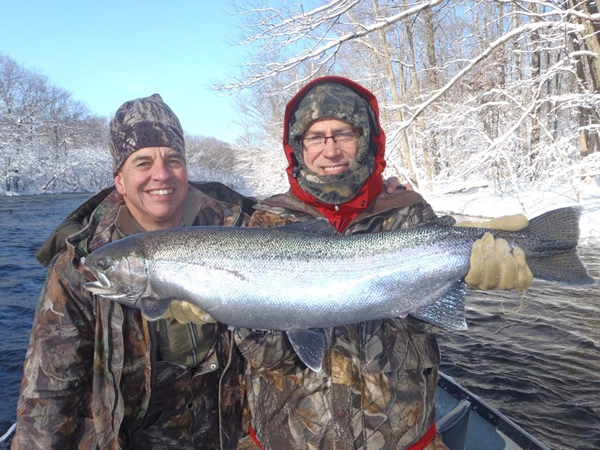 What a winter! Although we have had a few periods of snow, cold & wind, for the most part it has been a mild winter. A good thing for Spring is our lack of snow has not been caused by a drought!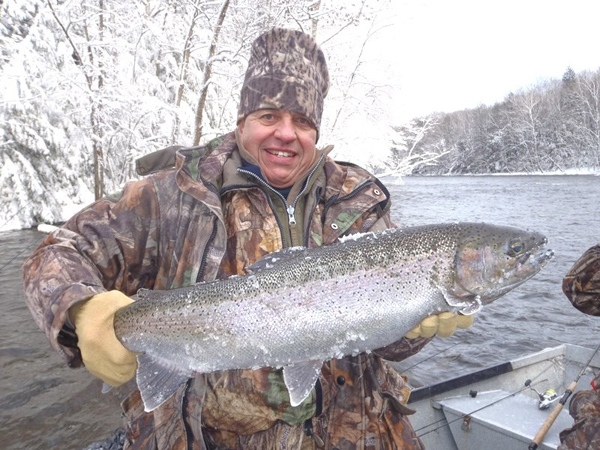 We have had lots of precipitation. Water levels have been up almost all winter providing nice protection for the fish. And much less ice down river protecting the fragile banks! Fishing has been good most of the winter with lots of fish from the Fall & fresh fish trickling in all along.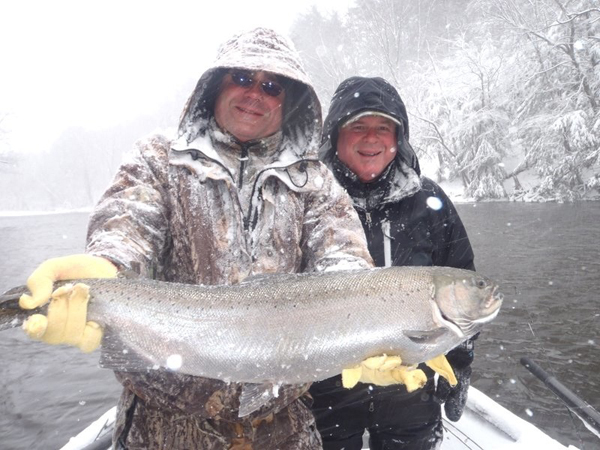 Bank fisherman have been fishing the upper stretches where there are large concentrations of wintering & pre spawn fish. Driftboats have been able to fish a large portion of the river and pick away.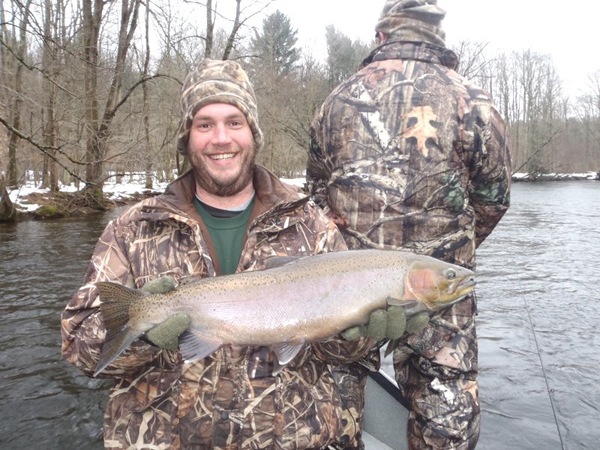 If you want to come up for a last minute winter trip, we have dates available each week. If you're looking for a Spring trip call soon, late March and April are filling fast!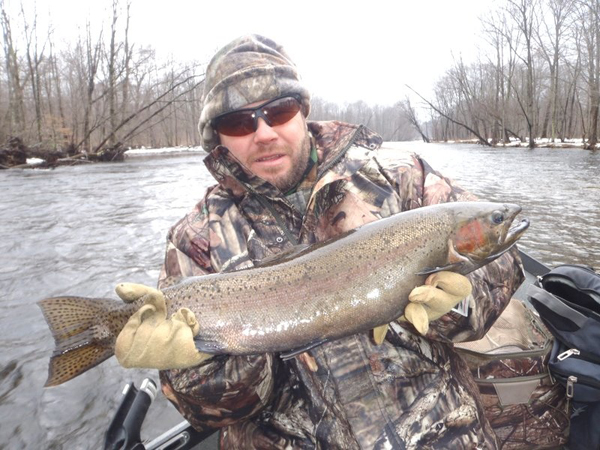 Fishing Report 1/3/12
Happy New Year to All!! Hoping for a Prosperous & Fishy 2012!!!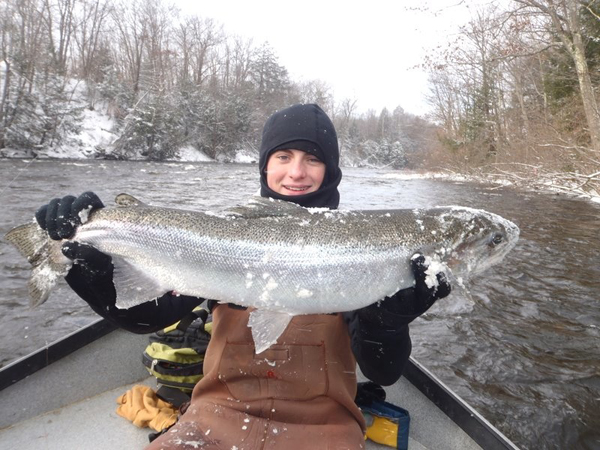 Winter has finally arrived with occasional snow squalls and cold temps. But so far we are still getting a few warmer days each week as well.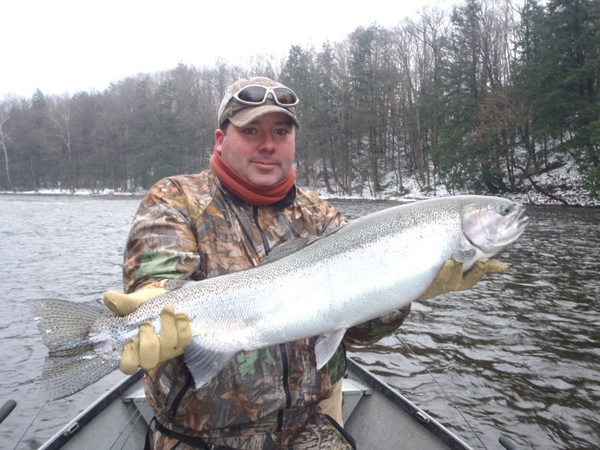 We are now seeing a mixture of fresh chrome fish along with darker, more colorful fish that have been in the river a while.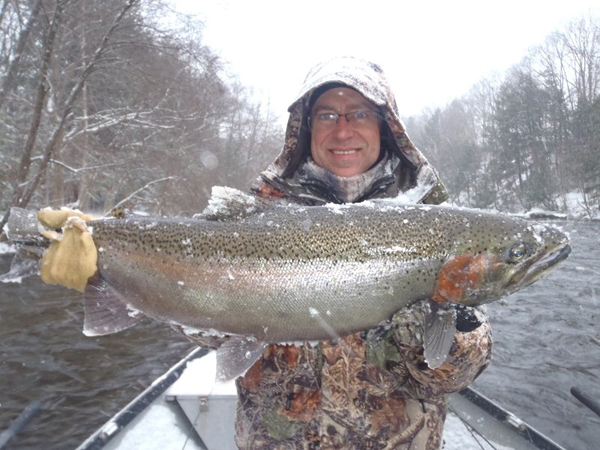 With the constant precipitation we have been getting, January fishing should be good!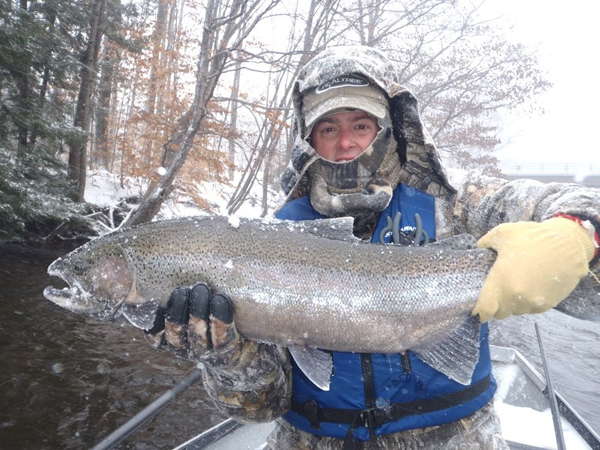 The schedule is opening up now, so if you want to get out of the house this winter & enjoy a great day on the water, give us a call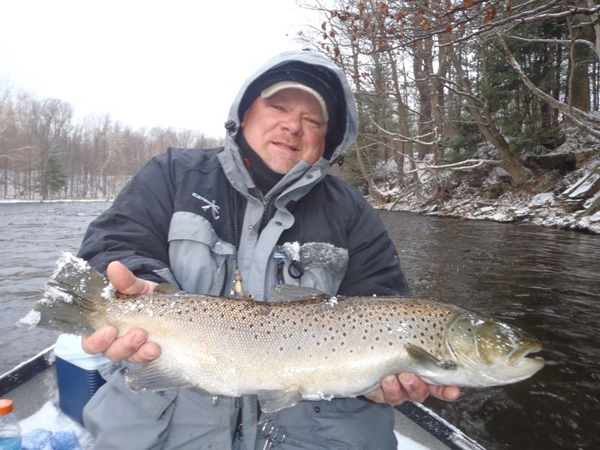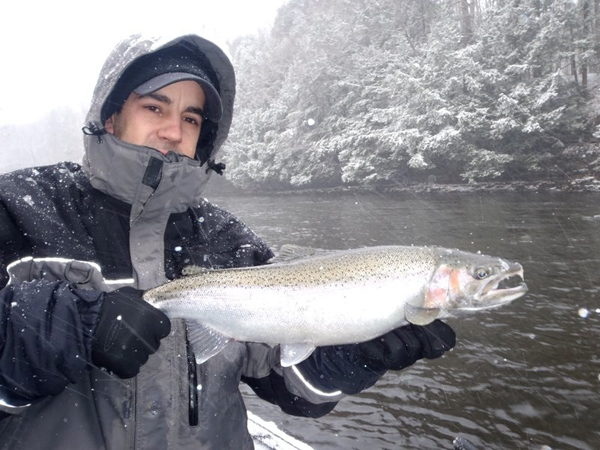 CLICK HERE TO SEE REPORTS FROM 2001-2011
ulaski, trophy, drift boat, charter, ser
P.O. Box 154 Altmar, NY 13302
(315) 298-2500-Home
(315)-391-8079-Boat
[email protected]