Archived Fishing Reports 2001-2011
Fishing Report 12/23/11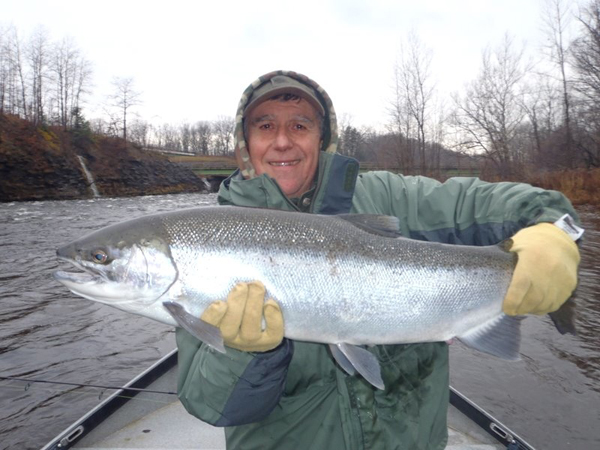 What a year! The fish continued to enter the river in good numbers all the way to Christmas. No reason to think the rest of the winter won't be a good one.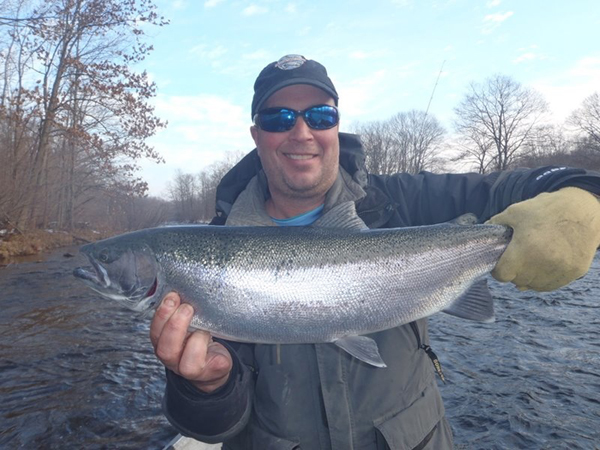 For those of you who book the spring, book your dates soon! As the word has gotten out, spring bookings are already strong.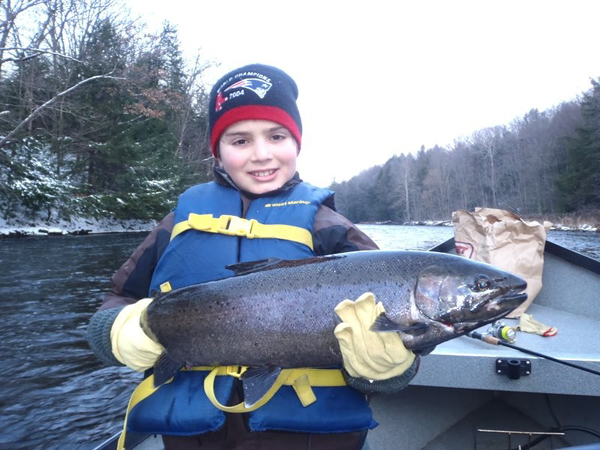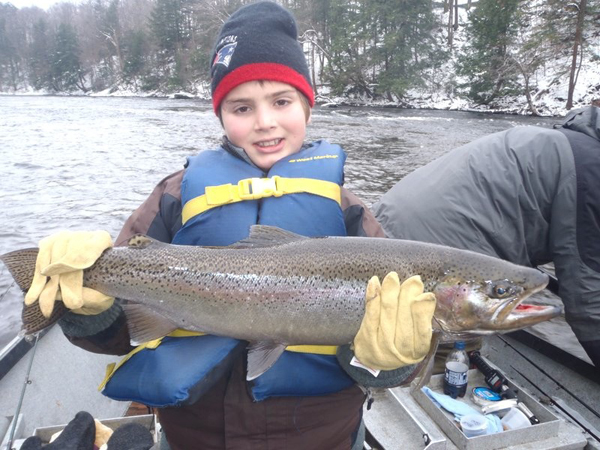 For you winter diehards, enjoy the holidays and get your gear in order! The watershed has been fully charged with December snow & rain and should provide for decent winter water flows.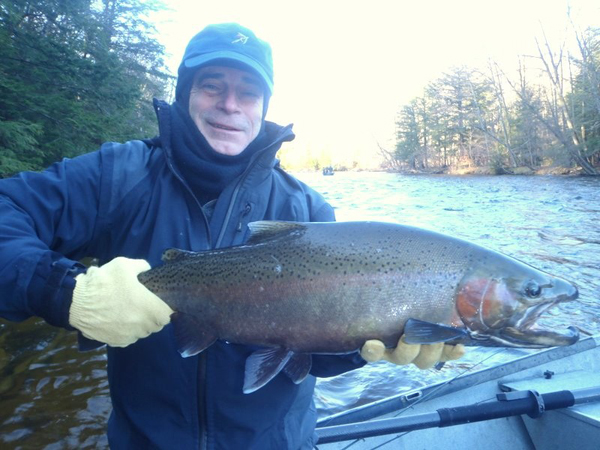 It has been a blast this year with a ton of regular customers/friends and fantastic fishing!!
Altmar to the Sportsman's hole should have a ton of wintering steelhead and the rest of the river should see new fish whenever the weather permits.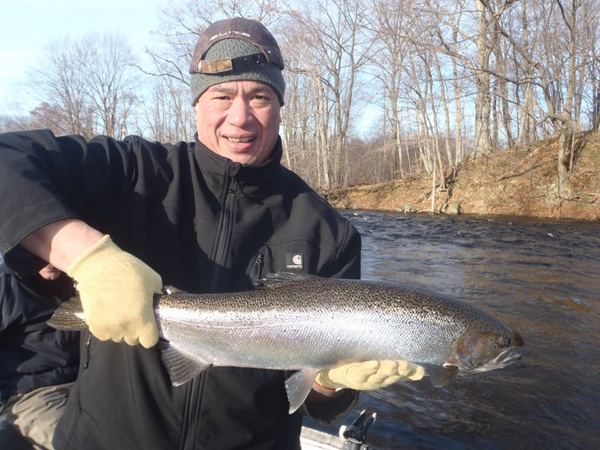 Blue has been the best color by far for us this season.
We want to thank all of you who fished with us this year and made it one of our most successful season's ever!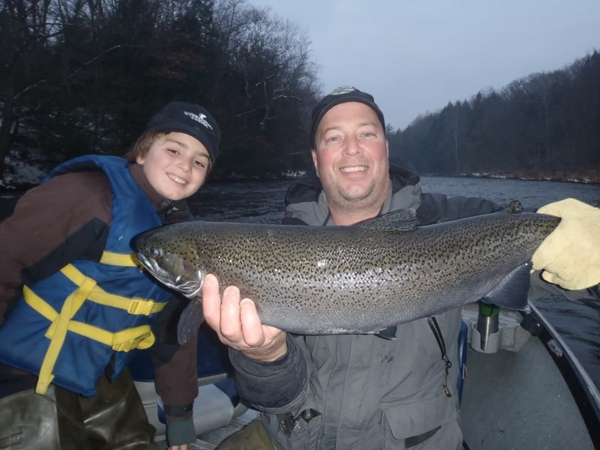 We want to wish you all a Merry Christmas & Happy New Year!! And hope to see you all in 2012.
Stay safe,
Tom
Fishing Report 12/3/11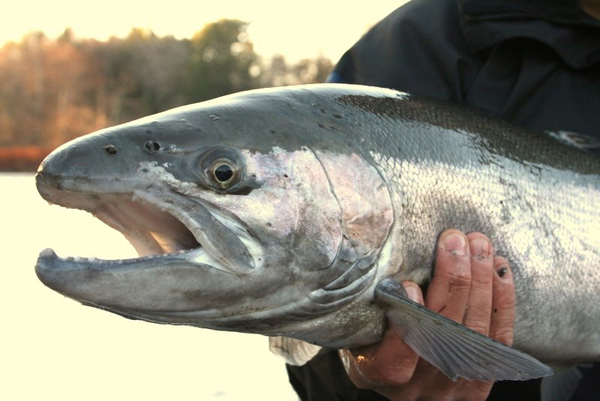 Fall/winter trout fishing on the Salmon river is off to a amazing start! With early fish starting in late September, and bigger runs entering the river from late October till now. There seems to be no end in sight! The early season saw warm temps and low water.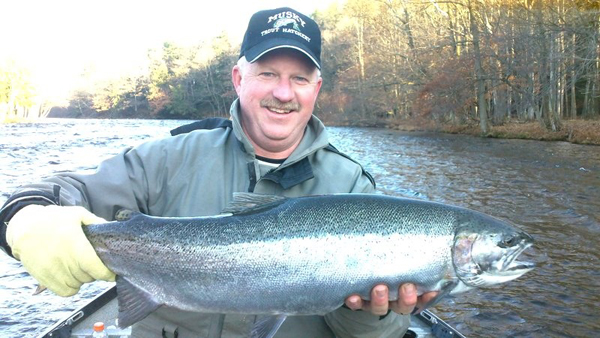 Fish were holding in the fast water and behind the spawning salmon which also were abundant. In the last few weeks the salmon have finally faded away, we have received a lot of rain bringing higher water.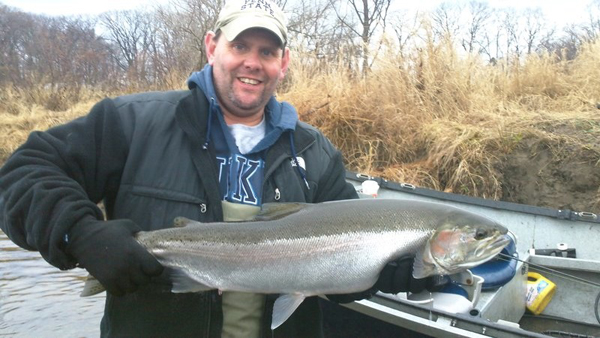 Steelies and browns continue to provide fantastic action! Blue by far has been our best color this fall.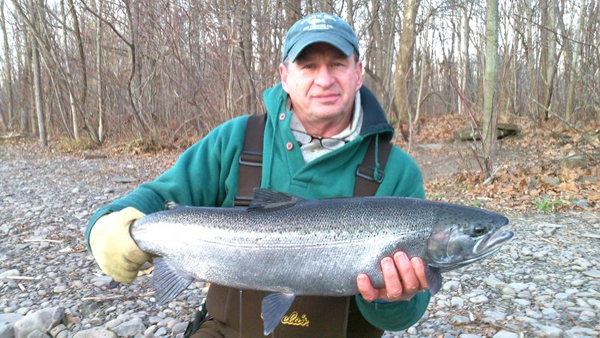 We are now set up for hot December fishing as the crowds tail off and we get a combination of early run, now resident fish. And continued fresh fish, still migratory entering the river.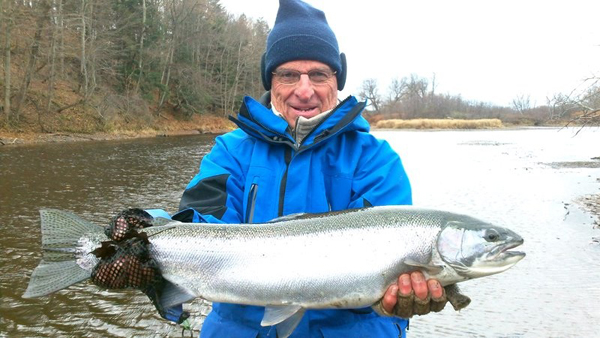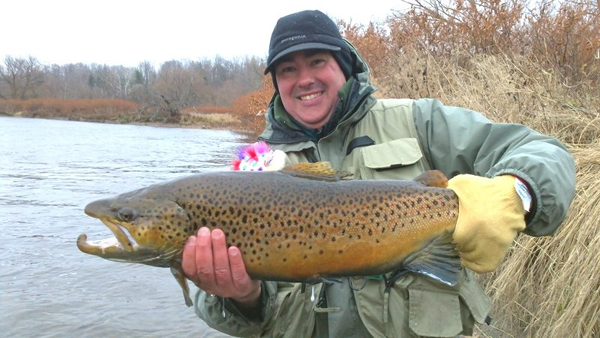 Every fish you catch this time of year will have different colors and shades and be extremely active in the cooler waters.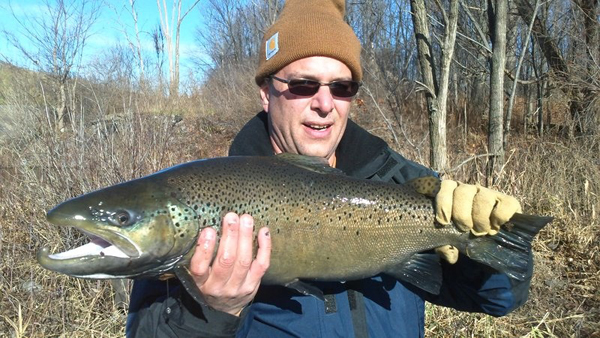 We still have several good dates available this month & through the holidays, So call today!!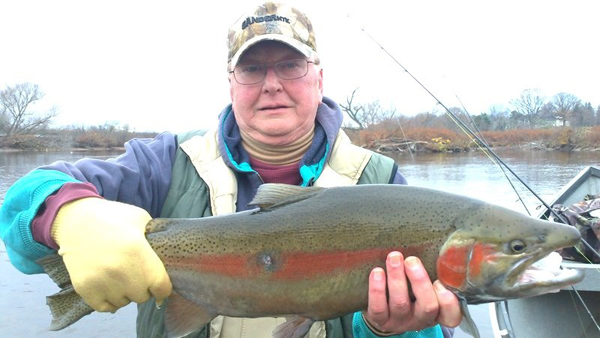 Fishing Report 10/24/11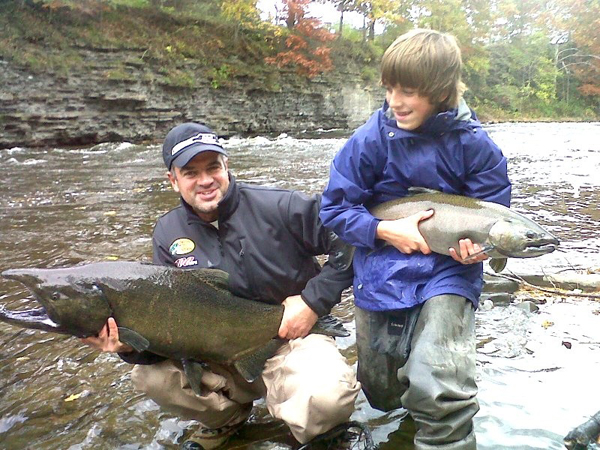 The 2011 Salmon river season started out with a ton of coho salmon, making up for the late running kings. By the third week of September the kings started coming in with sporadic left over coho. There were a few slow days mixed in with unseasonable weather for fish. Sunny days near 80 in early October is not normal!! But because of this, kings continued to enter the river in good numbers until mid October and there are still some good numbers spread throughout the river.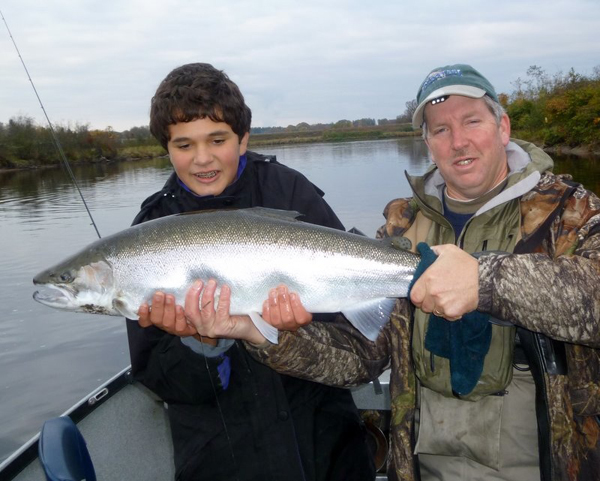 No worries as the salmon numbers start to dwindle this year as good numbers of steelhead are already in the river! The steelies seem to be a little bigger this year, which isn't surprising with some of the huge kings & coho we saw!!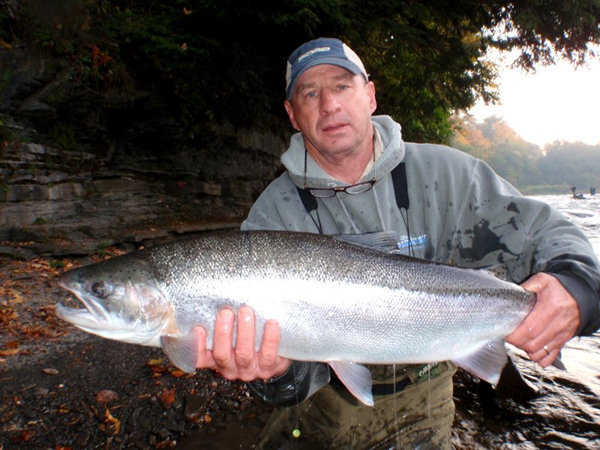 Our November calendar is almost full with only 2 or 3 open days left. So give us a call and we will try and squeeze you in. For those of you who can stand a little colder weather? Give us a call for what should be fantastic December steelhead fishing!! Water levels look good and numbers of fish do too. It's a great way to end the year and head into the holidays!!
Fishing Report 9/15/11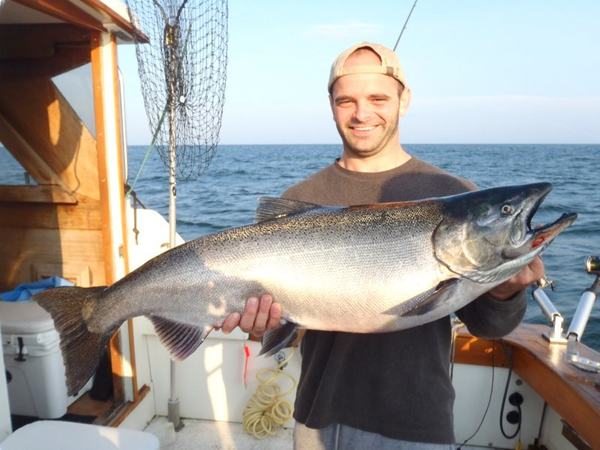 Fishing in Mexico bay from the mouth of the Salmon river north to Sandy pond continues to be fantastic! A few warm days & much of the rain missing us have kept most of the salmon from running the river to early.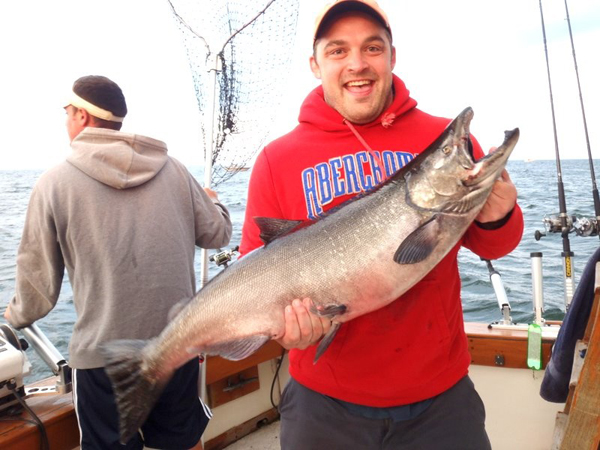 Although the bite turns on & off, when it's on its really on!! Kings, coho's and the occasional brown trout.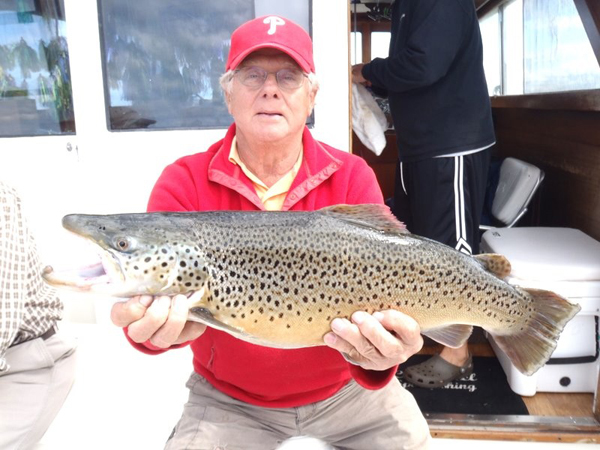 We will be fishing lake Ontario for about 10 more days and have several openings left.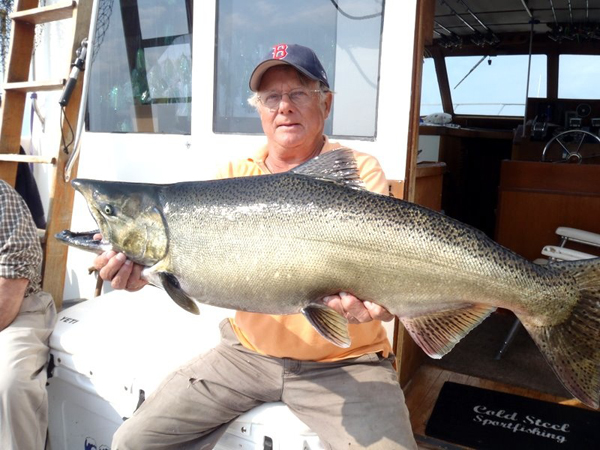 Many of the fish are still bright and should remain active for awhile. We will then put the big boat away and head back to the Salmon river for a great fall of Kings, Browns & Steelies!!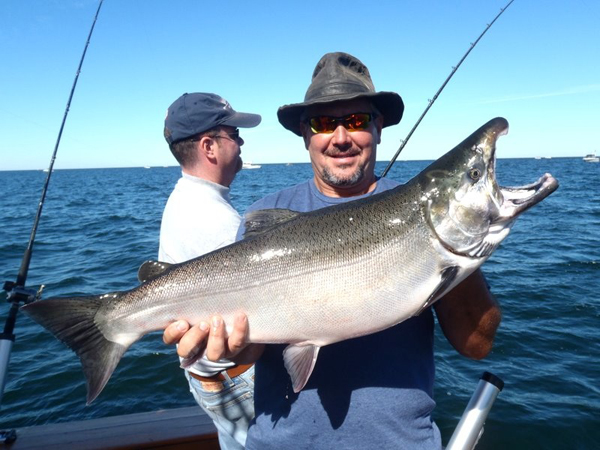 Call today for additional info, or to book a trip.
(315) 298-2500-Home
(315)-391-8079-Boat/River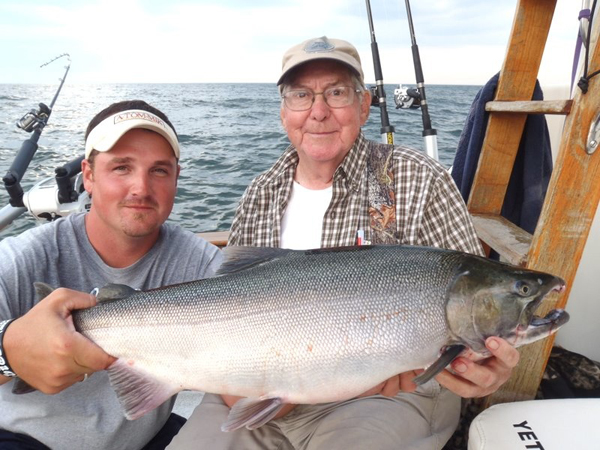 Fishing Report 8/25/11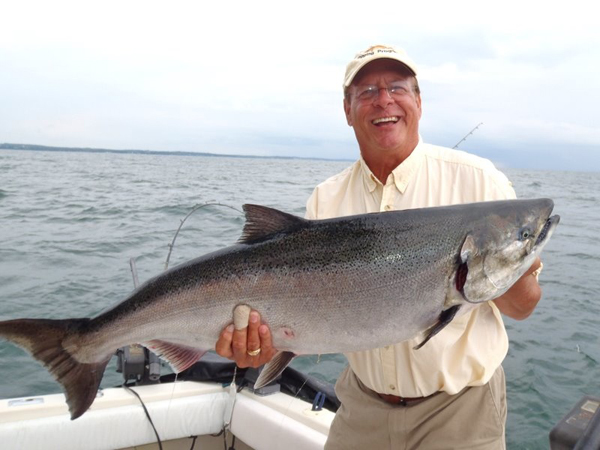 King salmon are moving inshore daily as they ready for their fall spawning run. We are catching kings from 15 to 25 pounds each trip. And Kings up to 36lbs have been landed out of our marina.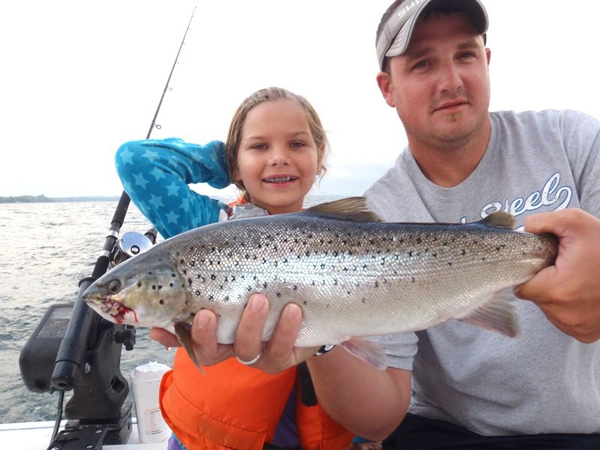 We will be fishing our lake boat from Oswego to the Salmon river until September 20th, and still have some prime dates available.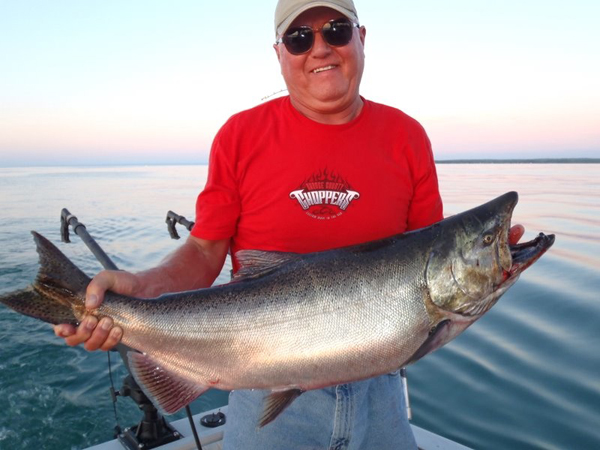 We also have a few dates left from mid October through November for salmon & steelhead on the Salmon river.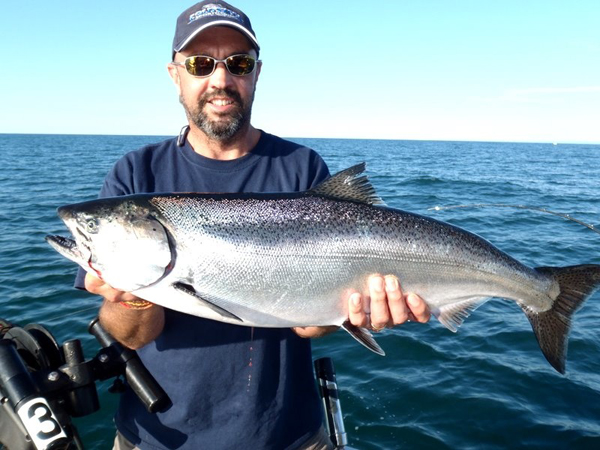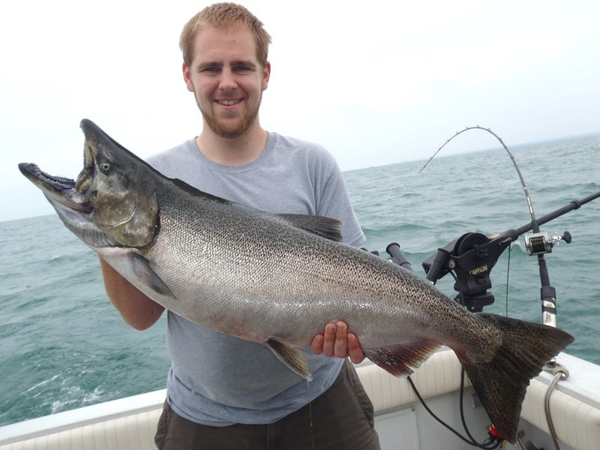 And are looking forward to another great river season. So whether it's a last minute trip with the kids before school starts. Or the end of the year trip with the boys! Give us a call today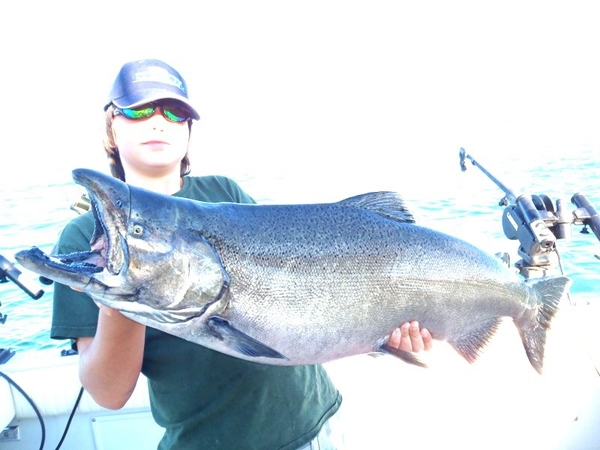 Fishing Report 8/7/11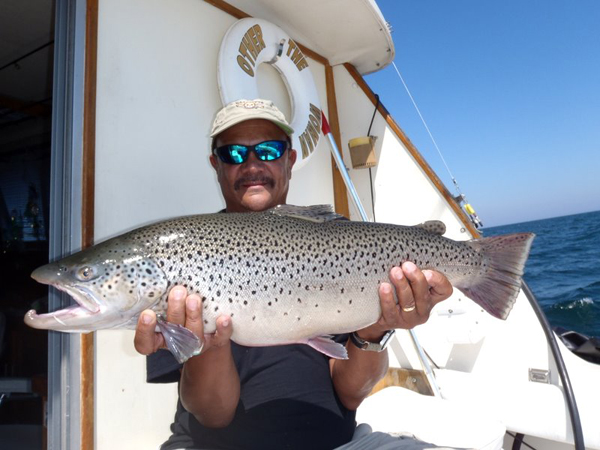 Although Brown trout fishing should remain hot for at least another couple of weeks, August to mid September is King time on lake Ontario's eastern basin.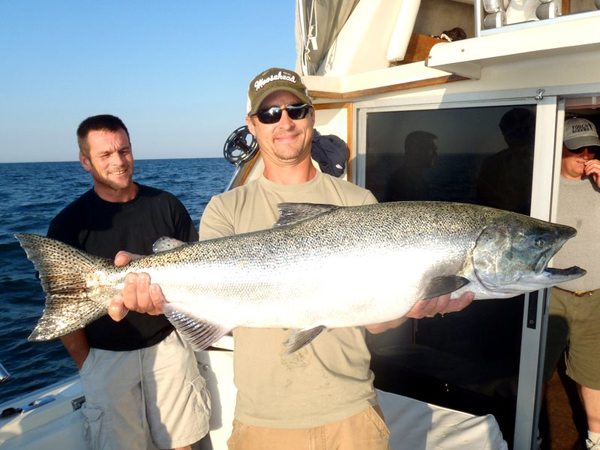 Big mature Kings 15 to 30lbs will steadily flow into the area as they start returning to their home rivers to make their spawning run!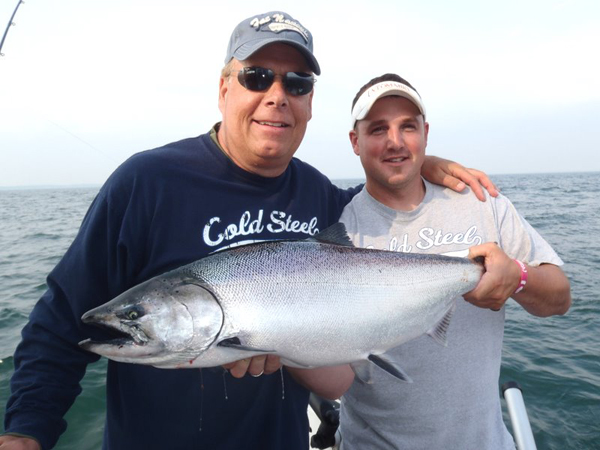 Coho's will also mix in. These 7 to 15lb spinning rocket ships will also test your mettle! Time to book is running out. Weekends and mornings are just about gone, but many good weekday and afternoon dates are still available.


We will be fishing from our homeport in Oswego, as well as our secondary dock on the Lil Salmon river as fish move in tight in front of the Salmon river as the season progresses.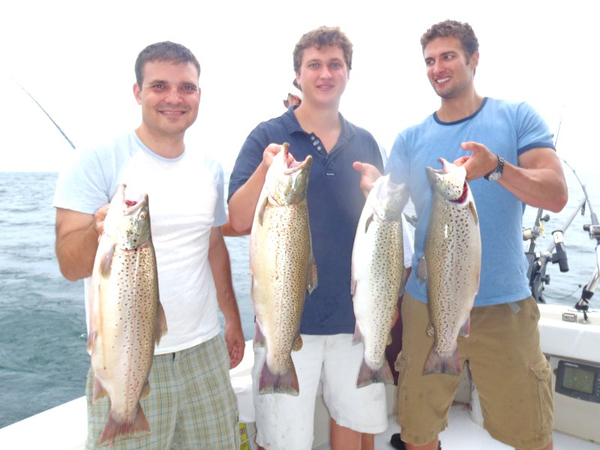 Checkout some of these beautiful fish we have been catching! And call today to book your late summer trip.
Evenings (315) 298-2500
Days on the boat (315) 391-8079
Book your last minute trip. Many of you are already booked and we look forward to seeing you soon!!

Also become a fan on our facebook site. We have a lot of great photos, updates, and fun posts.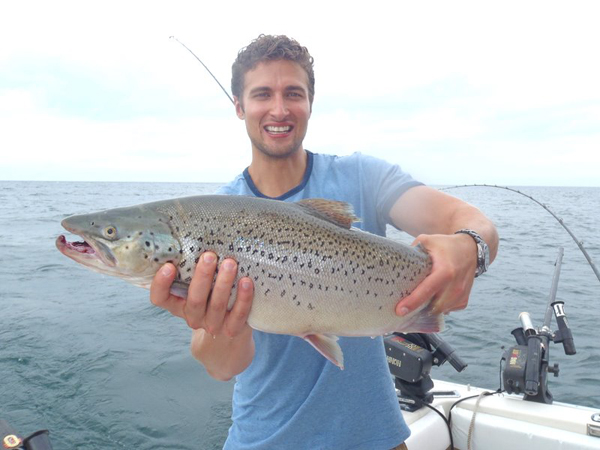 Fishing Report 7/19/2011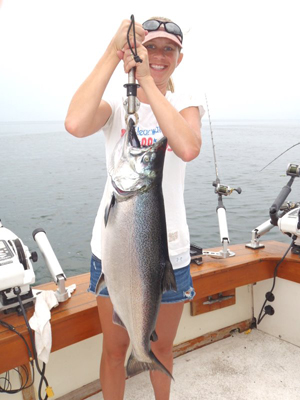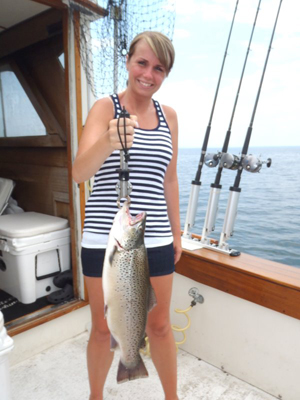 Summer/fall fishing season on lake Ontario has started, and things are looking very good!! Fish have been lined up between 120' and 400 feet of water along the entire south shore of the lake!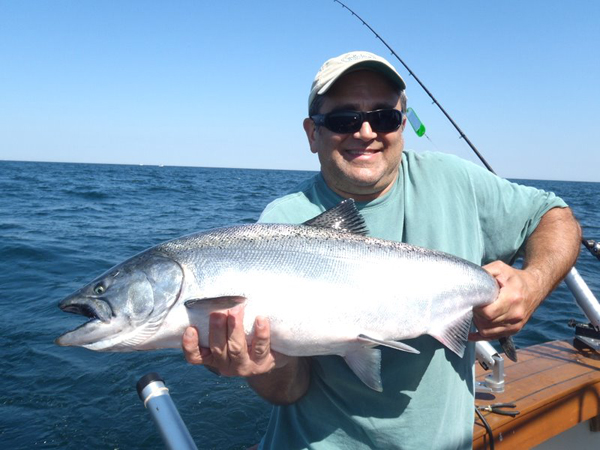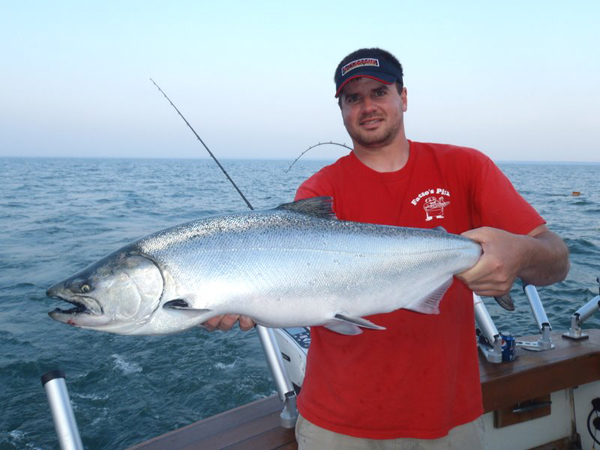 It's always nice to have hot fishing, but if it's no good 20 miles away then it's bound to slow down for you as well. This year every port on the south shore from Wilson to the Salmon river is experiencing good fishing at the same time.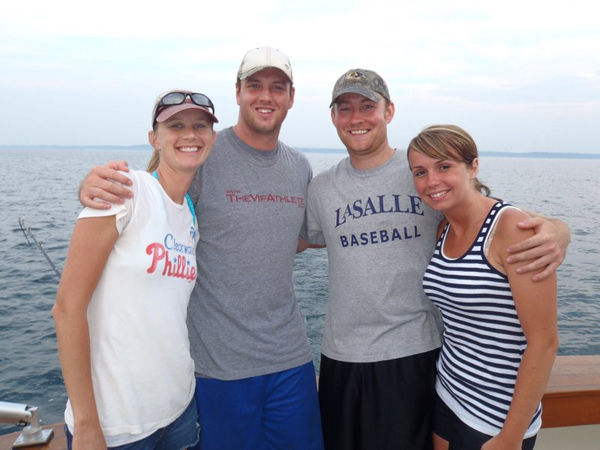 King salmon from 2 to 30lbs, browns from 3 to 20lbs, 1 or 2 chrome steelhead a day mixed in and even lake trout have made a big showing this year.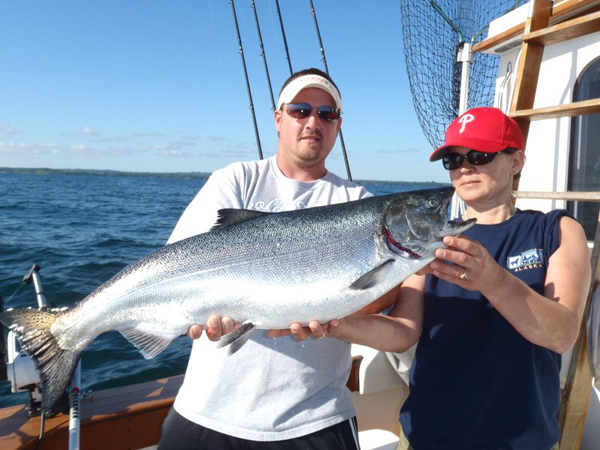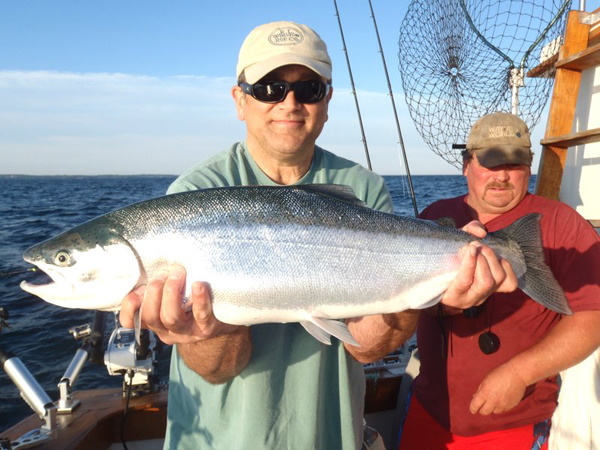 With a tough economy it's been hard for some of our crews to keep their whole group together and make their annual trip. This opens an opportunity for some people who haven't been able to book way in advance, and found the dates they wanted already booked.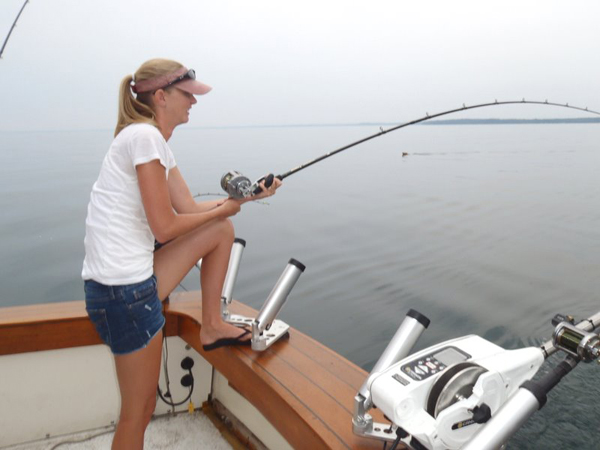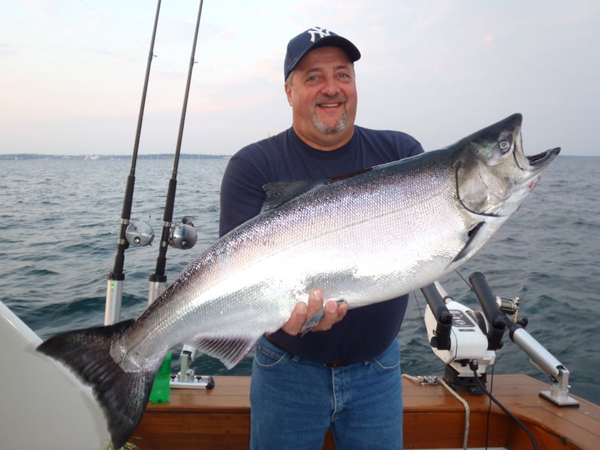 This year there are still plenty of dates available and we have held our price steady for the 5th straight year, despite rising costs. So call today and ask us about our late summer Obama buster special!! And catch that trout or salmon of a lifetime!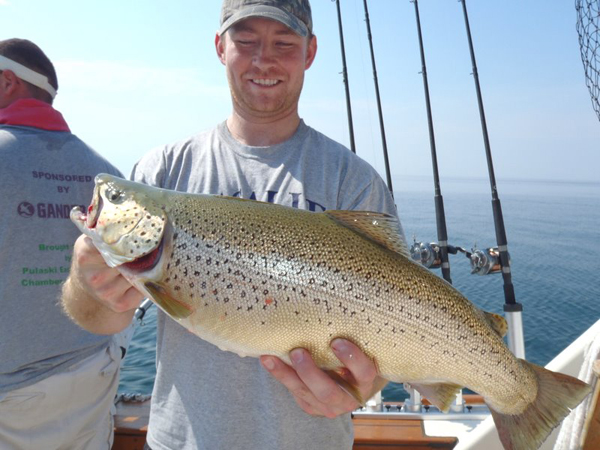 This is definitely a great year to come to lake Ontario!! Call us today for open dates.
Fishing Report 6/8/11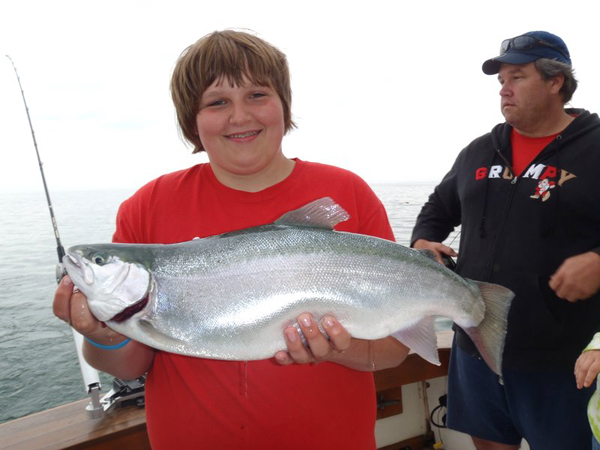 Matt Loch who has plenty of experience for a younger guy did a great job landing this "Bow"

Fishing over the last few weeks across most of lake Ontario has been phenomenal!! Kings on the west end, mix of trout with a few kings in the middle, and great Brown trout action with a few Kings & steelies thrown in on the east end.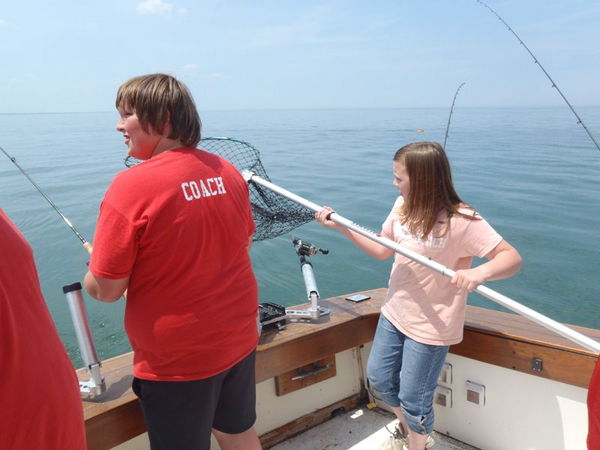 Matt's a good fisherman but you still need a expert net person! Sister Mindy took care of him!
With the tourney season underway, we have fished out of Oswego, Sodus, the Oak and Wilson the last 2 weeks and found good fishing throughout. Before we left home it was browns, browns & more browns.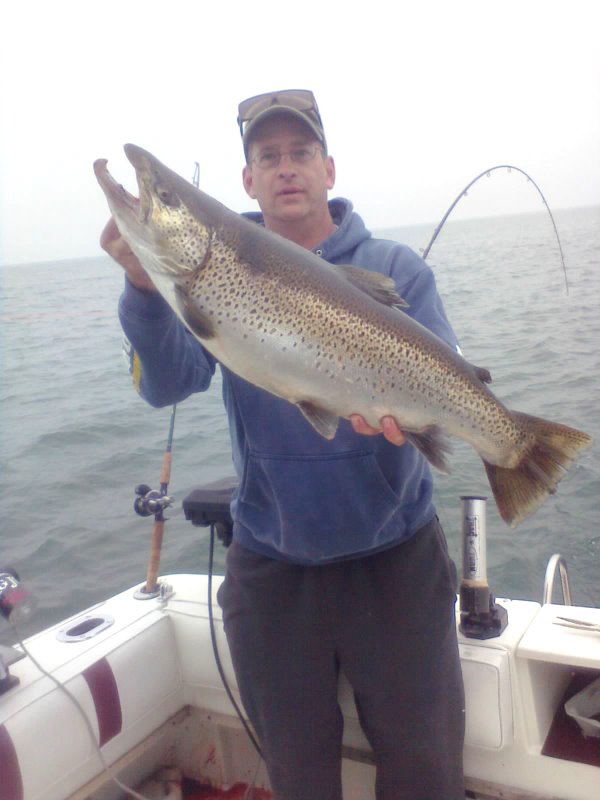 Good friend Mike Ariola landed this big male brown on the "blue eyed lady"
out of Oswego. The boat is owned by Mike of Sticks bar & grill in New Haven.
A combination of a place to stay, eat and get good fishing info!!!

Most boats weren't even venturing offshore. At Sodus we caught Steelhead,browns & a few kings. Towards the Oak & Wilson it was Kings of all sizes!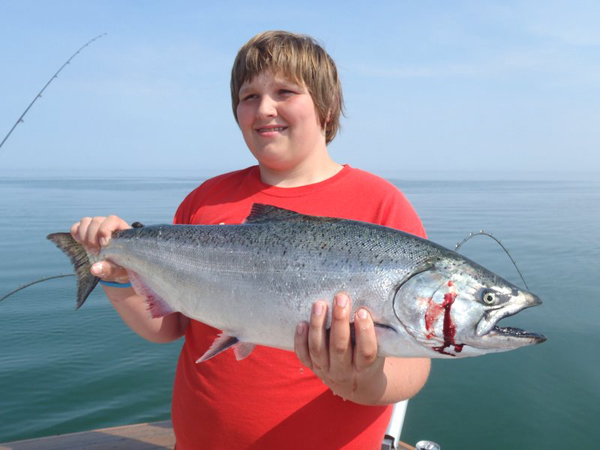 Matt kept reeling them in! This picture also shows that yes, Lake Ontario can be calm!!
A combo of Stinger spoons and Atommik trolling flies behind pro troll attractors gave us steady action. Browns were in the top 20 fow, with salmon and steelies from 20 to 120 fow. Reds & oranges for the steelies, with whites and greens being dominant on the deeper fish.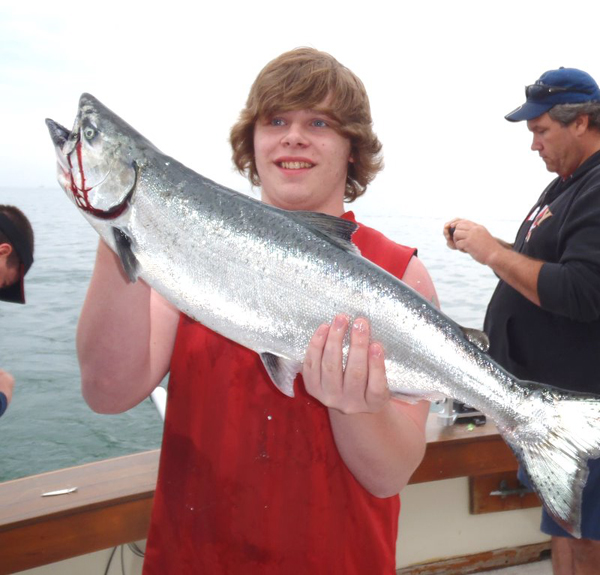 Matt's pal Patrick with another nice spring King!
Fishing Report 5/17/11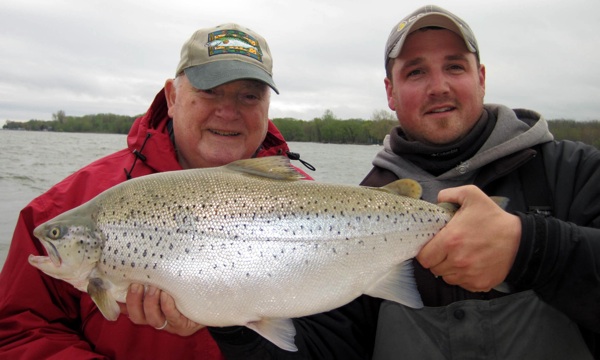 Lyle Lucier with a 13lb football brown!!
After a great 2010/2011 steelhead season on the Salmon river, we are already into a fantastic spring Brown trout season on lake Ontario's Eastern shorelines! From Rochester to Mexico bay we are seeing not only big numbers of Browns, but also some big fish!!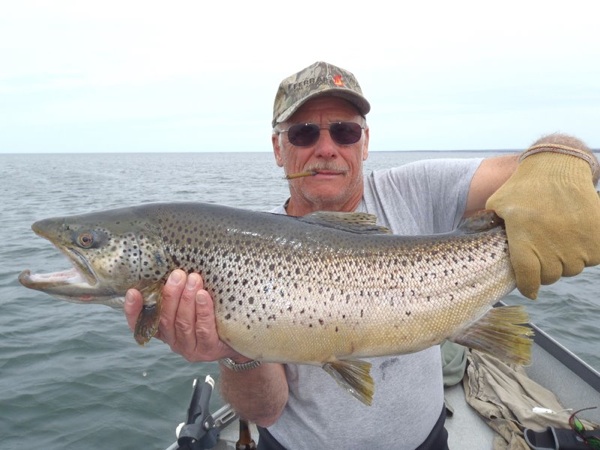 Another lunker!
With the Oswego river running high for months now, the Oswego area has plenty of colored water providing color for lots of browns. Stickbaits off planer boards like Smithwicks, and AC shiners. And Michigan stingers off the boards or riggers down 1 to 10 feet have all produced.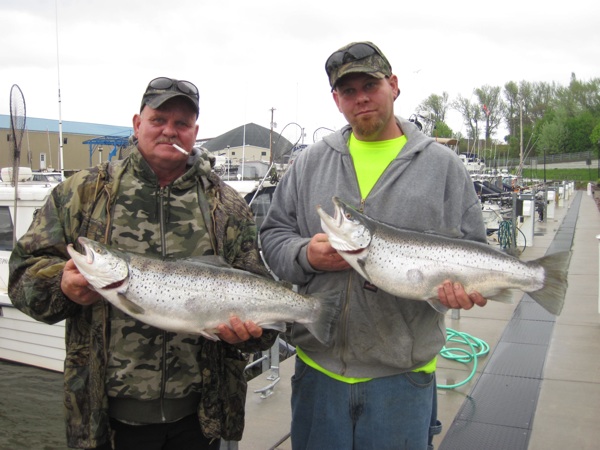 A nice pair of 10 pounders!
With plenty of rain and cool temps this great fishing should continue for awhile!! With the tough economy there are boats available daily. Call today for a action packed trip.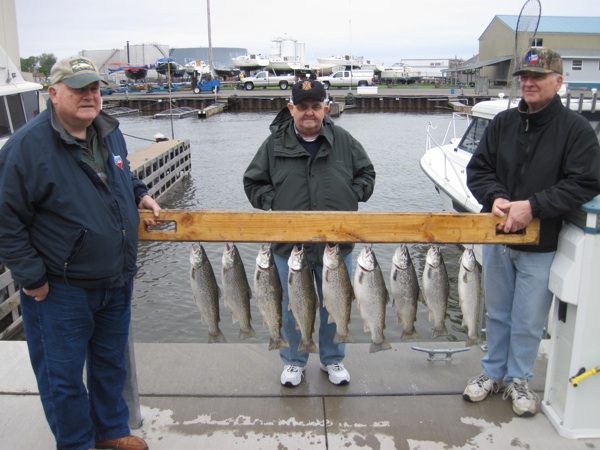 The Lucier party from NH with another limit catch.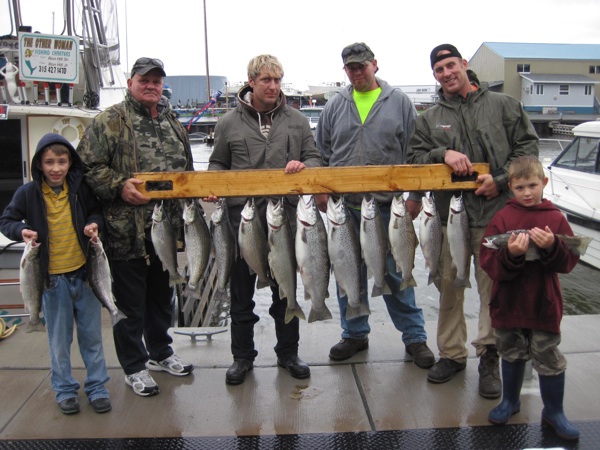 Limit catches have been the norm this season!!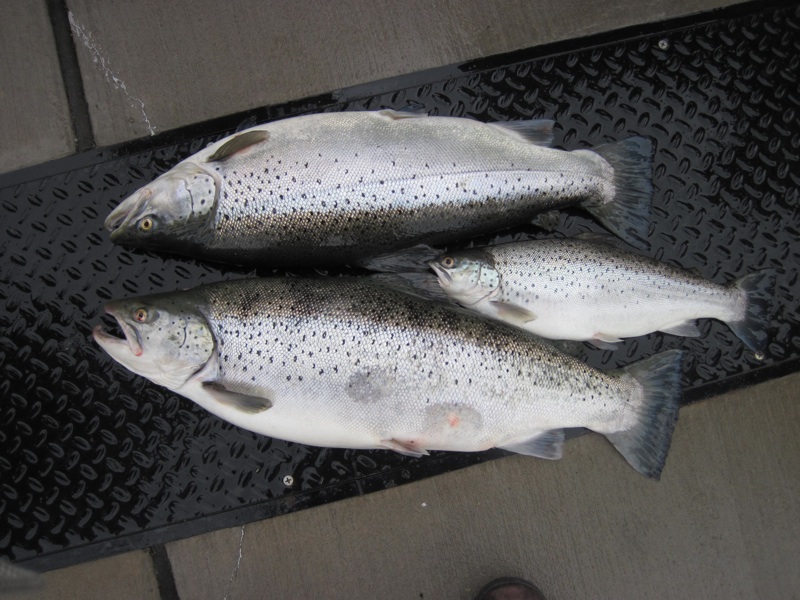 This is what a 3lb brown looks like next to a pair of 10lbers!


Fishing Report 4/18/11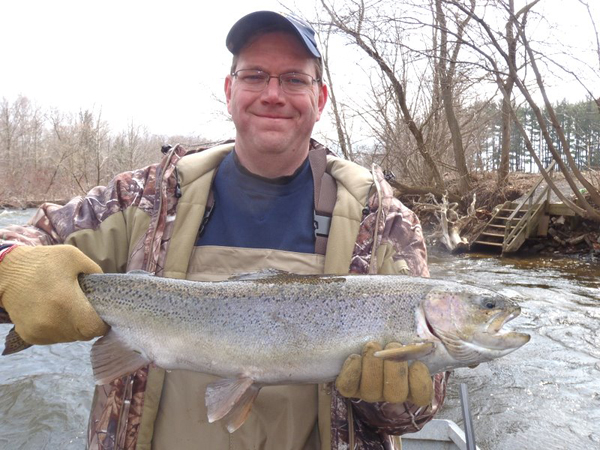 Despite the snow squall today, Spring is slowly taking over. Went up on tughill yesterday and although patches of snow were spread through the woods, there really wasn't much left. The Salmon River was fishing fantastic at 2500 cfs, but has slowed a little since the flow has climbed to 4200 cfs. Looks like it should drop some on Monday.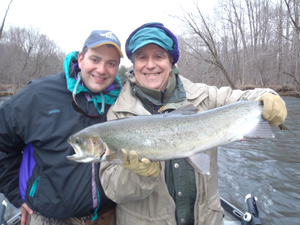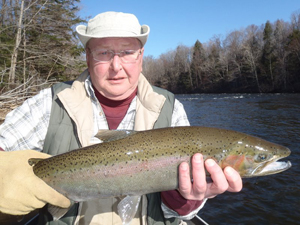 Spawning & dropback steelies are spread throughout the river. There are even some straggler browns still around. After a long winter these fish are hungry and most presentations are working. Plugs, flies, sacs and beads have all been good. The water has been high and water temps cool so fish the slower seams.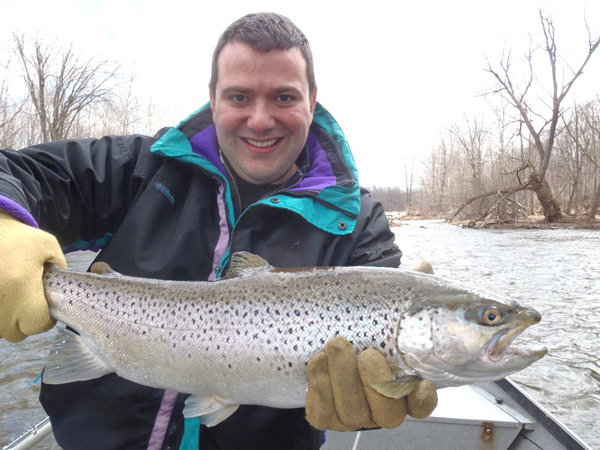 It also seems like the entire southern shoreline of lake Ontario is reporting good brown trout action in 5' to 20' of water. There are also some coho, rainbow, and a few small kings being caught.
With the cooler weather the Salmon river should hold fish till almost mid may! Providing some fair weather fisherman with a chance to catch a few steelies!!! Call us today for that last minute trip in early May.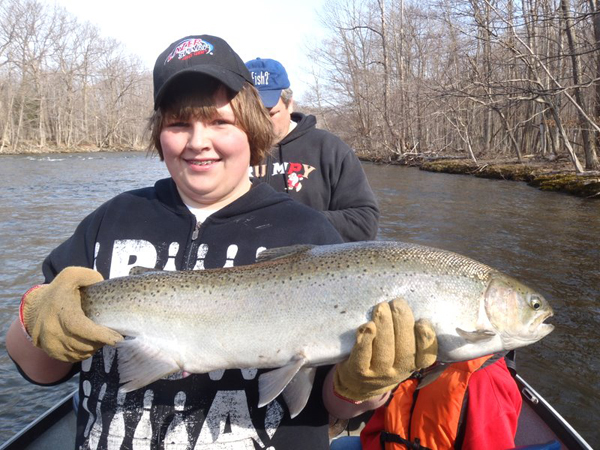 PS- We will be doing trips both out of Oswego and Wilson, NY(Niagara Bar) In May & June. Call us for the details!-Capt. Tom

FISHING REPORT 3/21/11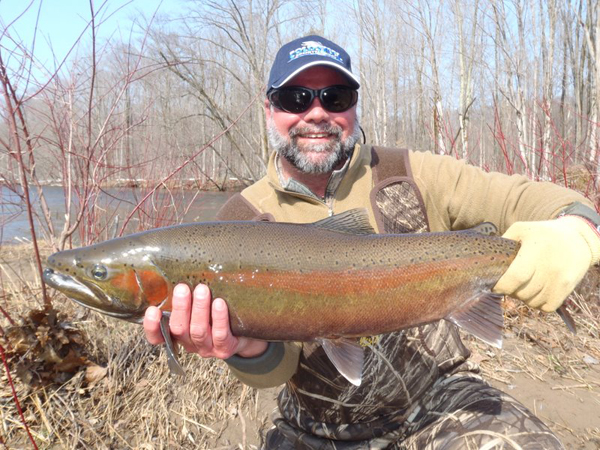 Steelhead are heading for full spawning mode on the Salmon river. Although we still have some snow melting, especially in the upper reaches of the watershed. Water temps are bumping up during some warm sunny days, triggering the fish. With spawning urges and water temps & levels jumping up & down, the fish are being temperamental as well.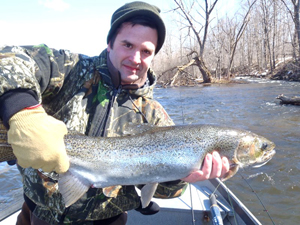 There are still some fresh fish entering the river, but their numbers are dwindling and many are moving quickly up the river. The spawning fish can be the most finicky, but at times will strike violently when provoked! We are also are lucky to have some steelies that are already spawned out, along with some dropback brownies. These fish are the most aggressive as they feed their way back to lake Ontario!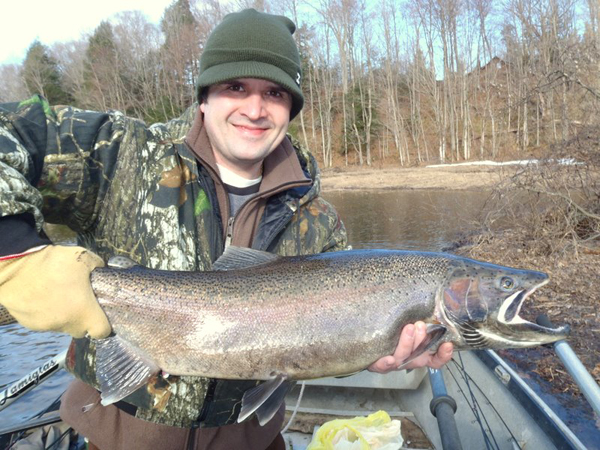 With high water levels you must fish the edges and seams. Don't wade in very far as you may step right on the fish. The high cold waters of the Salmon river are very swift & can be dangerous as well (be careful!)
With fish moods and water clarity constantly changing, it is important to change your presentation. Try different colors and sizes of sacks, flies & lures.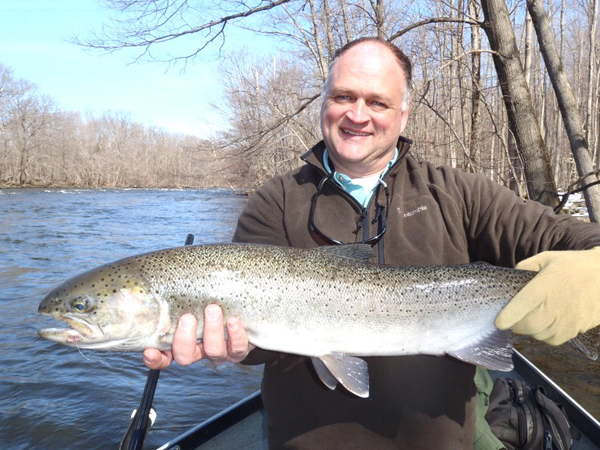 The smaller streams also have opened up and have fish. And early birds venturing out on the big lake are also finding fish along the shorelines when the winds are right.
Each week water temps will continue to warm up and so should the action!! Call today to book that exciting spring trip!!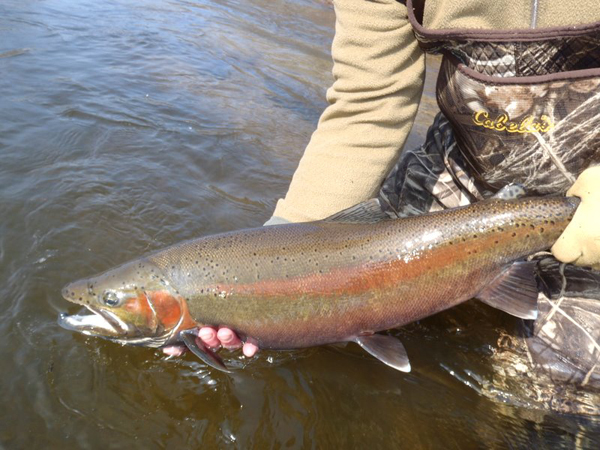 Fishing Report 2/24/11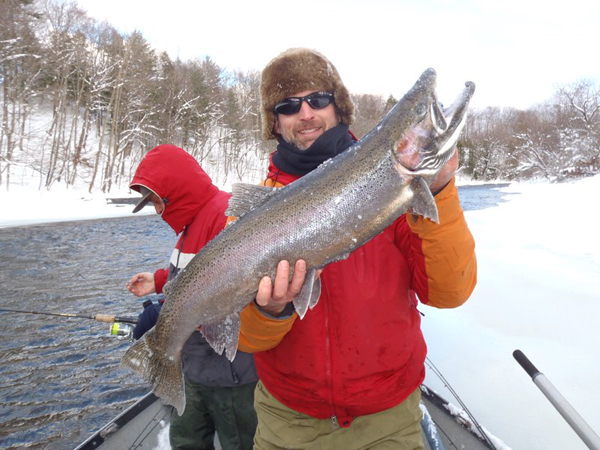 With only a few days warm enough for thawing, the water levels remain low(285 cfs). However with the great runs we had this year, the 1 fish steelhead limit & more catch & release than ever the river continues to fish well!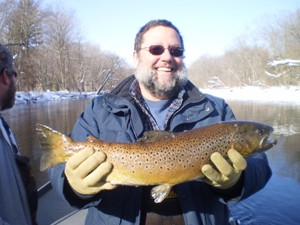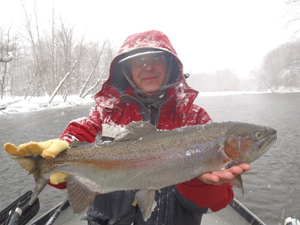 We have been having steady success on our trips despite some days with challenging weather conditions! As we head into late February spring may still be awhile off, but temps will certainly be on the rise. And the sun is definately getting warmer by the day!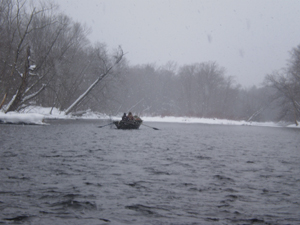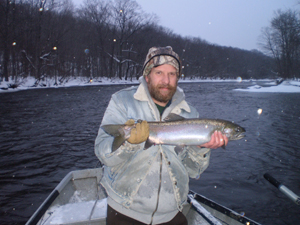 Whether you want to get in a last minute winter trip, or a little warmer during late March or April hot dropback fishing!! We have some good dates left. But don't wait to long as they are starting to fill fast!!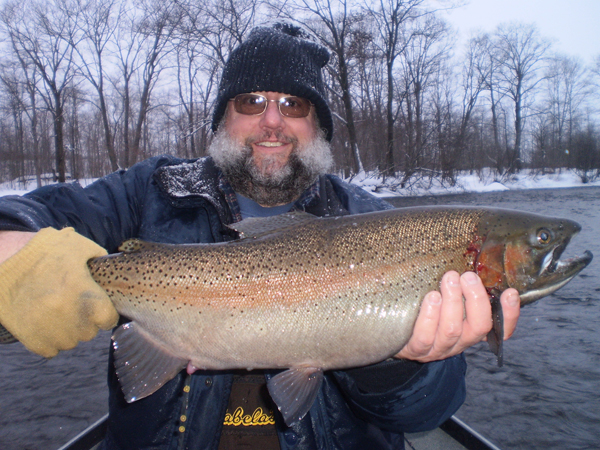 As I learned the techniques for dealing with the weather, I have come to enjoy the winter trips more an more over the years! The scenery, wildlife & solitude along with the fishing makes for a great day. On one recent trip we never saw another person or boat the entire day!! If your looking to enjoy a day or two outdoors this winter, give us a call!
Fishing Report 1/16/11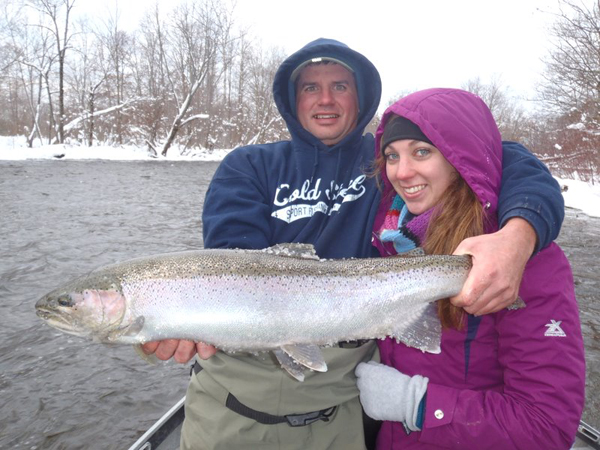 Fishing has continued to be very good on the Salmon river as we enter the heart of the winter season. A high water table has kept flows at 500 cfs. We have been catching plenty of steelies, but have also seen a good numbers of brown trout. Seems like the high water this fall protected a lot of them from being caught! On our last trip we even caught a beautiful male Coho! A real bonus this late in the season!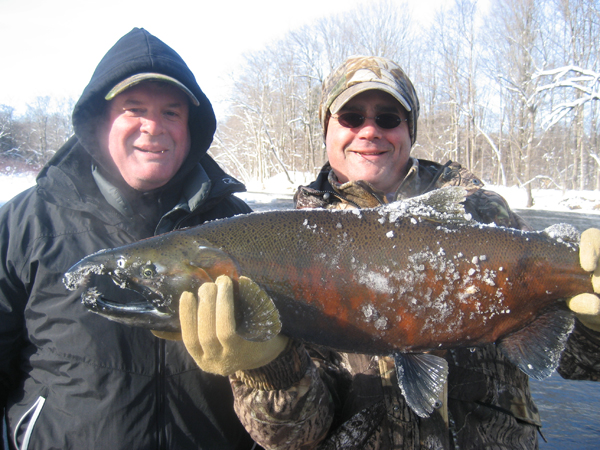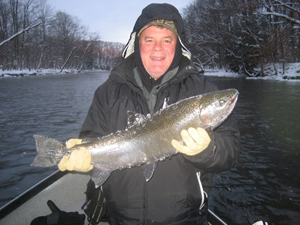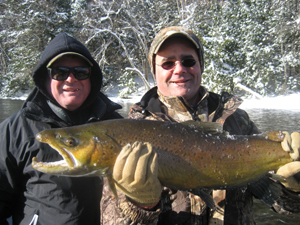 All methods have been producing, bottom bouncing with blue, white & pink sacs. floatfishing with the same & beads, and back trolling with plugs. Although the weather has been snowy & cold some days. The combination of proper dress, driftboat heater, and hand warmers allows for an enjoyable day on the water.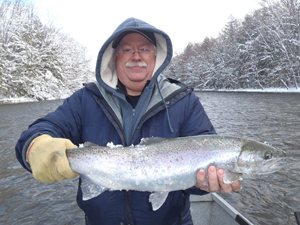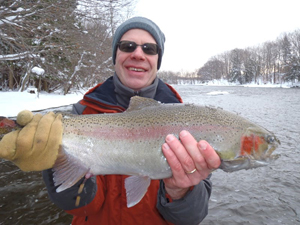 As I learned the techniques for dealing with the weather, I have come to enjoy the winter trips more an more over the years! The scenery, wildlife & solitude along with the fishing makes for a great day. On one recent trip we never saw another person or boat the entire day!! If your looking to enjoy a day or two outdoors this winter, give us a call!
Fishing Report 12/17/2010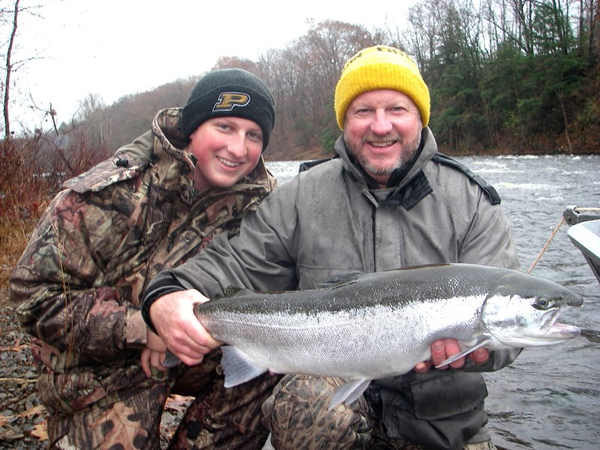 Jeff Klein and son from NJ enjoy a day together and some big steelies!
The 2010 fishing season is winding down. After a windy tough end to the lake season, the 2010 fall and early winter season on the Salmon River has been a good one! With the winds protecting many of them in the lake and strong water flows in the river the king salmon run was a good one throughout the river.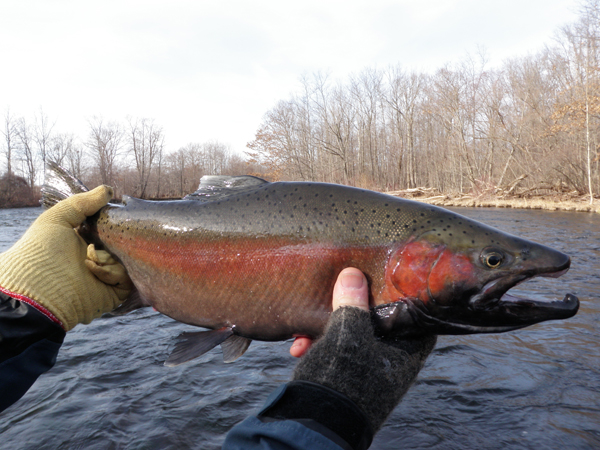 After spending some time in the river beautiful spawning colors appear!!

As rain & cooler temps continued the trout followed right behind the salmon and are still entering the river. With these early strong runs, high water table & continued strong flows it looks to be a very good winter steelhead season as well. During the past week another push of steelies have moved into the river despite some cold & snowy weather. Judging by what we have seen so far, the steelies should continue to enter the river in good numbers all winter.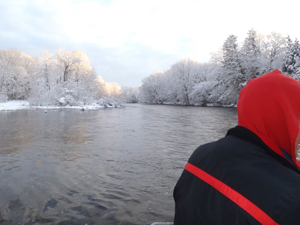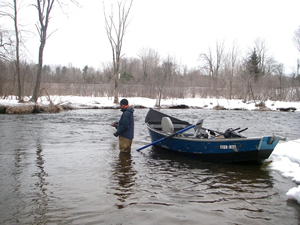 Big fish and nice scenery await! A driftboat is a great taxi to help you fish the river in the winter. The heater's not bad either!!

Color has been critical many days on the river, but not always the same color!! If your not catching fish continue to change your presentation.
Don't be afraid to try a winter trip. We can show you how to stay warm! As well as catch some big trout!! Winter also provides some beautiful scenery and wildlife on the river.
We want to wish you all a Merry Christmas and Happy New Year and hope to see many of you in 2011!!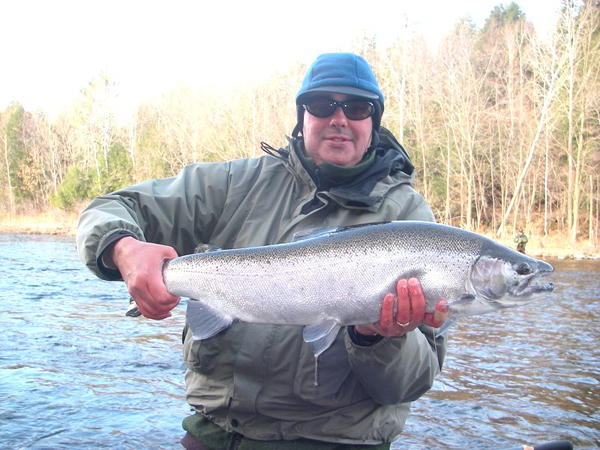 Mike Cree from MA with a nice late November Steelie
Fishing Report 11/2/10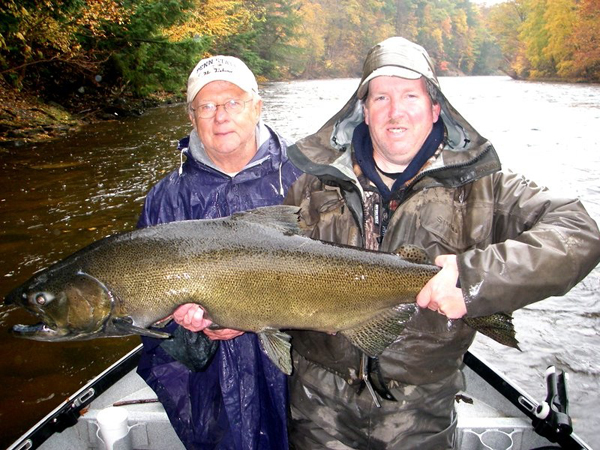 Ron Gougher from PA with a gorgeous 44 inch, 30lb late season King caught with a noodle rod and 8lb test!!

Although there are a few salmon left around, trout fishing has definitely been the ticket the last couple of weeks! If the trout continue to enter the river at the same rate it should be a great winter season as well!!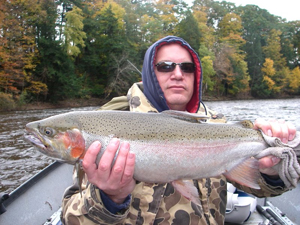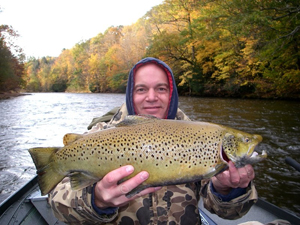 Ron's fishing partner Shane with a nice steelie and a great brown!!

Steelhead have been the dominant species, but some very nice browns are starting to be caught as well. The upper river(Altmar to Pineville)has been on fire with lots of trout and a few kings and coho's as well. From Pineville to the lake a steady procession of fish continue to work their way up the river. Egg sacs, beads & flies have all been working.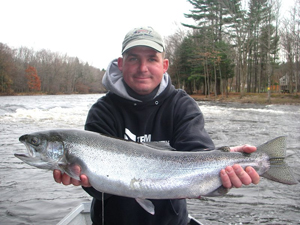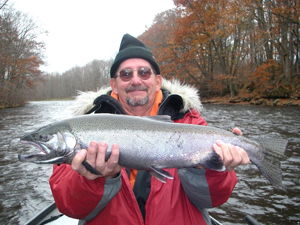 Keith Laurencelle from NH with a nice steelhead while Keith's dad keeps the pressure on with a beauty of his own!!

Some of these fish have seen a lot, so if your not catching continue to change what your throwing at them(item, color etc) We have had plenty of rainfall and the water has been running a steady 750cfs + runoff. This helps to keep the fish spreadout and active. Please feel free to contact us anytime for info or available dates for the fabulous fall/winter/spring Salmon river Steelhead season that is upon us!!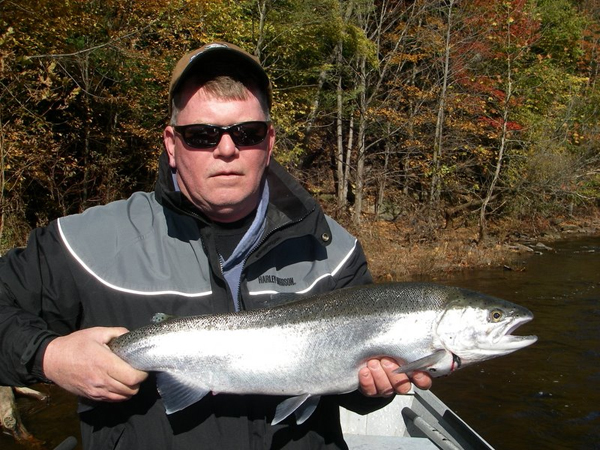 (above) Rick with a nice chrome steelie and (below) Ron G shows Shane what he thinks of bringing bad luck bananas on a fishing trip!! Though it didn't keep this beautiful steelie away!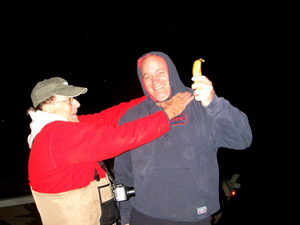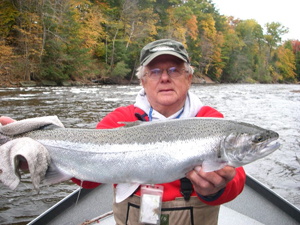 Fishing report 8/1/10
The month of July was "Brown trout" month in the eastern basin of lake Ontario. Although salmon were being caught here and there and steelhead made decent showings on given days, Browns were the bread and butter day in & day out!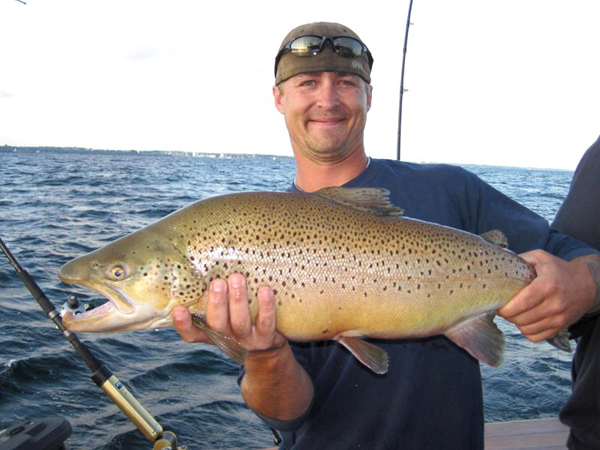 Lunker Browns in the 12 to 15lb class were common in July!!

Setting up along the eastern shoreline in their traditional summer haunts, where 55 to 60 degrees intersects the bottom. Especially in areas of increased structure, or humps & bumps as we like to call it! Michigan stingers in standard and Stingray sizes were phenominal all month long in producing limit catches of big Browns.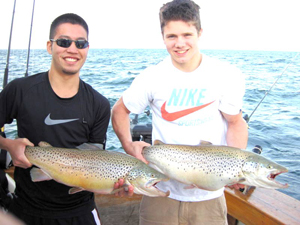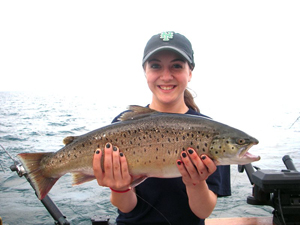 A double produced a nice pair of browns

NBK & Diehard patterns and just about anything with green on it worked well! Not only were the browns plentiful, but the numbers of 9 to 14lbers were awesome with a few 15 to 16lb lunkers as well!!!!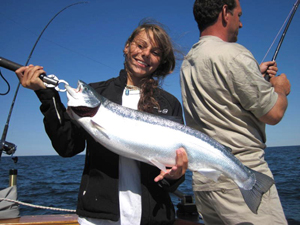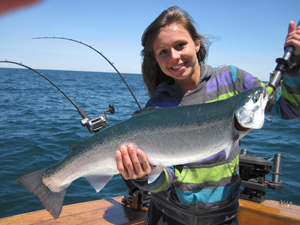 The Lenio sisters with a nice pair of Steelhead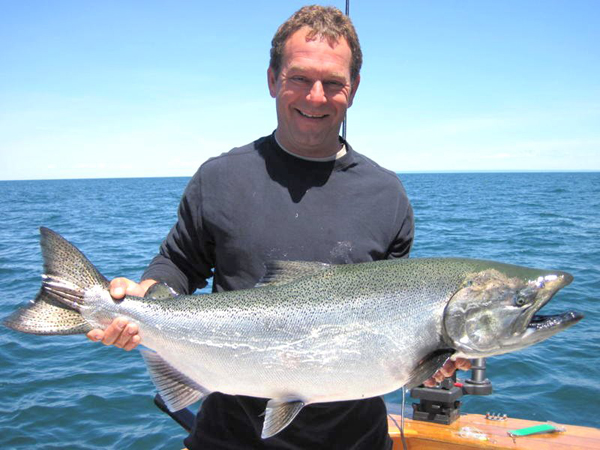 Joe Lenio didn't let his daughters get the best of him with this gorgeous summer King

A lot of the mature salmon spent the month along the northshore of the lake, and our canadian buddies had us excited with reports of Kings from 22 to 39lbs with even 1 over 40!!!
The Kings have been growing steadily all summer, and some real "hogs" should be arriving throughout the eastern basin from now till the end of the season!!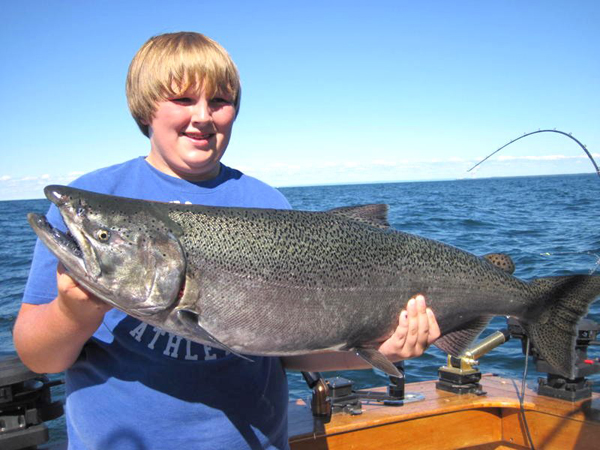 Matt Loch from Nicholson PA with a nice King

With the tough economy we still have some prime dates available and some fantastic fishing left between now and September 25th when we will put the boat away and head to the river. CALL me in the evenings (315) 298-2500 or during the day on the boat (315) 391-8079 to book your last minute trip. Many of you are already booked and we look forward to seeing you soon!!
Fishing Report 5/18/10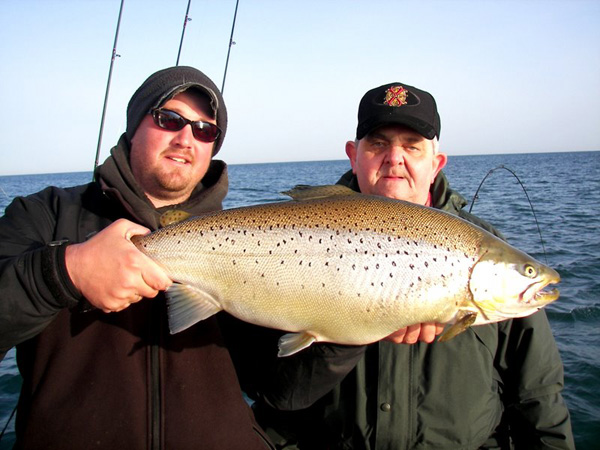 Brown trout action on lake Ontario has been phenomenal! The Browns have averaged 3 to 5lbs with fish in the 6 to 12lb class caught daily. Browns from 13 to 18lbs have already been caught this season, with our largest being a gorgeous16lber!! It has been mainly shoreline fishing so far in 5 to 20 feet of water. Surface lines off planer boards, or downriggers from 3 to 13 feet down have worked well. Michigan stingers, Smithwicks & Rapala's have all produced.
All the fish being caught on lake Ontario so far this year are averaging several pounds larger than similar fish over the last few years! We have seen several King salmon over 30lbs already as well as lakers over 25 and much larger Cohoes and Browns than normal too.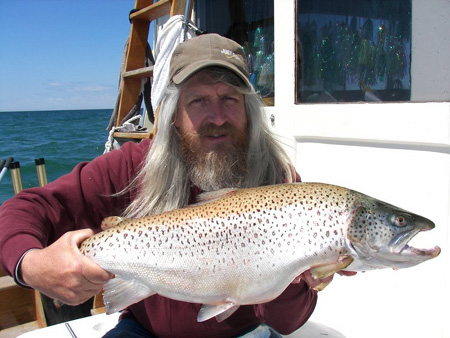 As the season progresses these fish will move deeper to stay in cold water, and continue to feed and grow!! We are looking at real possibilities of seeing a 40lb King, 30lb Laker and 20+lb Browns.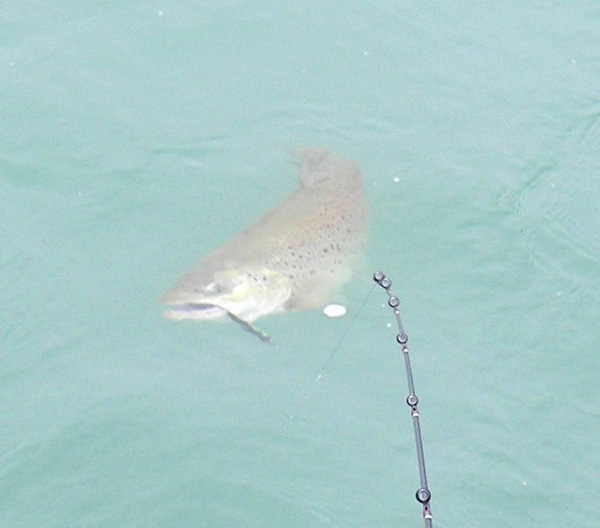 With the tough economy we are offering the same special as last year. No extra charge for the 5th or 6th man. So for example if 6 of you were to come up for a 6 hour trip($520) it would cost you less then $90 a person!! for a chance at a real trophy. If you have a small party give us a call and we will do the best we can for you. Also try signing up for our facebook site. We have allot of great photo's etc!! http://www.facebook.com/photo.php?pid=30738085&id=1292263668#!/group.php?gid=56419044395
Tight Lines,
Tom
Fishing Report 4/2/10
The temps are nice and warm now which will bring the water temps up and make the steelies more active. The water levels have been back to normal after the preparation for Spring runoff had water in the 1800cfs range. On Sunday the water came down and despite some tough conditions, we were able to connect on quite a few fish like this one, the first for Andy Samara from Vermont.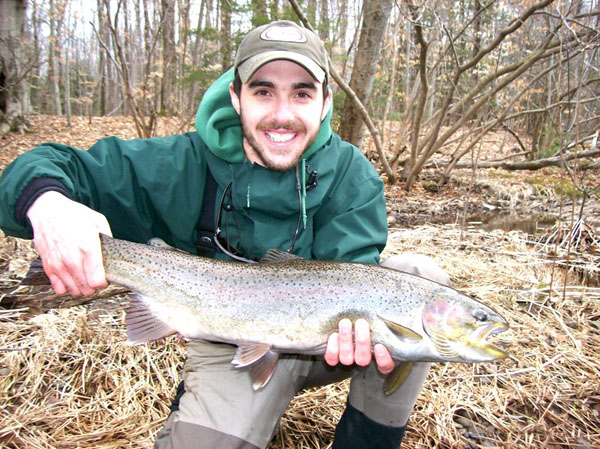 There were a lot of boats on the river this past weekend, but we still picked off fish in the traffic. The Steelhead in the Salmon river will be in full spawning mode over the next few weeks. We will also have some late runs still moving in, and a few early spawners already starting to dropback. For those of you who didn't want to brave a winter trip, the time to come is now with temps almost summer like this weekend! Steelies will be in the river till at least the end of April, and most of the time in smaller numbers to mid May!
| | |
| --- | --- |
| Greg Lewis watches in amazement as Andy hooks yet another steelie. | Greg Lewis from Vermont took all day to finally get his head straight and hook this steelhead. |
Our charter boat is scheduled to go in the water April 15th to give us additional options for spring Browns as well.
Water level is currently 500 cfs plus runoff, but is being updated daily. So keep a close eye on current conditions.
This past week the lower fly zone was the hotspot with steelhead stacked up waiting to get into the hatchery. Gravel spawning areas early and deeper holding areas during midday hours will be the ticket over the next few weeks. Right now water temps are fluctuating with warm sunny days and snow melt. So the bite is up and down as well. Until water temps hit 38 to 39 degrees and stay there or above the fish will remain tempermental. The good news is there are lots of fish in the river this time of year. So fish hard and stay focused!
Capt. Tom
Fishing Report 3/13/10
Spring has definately sprung early this year on the Salmon river and the eastern basin. Obviously not everyday is going to be sunny and warm, but this is the lowest snowpack we have had for this time, in several years. And the next 7 days the lows will be above freezing and the highs from 40's to 50!
| | |
| --- | --- |
| The happiness of your first steelhead! | We were able to enjoy a warm sunny morning and total solitude while working a nice seam on the river. |

The Steelhead in the Salmon river will be in full spawning mode over the next several weeks. We will also have some late runs still moving in, and a few early spawners already starting to dropback. For those of you who didn't want to brave a winter trip, the time to come is now. Steelies will be in the river till at least the end of April, and most of the time in smaller numbers to mid May!
| | |
| --- | --- |
| Veteran steelheader Thom S couldn't let the rookie get the upper hand. | Ahh... It's always tiring opening up a can of whoopass on a rookie. |
Our charter boat is scheduled to go in the water April 15th to give us additional options for spring Browns as well.
Water level is currently 750 cfs plus runoff, but is being updated daily. So keep a close eye on current conditions.
This past week the lower fly zone was the hotspot with steelhead stacked up waiting to get into the hatchery. Gravel spawning areas early and deeper holding areas during midday hours will be the ticket over the next few weeks. Right now water temps are fluctuating with warm sunny days and snow melt. So the bite is up and down as well. Until water temps hit 38 to 39 degrees and stay there or above the fish will remain tempermental. The good news is there are lots of fish in the river this time of year. So fish hard and stay focused!
Capt. Tom


Fishing Report 1/7/10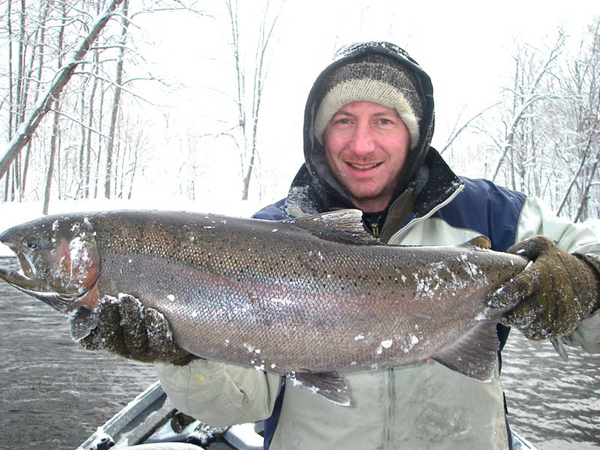 Greg and Steve were up from NJ and stuck it out through 5 to 18 degree temps, winds and almost constant snow. The water was 335 and dropped further to 285. The cold, low and clear water temps made these guys have to work hard for every bite and even harder to keep them on. Despite the conditions Steve landed his biggest Steelie to date! Were calling it 16lbs!!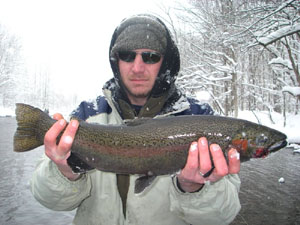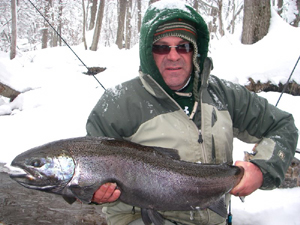 Fishing Report 12/10/09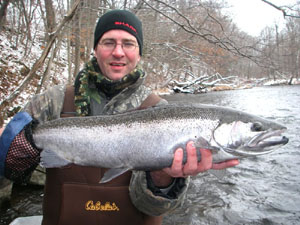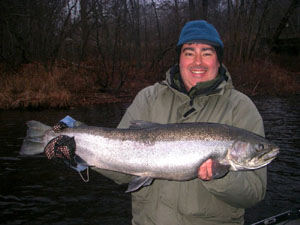 Fishing has been rock solid with 8 to 14 hook-ups a day and some fantastic battles! Some fresher fish just starting to enter the river should keep the fishing strong right into January!!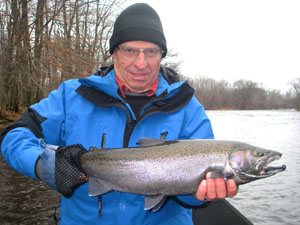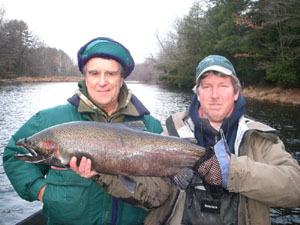 The water rose to 750cfs last night for the 1st time in a long time and should keep em coming!! Looks like some very wintery weather the next few days, then improving for next week. Available dates are finally opening up, so call for a great winter trip!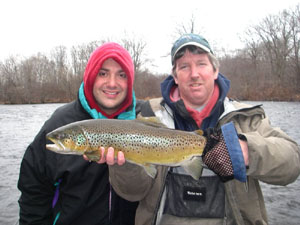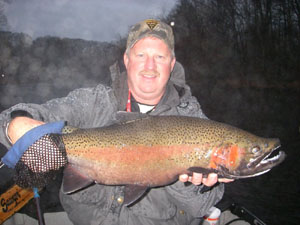 Fishing Report 11/24/09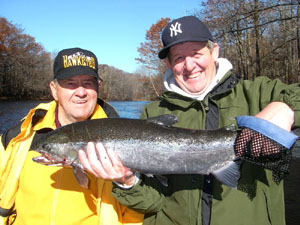 The fishing has remained steady in the Salmon river with both Steelhead and Brown trout along with a stray coho once in awhile. Although we finally got some rain, water levels remain low and clear at 335 cfs with little runoff. With lower water, water temps around 40 and fresh fish still working their way upriver, fish are still in both the faster runs and slower pools as well.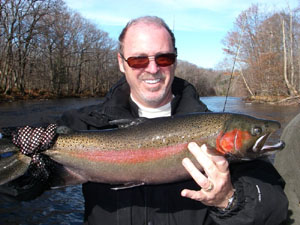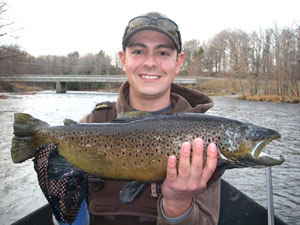 A wide variety of tackle is also working with spin/noodle rods, float rods, traditional fly, spey and plugging all producing fish. Blue, white, pink, chartreuse and combo's of the same working well. December fishing should also be very good with moderate weather predicted. Especially if we get some additional precipitation. We have a handful of December dates left, give us a call today!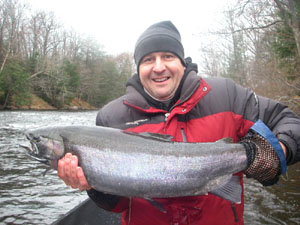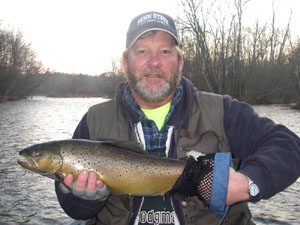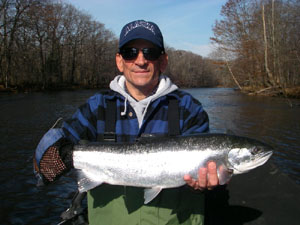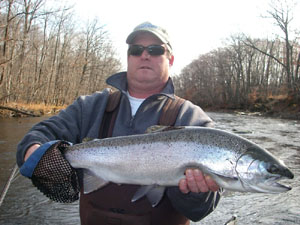 Fishing Report 10/16/09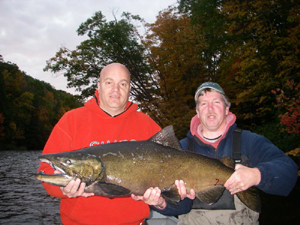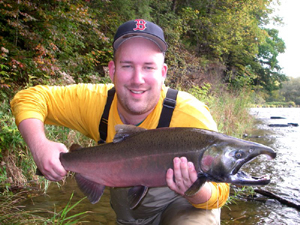 There are good numbers of king salmon in the upper half of the Salmon river with more Steelhead showing up daily. Most of the Kings are on the gravel or pools close to the gravel. A majority of the 1st run steelhead are in the Altmar area, but fresh runs are starting to enter the lower end. Keep in mind the old saying "match the hatch" egg sacs and egg patterns are working best! Water levels are scheduled to drop tonight to 750 cfs till at least monday. Water temps are hitting the low 50's and should be in the 40's soon..........Can you say STEELHEAD!!!!!!!!!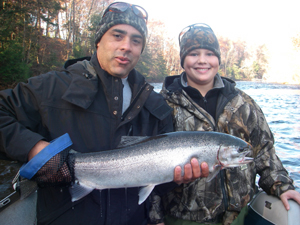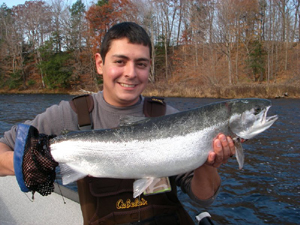 Stay Tuned- Tom
Fishing Report 8/1/09
FINALLY!!!!!!!!
2nd,2nd,2nd, I don't think we could have taken another 2nd!! After 3 years in a row 2nd in the Lake Ontario Challenge Cup we finally took the crown!! Capping off a great Pro Am tourney season of all top 3 finishes.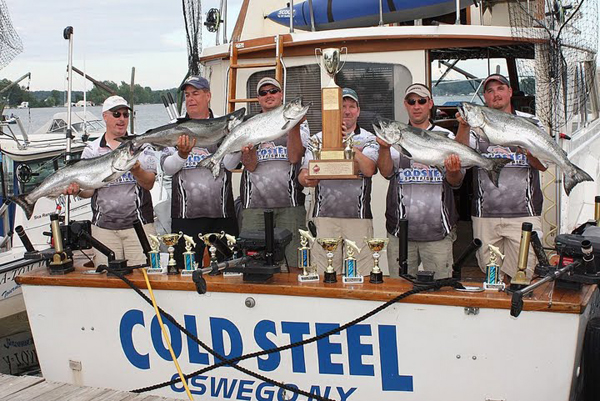 Last year we lead everyday but the last one, so it really felt great to be holding the cup on the last day this year! Thanks to all my team members Andy Bliss, Tom Allen, Rick Drosihn, Rob Ripka and Casey Priscoe for their great efforts. A special thanks to Pat Thayer of Redline charters who helps keep the ole Cold Steel on the water!! We would love to cap off the season with an Oswego Scotty win in August!!!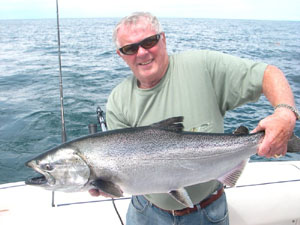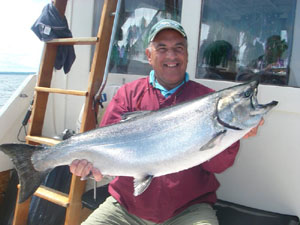 After returning to Oswego we found very changeable weather conditions that had the fish scattered. But over the last week things are settling down and we are starting to have very good Brown trout and Salmon fishing!!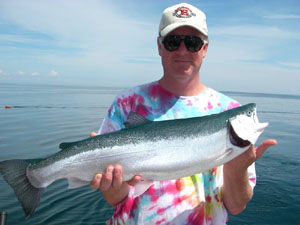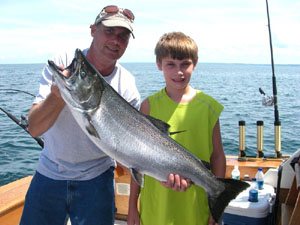 The Salmon continue to be very good size, with Pro Troll/Atommik fly rigs and a few Stingers working well. Michigan Stingers in standard size and Stingrays are killing the Browns.
Still open days available! Give us a call today to book that trip of a lifetime!!!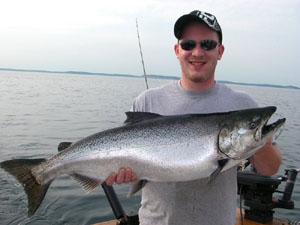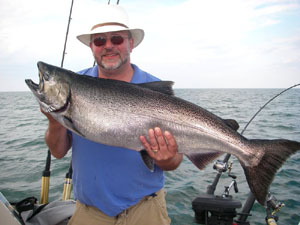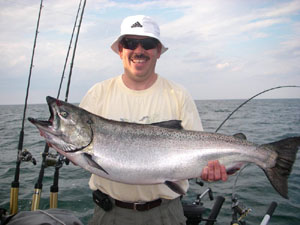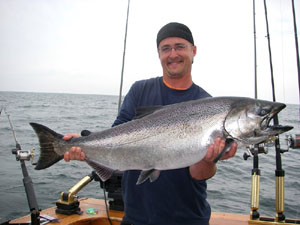 Fishing Report 6/23/09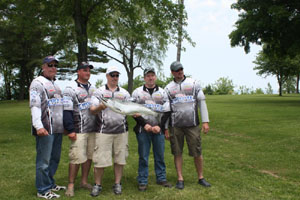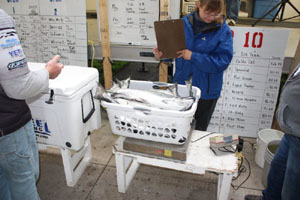 Well we're back from the West end leg of the Pro-Am circuit. With a pair of 3rd place finishes we are in great shape heading into the final two events.
The Niagara event started off with tough fishing due to constant East winds. Having 1 fish in the cooler by 8am and hearing from a few other boats that fishing was tough, we decided to move on to plan B. Well it was the right move. We landed two more Coho in the next 45 min. Then it got Crazy, between 9:15 and 9:45 we landed 9 more Coho, one being 16 1/2 lbs! Filling out our limit, after the day one weigh-in we were in 5th place.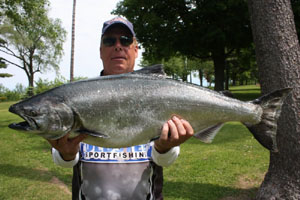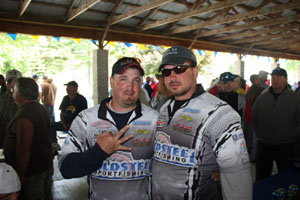 Day two started off a little better with the fish coming at a steadier pace but, the coho's were a bit smaller. We then doubled on a pair of Kings 10-14 lbs. With 9 in the cooler by 9:30 we decided to try for a few more bigger fish in hopes of moving up the leader board.. Well the that move paid off too as we broke off a big King quickly after making a change. We rest and that same rod doubled over again, after a 15min fight we had a 24 1/2lbs King in the bottom of the boat! our next pass produced two more quick fish and we were boxed out again, this time by 10:45!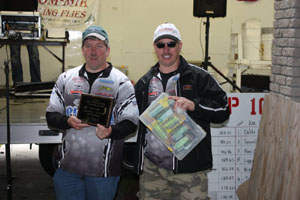 At the weigh in we watched the day one leader come in with a good box and beat us by 4 points. Then one of our biggest competitors came in with a big box that was good enough for first, we missed out on defending last years win by 7 points. But, we did end up with the biggest fish of the tournament and for the tough fishing we were glad that we were able to adapt and put together such a great finish!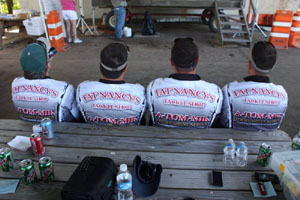 Off to Oak Orchard... Well we thought the fishing in Niagara was tough, welcome to the Oak! The first day of practice we fished for over 11 hours and landed fewer than 10 fish, not good. Day two wasn't much better but, we did hear some good reports, I don't know if that is good or bad. On day one we took the advice of one of our good friends and headed west to where we had some Kings the first day of practice. We never got into the kings but we managed to find some large Steelhead and plenty of under-sized fish including a 23" Atlantic. When day one was over we were in 6th place, just 20 points out of 3rd.
Day two started off a little better with steady action and fewer throw backs. Then we took a 14&1/4lb laker. We continued our pick hoping the leaders were having a tougher day, but on day two unfortunately they weren't. We caught our 12 fish by 11:30 and were headed in with high hopes! We managed to move up to 3rd again!
After the two tournament totals were added up, we missed the West End Cup by 8 points! Oh well!
I want to give a big thanks to our team members who never got down during the tough times and were always on their game when the chances came. A good team makes fishing these events a lot of fun for Tom and me. I also would like to thank all of our sponsors with their support all things are possible, Tom at A-TOM-MIK Flies, the best trolling fly on the Great Lakes, Rob at Fat Nancy's brings us out anything we might need, Michigan Stinger spoons, Pro-Troll flashers, Shimano rods and reels, Scotty Downriggers, Owner hooks and Walker Deeper Divers. --Capt. Andy Bliss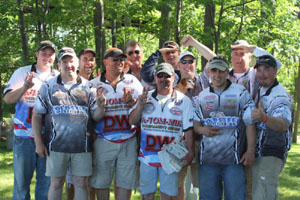 Fishing Report 5/31/09
Fished the 1st annual Jon's Lil Salmon river Brown trout derby on Saturday. There were 66 boats competing, and after a nice start to the day the winds started to blow pretty good. Unlike most of the tourneys we fish, this time we had a charter onboard from Conneticutt and they did a great job landing some nice browns under tough conditions. We had a great shallow water program going until the winds & waves started to roll in. After a little searching we were able to dial in a deeper water program in 30 to 40 fow and finish off our catch. Thanks to a good crew we ended up taking 3rd place! Thanks to the crew at Jon's Tackle shop for putting on a great tournament. The salmon were spreadout this week causing catch numbers to go down. But they should start to re-group as the winds die down. The next two weeks we will be on the western end of the lake for the Niagara and Orleans Pro-Am tournaments. To start are annual quest to win the lake Ontario Challenge cup! We have been the most consistant team over the last 5 years,but still have not won!! If we finish 2nd again this year there going to start calling us the Buffalo Bills of lake Ontario!! Wish us luck.

Fishing Report 5/25/09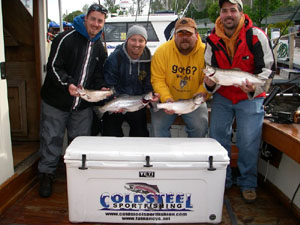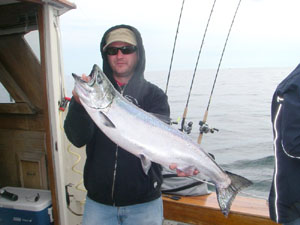 Fishing on Lake Ontario continues to be very good! Browns, Salmon, Steelies and now even the smallmouth are getting hard to keep off. The Browns are in 6 to 20 feet of water along most of the shorelines and along the buoys at the nuke plant in 30 to 50 fow. Smithwicks and Stingers off the boards and Stingers off the riggers. Now with the smallies starting to bite as well, triples aren't uncommon!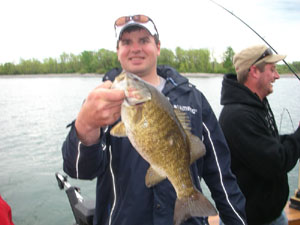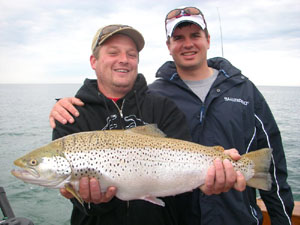 The Salmon have remained in the 75 to 250 ft range. Scattered from 35 ft to 110 down. Michigan Stingers in the regular size have been good on the higher fish and E' chip flashers with Atommik flies have worked well on the deeper fish. Run any colors you want as long as its green!!! Although in lower light conditions, white attractors have also worked. Steelhead have also been around in decent numbers with weighted surface spoons and 5 color cores taking fish. As usual red and orange have been best. We know economic times are tough, but if you can manage a trip.....fishing is very good!!!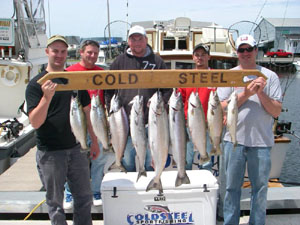 Fishing Report 5/16/09
First Tournament Wilson, NY Scotty Event
at 10:28pm on May 11th, 2009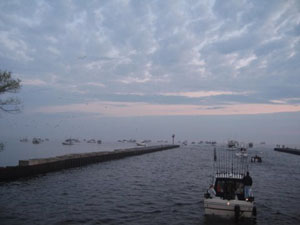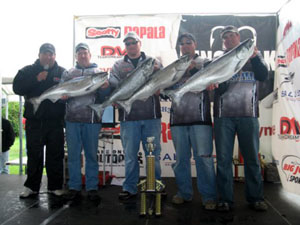 Just brought the boat back tonight from our first tournament. The 2nd Scotty event of the year out of the Wilson boatyard in Niagara county. After working hard to put a decent catch together on day 1 we were 15th out of 67 boats. After a big blow Saturday night, we rode the waves to a great catch on Sunday! We ended up with almost a 19lb avg for 5 Kings and the big box of the tourney on day 2. We took the lead and were looking good until one of the old veterans of the lake, Joe Toomey of Irish Thunder came in with a 26 1/2 lb salmon along with a few other nice ones to come back and beat us by less than 1 pound!! 2nd place isn't bad and at least it took probably the largest King on Ontario(so far) to beat us, and cost us almost 10K......UGH. A big thanks to my team, capt. Andy, Rob from Fat Nancy's, "Big fish" Casey Brisco, and Brandon who all did a great job and only lost 4 or 5 small fish in 4 days of good fishing!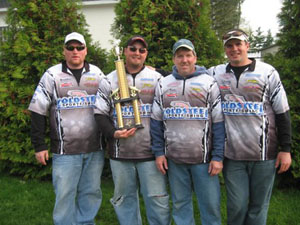 Back In Oswego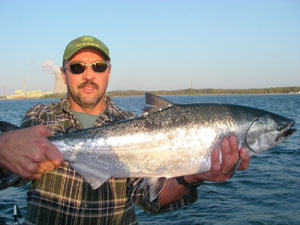 Feels like we're still fishing out of Wilson! Did our 1st charters after the Scotty tournament and were surprised to see how many Kings were around Oswego. We had steady action in 70 to 120 fow to the east of port. Attomik fly attractor combo's as well as standard Mich. tingers were taking fish from 25 to 60 down. We also had groups that wanted Browns and were succesful. But only smaller fish this week.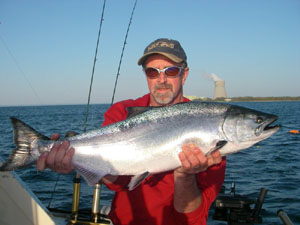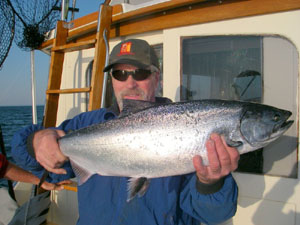 Fishing Report 4/30/09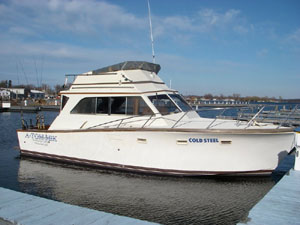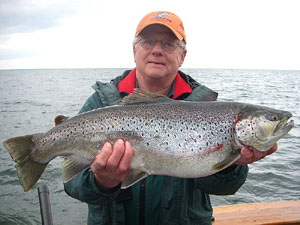 Been a great couple of weeks!! Put the big boat in, caught lots of nice browns, a few rainbows and I can't believe...5 Atlantics on our first trip!!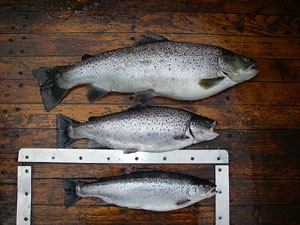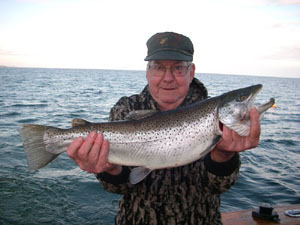 River steelhead fishing has been fantastic, and rock steady. Catching fish from the 1st hole to the last. Should last for another 10 days at least. Currently the fish are spread throughout the entire river, top to bottom!!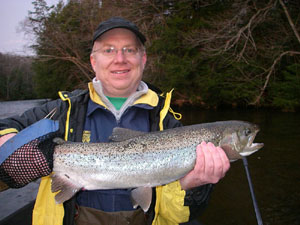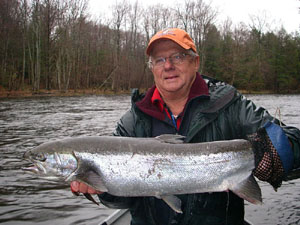 Congratulations to Dave Sullivan and his team for winning the 1st big money Scotty event last weekend! I might have to call him for a loan!! Also Congrats to Kevin,Brett, Eric,Kevin, Casey, Tom, Scotty etc. We will see everyone for round 2 in Wilson shortly!!!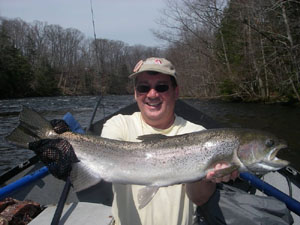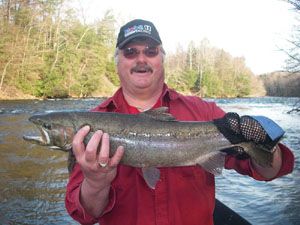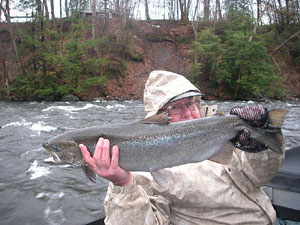 Fishing Report 4/5/09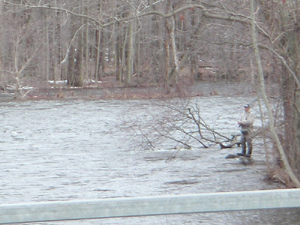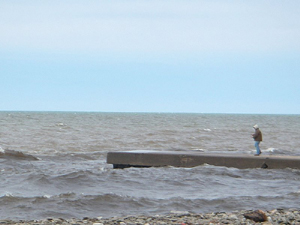 A "little" rain and snow and sleet has made for some very high water over the weekend with more rain in the forecast! The water release is now at 3800 cfs until at least Monday night(stay tuned) Actual flow is around 4700 at pineville. Most of the smaller creeks have a few fish and were fishable by mid day sunday.
It will be a day by day watch with more rain coming. Above the salmon river resevoir got as much snow as rain which helped. There are a few fish being caught, but its tough. Stay tuned
Fishing Report 3/31/09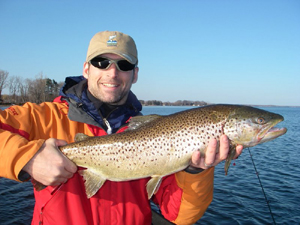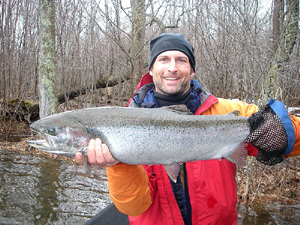 The water release changed to 1800 on sunday night and actual flow peaked at just over 3000cfs at pineville before starting down. After warm and rainy weather over the weekend, temps have hit 30 and we've had a few snow flurries monday morning. However it is suspose to warm right back up. Fishing was good over the weekend. We caught Browns along the lakeshore on saturday morning, then returned to the river for a few steelhead. On Sunday we took a long float on the river catching steelhead and browns, that were spread throughout. If your coming up, monitor the water report carefully.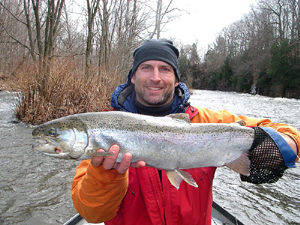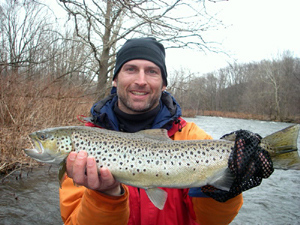 Fishing Report 3/8/09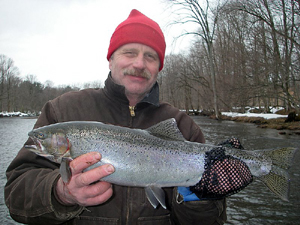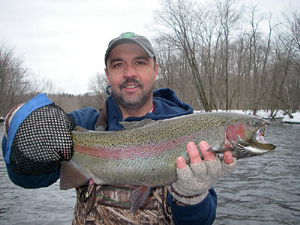 The first full weekend in March and the parking lots were full along the Salmon river. A thaw was underway with temps in the 40's and rain,heavy at times. The fishing was all over the map, which is normal for March. The river see's the last of the fresh fish entering during the month, as well as spawning and eventually post spawn fish. The water release rose from 750 cfs-
(http://www.h2oline.com/365123.asp) to 1150 cfs. The actual flow with some very cold run off was 1500 cfs and rising- (http://waterdata.usgs.gov/nwis/uv/?site_no=04250200&PARAmeter_cd=00065,00060)
More rain and then a slight cool down is in the forecast. There is still a deep snow pack above the resovoir on the Tug hill plateau and water levels should remain as is or higher. The fish are very moody this time of year, so you shouldn't hesitate to change your presentation if your not hooking up. Also don't be afraid to throw a couple of casts just about anywhere this time of year.
With water levels rising and spawning activity increasing fish will be moving toward the hatchery,Trout & Orwell brooks, as well as many of the big Salmon's diversions. Stay Tuned, conditions will be changing!!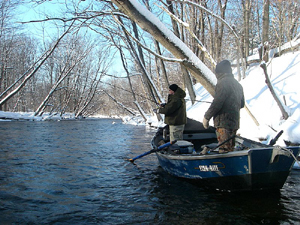 Fishing Report 2/5/09

The fishing has remained strong this winter despite cold temps and snowy weather. Good water flow, combined with light fishing pressure on most parts of the river has helped. The latest water report is 750 cfs until unday night. This past week despite starting some mornings well below zero fishing was still good. We not only caught Steelhead(a few big ones!) but allot of Browns as well. We did spot some deer along the river that were struggling to move through the deep snows. Lets hope for a thaw soon!! The rest of the report is much the same as last time

Large numbers of wintering steelhead have gathered in the large pools in the upper river and most of the river has some wintering fish as well as fresh fish continuing to enter and run the river!! It seems even when the weather is extremely cold or snowy we are still having good days with numerous hook-ups. We're sure to be getting breaks in the weather soon, which should make for even better fishing. Blue and white egg sacs have been best. This seems to be the year of the Coho! I have caught or seen Coho's this season in Sept., Oct., Nov., Dec., and now January!!! I will really be surprised if we see any in February?? We will let you know.
January to early May driftboat trips for steelies and Browns, May to July lake Ontario Brown trout action, July to Sept. Kings on the lake, Fall King and Steelhead river action! Its never to early to book a prime date. Give us a call to discuss details today!!!
Tight Lines,
Capt. Tom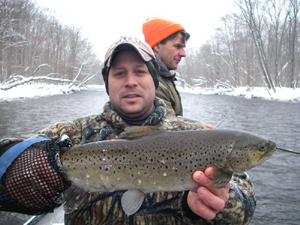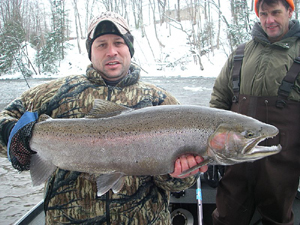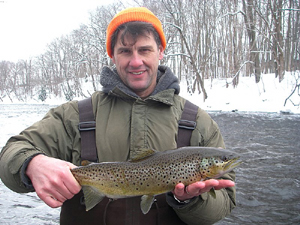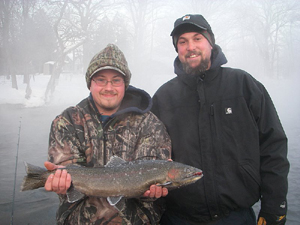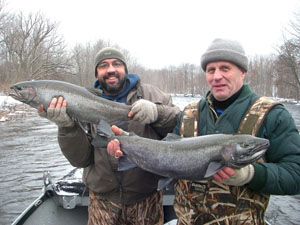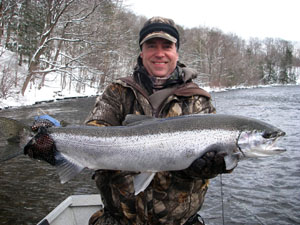 Fishing Report 1/25/09

The current water report is 500 cfs until Monday night. The guage at Pineville is reading 624 cfs. After a nice but short warm up to 40's temps have retreated back to 0' overnights and 20's during the day and predicted to be near the same this week. New lake effect snow has been hitting north of us today but will eventually drop south!! The good news is the fishing remains strong. Large numbers of wintering steelhead have gathered in the large pools in the upper river and most of the river has some wintering fish as well as fresh fish continuing to enter and run the river!! It seems even when the weather is extremely cold or snowy we are still having good days with numerous hook-ups. We're sure to be getting breaks in the weather soon, which should make for even better fishing. Blue and white egg sacs have been best. This seems to be the year of the Coho! I have caught or seen Coho's this season in Sept., Oct., Nov., Dec., and now January!!! I will really be surprised if we see any in February?? We will let you know.
January to early May driftboat trips for steelies and Browns, May to July lake Ontario Brown trout action, July to Sept. Kings on the lake, Fall King and Steelhead river action! Its never to early to book a prime date. Give us a call to discuss details today!!!
Tight Lines,
Capt. Tom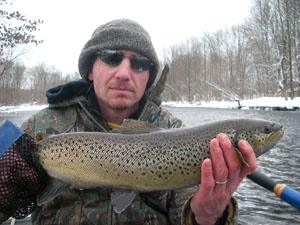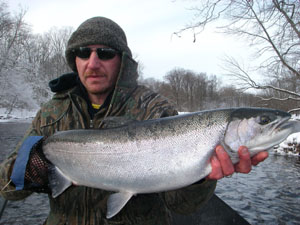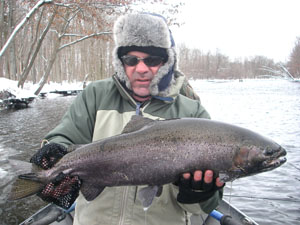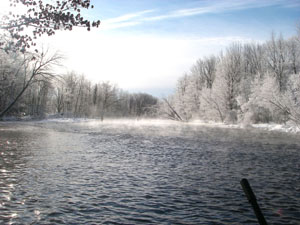 A look back at 2008 and the 2009 forecast
Well 2008 was a rollercoaster year! By far our steadiest fishing the last few years has been our salmon river Steelhead fishing. Between the large numbers of steelies and covering 5 to 7 miles of river with our driftboat, most trips have brought nothing but smilesto our customers. A recent trip even started at 14 below zero and we still managed a good day. With warmer days ahead, we look forward to the rest of this season to be great. Book from now until early May.
The 2008 lake charter season was a battle against the weather. Constantly changing weather and strange prevailing winds, kept the fish either on the move, or scattered! The days when it all came together was a bloodbath! The rest of the days were a matter of being persistant and taking advantage of your bites.
Starting with Brown trout in the spring strange prevailing easterly winds took the bulk of our young 2 to 5 pound Browns to the north and east of oswego, chasing schools of bait that were drifting with the currents. Days that we stayed near home we would work hard to catch 4 to 10 fish in the 4 to 10 pound range. Nice browns but low numbers. Days that we made a long run to the northeast(over 20 miles) we caught all the 2 to 5lbers you wanted with an occasional bigger fish thrown in.
By July not only were salmon starting to show up, but it seemed like all of our Browns returned, Taking up residence in their normal summer haunts in 70 to 100 feet of water, from Oswego east into Mexico bay. Its amazing how quickly things change in the big lake but after a tough spring it seemed like up until mid August you could head northeast to 90 feet of water and troll east and catch Browns all the way down the line!!! Add in some Chrome Kingsand Steelies and July was a great month!
August-September on the east end means one thing......staging adult King salmon, looking for their home rivers. Once again strange weather and currents on Big O made it feast or famine fishing again. To give you an example of what goes on out there lets take a look at water temps. When Salmon fishing we are looking for 40 to 50 degree water for the most part. During the 08' season these temps were constantly fluctuating. One day you had 40 degrees down 100 ft over 150 ft of water. A day or two later you had 40 down 20 ft over 45 ft of water. These conditions keep the fish scattered and moody! Believe me its as bad for the captain as it is for the customer to catch 2 fish one trip and then 15 on another, but its the nature of the beast on a big lake. Kind of the bigger risk/bigger reward theory. So that said, we had some great salmon days in 08, but we had some challenging ones as well. We hope many of you will re- join us in 09 and look towards steadier fishing.
September -November river fishing- After 22 years guiding on the Salmon river this time of year has pretty much come down to my regulars re-booking their days. Whether its streamside for big Kings in the Douglaston salmon run, or drift boating for chrome Steelhead this is a great time of year!!
Cool mornings usually followed by warm afternoons, along with beautiful fall foliage make for great days on the water. There are always a few openings, so newbies can always give us a call.
Obviously we are in tough economic times for many and we hope you can find it in your budget to join us in 09' We held our prices last year despite skyrocketing fuel costs. And now with prices leveling off we will be able to keep the same prices again this year. If it would help anyone to make a lake trip we would allow you to add a 5th or 6th person at no charge.
I am attaching a few pics from the season and hope to hear from all of you soon. If you can't make a trip in 09' I hope you drop us a line anyway and stay in touch.
Fishing Report-Thanksgiving Day-2008
Although the weather has turned cold and snowy....the fishing has remained "Red Hot"!!
Steelhead are spread throughout the river, as well as some late run Coho salmon. The Brown trout are coming off the spawn and starting to bite well as predicted. Even a few deer can't resist the river!! With allot of rain and snow the water levels should remain at good levels. The weather is predicted to remain wintry but temps will be moderate mid 20's to 30's. With the amount of fish in the river, plugs, sacs and flies are all working. With hunting and holidays crowds are also starting to diminish.
See you on the water,
Tom
Fishing Report 11/12/08

Steelhead,steelhead,steelhead!!

The fall/winter steelhead run is in full swing and it looks like another banner year!!! With colder temps starting to slow them down and additional fish constantly entering the river. Steelhead are now literally spread through the entire river! Fly fishermen, float fishermen, bottom bouncers and pluggers are all catching fish.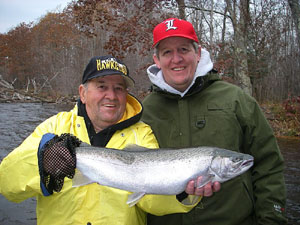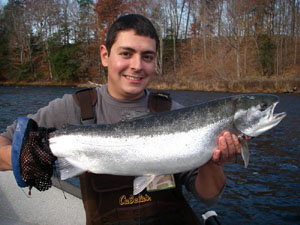 A good number of Brown trout are also in the river and will be much more aggressive when done spawning over the next few weeks. Blue and white egg sacs have worked best for us. The upcoming month of December is my personal favorite for steelies with the crowds dropping way off and steelhead coming in a variety of colors from chrome silver to there traditional rainbow spawning phase, rosy gill plates and all!! Good December dates are still available so give us a call
Tom
315-298-2500-home
315-391-8079-cell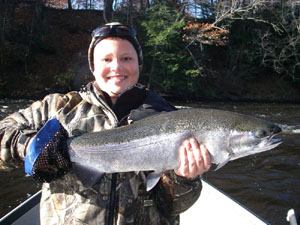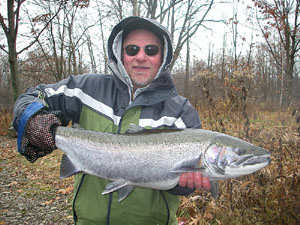 Fishing Report 10/29/08

The Salmon numbers are quickly dwindling but there are a few late runs through the river. We received a lot of rain and now snow the last 7 days. The resulting high water(1500 cfs today at pineville) should take what looks like good numbers of steelhead and Browns that were reluctant to run the river in the lower flows and spread them throughout the river. The weather is supposed to moderate again this week making this a great time to fish. Remember "Match the hatch" use egg pattern flies or big juicy egg sacs! You won't be disappointed
Tom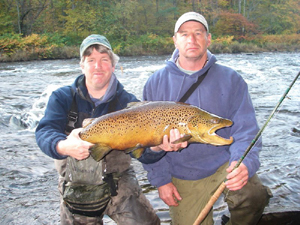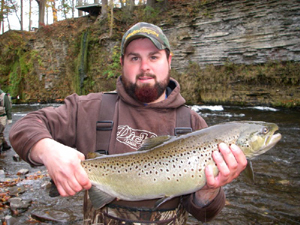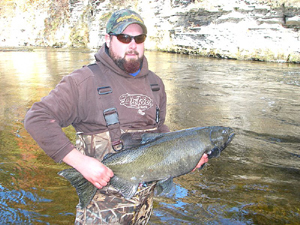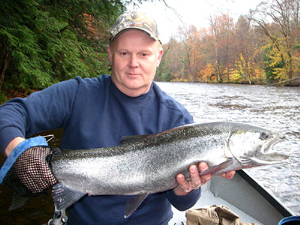 Fishing Report 8/13/08
Despite slower than normal salmon fishing (although it was picking up with big fish present) the Brown trout fishing has been awesome. Limit catches have been the norm, with fish from 4 to 12lbs. Some fish are starting to look like they are getting ready for the river. But new brighter fish are appearing daily. 80 to 120 feet of water anywhere east of Oswego is good, Michigan stinger spoons in Goby patterns or anything green(Nbk,diehard, etc)have been working very well. Find the hot depth of the day, and then get your riggers,dipseys and coppers within 10 feet of the bottom. For those who are interested call now for remaining salmon dates. The big ones are coming!!!!!!!!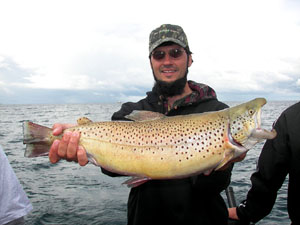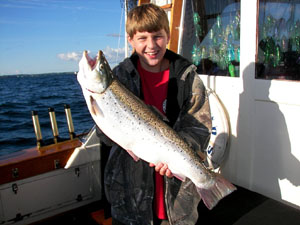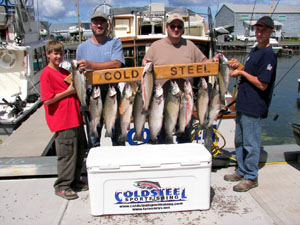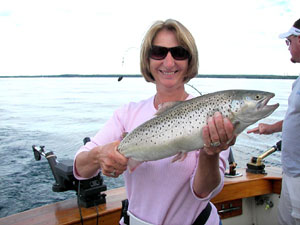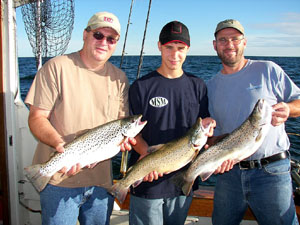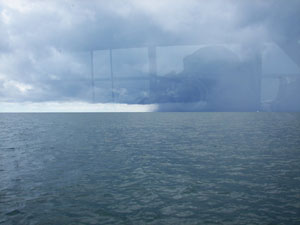 Fishing Report 7/24/08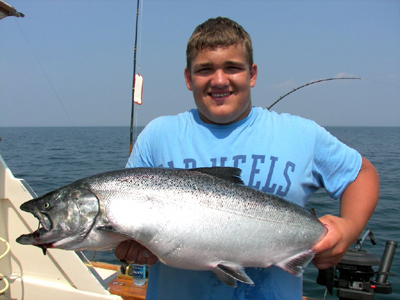 Fishing has been like a rollercoaster lately with Salmon showing up then disappearing again. The Brown trout have set up in their deeper water haunts in good numbers, but the bite has been feast or famine with changing water temperatures. Salmon should start showing up and staying in good numbers as their spawning urges start drawing them toward the rivers. Still a few August & September lake dates available.
Give us a call
Tom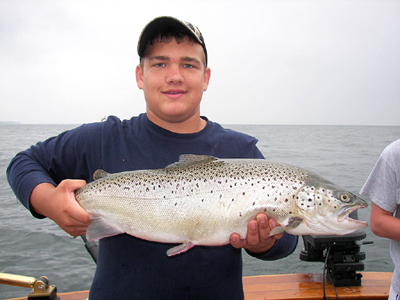 6/9/08

Sorry for the delay in fishing reports, late May & early June were the start of "tournament time" and team Cold steel/A-tom-mik fly/Fat Nancy's was off to the western end of lake Ontario for the first two legs(of 4) of the lake Ontario challenge cup series. Week one was the 24th annual Skip Hartman Niagara county pro-am. With a field of 46 very good pro boats we had a big hill to climb. Luckily fishing was awesome with probably 1/2 the salmon in the lake swimming around in the green pockets of Niagara River water which had set up perfectly from the mouth to the Somerset power plant. Feeling that most boats would catch a lot of fish, we decided to actually pull hot rigs out of the water that were catching tons of small kings and instead troll with a limited amount of deep water rigs that would have a better chance of producing bigger fish. This strategy proved to be nerve racking.

Day 1

Although we were slowly picking away at some nice fish, reports started coming in of lots of boats limiting out and going in by 8 and 9 in the morning. By that time we had 7 or 8 nice fish and weren't worried about finishing off our box! At 10am we had 10 fish and were getting ready to finish up when the "lull" set in! Still with 10 fish at 11:30 that nervous feeling you usually get in tournaments started to set in and we made a decision to put our full spread back out and catch any fish we could to box out. Another 1/2 hour and still no bites. Even better, fish were not even showing up on the fish finder!! We decided to slip back into the shallower water and there they were. Four different fish on the finder, get ready guys here we go........nothing, not a rod moved. Do we keep going towards port? buying more trolling time before we have to run in. Or turn around hoping its a direction thing? After marking 3 more fish we decided to turn around and go over the targets in the opposite direction. Within minutes we knew we had made the right decision, rods started to fly again and two nice salmon in the 9 to 12lb class came into the boat. With the cooler looking packed we knew it had been a great day with a chance of being atop the leader board.

Day 2

Sure enough we were in the lead by 20 points. But there were many friendly competitors willing to remind us that many day 1 leaders had not faired so well in the last few Niagara pro-am's!! We knew they were telling the truth, but couldn't believe that being down by 20 points was a better position. We started day 2 by looking in shallow water near where we had been on day 1. As starting time arrived we weren't happy with our picture and decided to go deeper. Starting in a 150' of water we set lines and trolled. With not much going on we turned out for deeper water and the next hour was what most fisherman dream of. Rods started flying and fish seemed to be coming over the side of the boats in all directions!! The action seemed only to stop when there were no lines left in the water. Landing a bunch of fish early really gave us a chance to go to our bigger fish program. However no sooner did we go to a few deep copper rods and downriggers then our next 2 fish were small 4 to 5lbers. With plenty of time left we dropped the lines even further and headed to deeper water. Before long another strike and yet another 5 pound fish. Looked like our big fish "luck" from day one was turning against us! Taking a troll back towards shore didn't last long when another rod fired and a nice 12lb king came aboard to finish out our limit. One of strengths during tournaments is being able to closely judge how many points we have. Heading in we guessed around 200 to 208. We thought that would keep us in the top three with a chance at 1st. Luckily when we had that big early morning flurry the fish were coming in so fast that we had misjudged many of them. Even better it was in our favor!! Our cooler weighed in with over 230 points and we would definitely hold on to first place!!

The Niagara pro am has a long history and it felt great to ad our name to the winners list. It also gave us the lead in the "Best of the West cup" going into Orleans county the following week. And most important to us the early lead in the "Lake Ontario challenge cup" but with a long way to go!!

Week 2 The Orleans county Pro Am

After a couple of days off with the families, we headed back out west to run a couple of charters and get ready for the 2nd leg of the series. It only took about 20 minutes to figure out "BIG" changes had taken place! The 40 degree water down 120' was now down 20', and the tight concentrations of salmon were now spread out over the entire western half of the lake!! Week one was who would catch the bigger fish. This week would see who could catch the most fish of any size. Day 1 we had some decent action but took our turn with undersize fish. 14" to 17" juvenile salmon and 21" just under rainbows took us on a rollercoaster throughout the day. We ended up in 650' of water with 4 legal fish for the day. This put us in 14th place about a fish out of 7th.

Day 2 started off decent again with some steelies. Some legal, some not, and some lost! As that dried up we slowly worked our way deeper landing a keeper once in awhile between undersized fish. Late in the day we lost a 12lb king behind the boat(Ugh) and landed a small coho to finish with 6 fish for the day. Reports were that a few boats ahead of us on day one had struggled, so we had a chance to move up a little. At the weigh in we jumped up to tenth. We were a little disappointed not to have done better, but knew with a strong field of boats grabbing another top ten finish isn't bad. After a long wait of tabulating scores we found out that we had indeed captured the West cup, and retained a lead heading into the 2nd leg of the Lake Ontario challenge cup!!!

Stay tuned to our tournament page as we fish the Oswego pro am on July 12 and 13. And the Wayne co. pro am on July 19 and 20th


Fishing Report 5/12/08
Weather, weather, weather!!!
Brown trout along the shorelines have been up & down with very changeable weather conditions. Common northwest winds have been replaced with a lot of east and south winds, sometimes creating crystal clear water conditions. Luckily when browns have been finicky some steelies and salmon have started to move in offshore.
Unfortunately for us, but fortunate for you....we have very good dates still available!!
Tom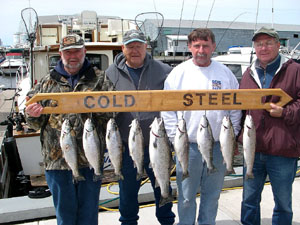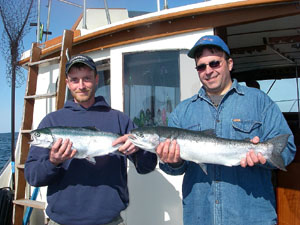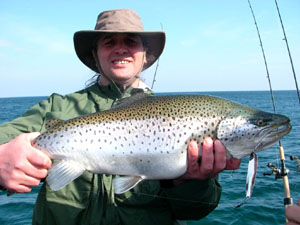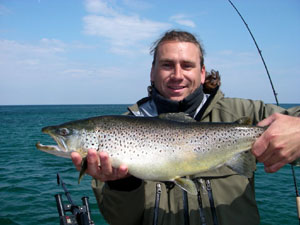 Fishing Report 5/7/08
Steelies are still in the river, but should be winding down this week. A few will still probably be around even longer! Conditions have been tough on the lake for browns with south winds, little rain and sunny weather. This has made the water very clear. We are still picking away though and catching some very nice fish. When conditions have been better signs point to very good fishing!
Tom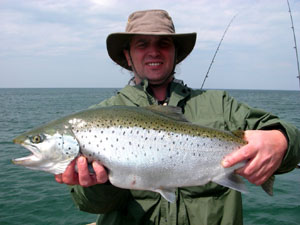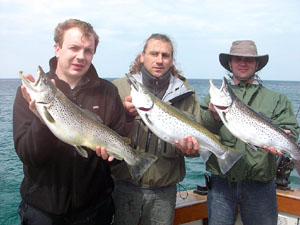 April 26th mini-report
Hooked up 17 steelies in only 6 hours this morning.
April 15th to 25th 2008
As the high water slowly receded & water temps warmed, a typical variety of hot river steelhead fishing, great shoreline brown trout fishing and even a few bonus monster smallmouths thrown in for good measure.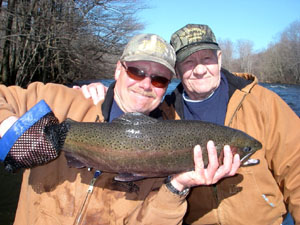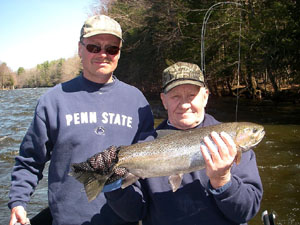 Mike Panak & his 81 yr old father enjoy terrific steelhead fishing on a warm April day!!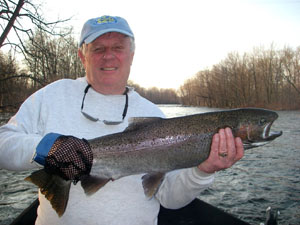 Larry caught a nice steelie and a beautiful brown, while buddy Jim caught a couple of nice steelhead of his own.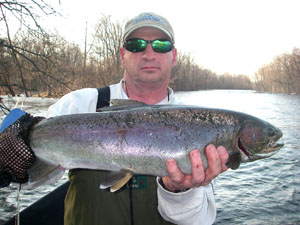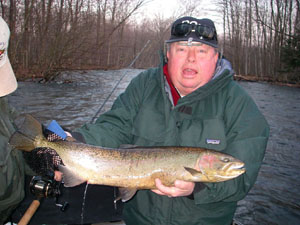 Jeff Mendall and buddy Carl enjoy a short late afternoon run. Despite high water, with the river to ourselves we went 6 for 6 in 2 hours!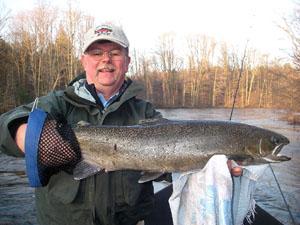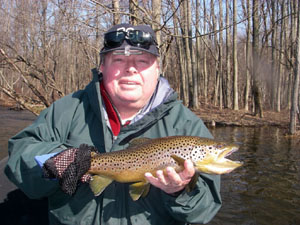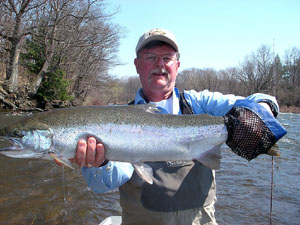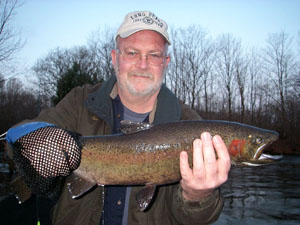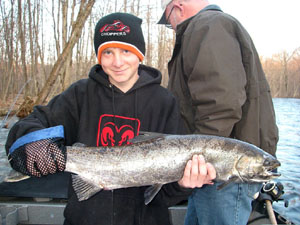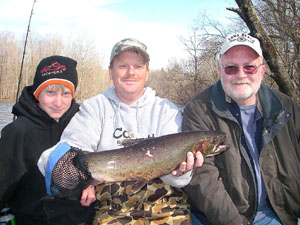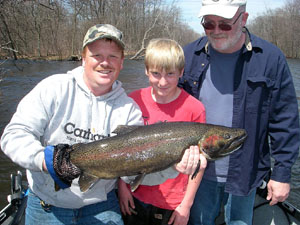 Joe Daleski brought up the younger and older generations for a real family outing on the river!! This big male steelhead didn't disappoint!!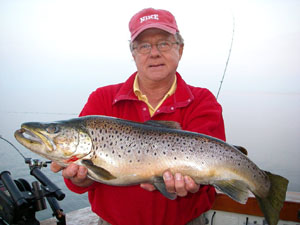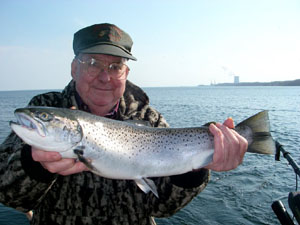 Ron Gougher & 80yr old friend Bob made their annual spring trip for steelies and Browns. Lets just say neither the river or lake disappointed!!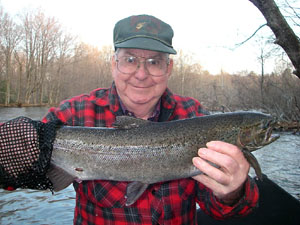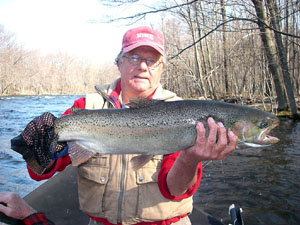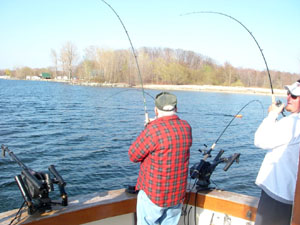 Triple!! Even the mate had to grab a rod!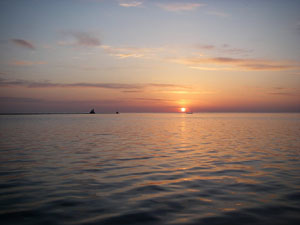 End to another great day!!!!!!!
4/12/08
Niagara Falls? No, Salmon River Falls. These people are hoping the fast rising water will rise no more!
Altmar Bridge, Salmon river 4/12/08 5600cfs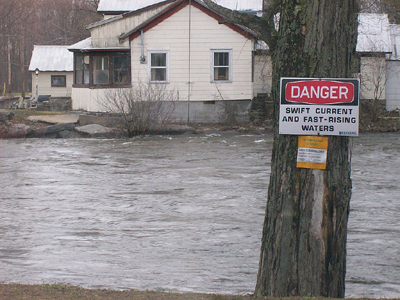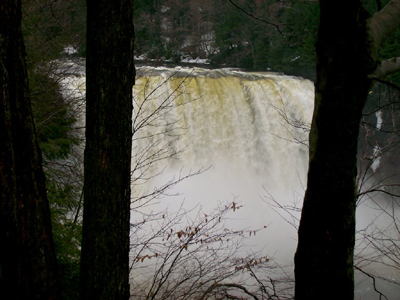 We've left the river and started Lake Ontario charters. Below are a few browns picked up on 4/12/08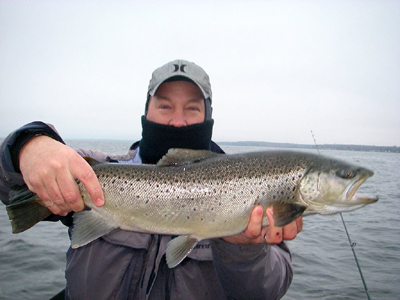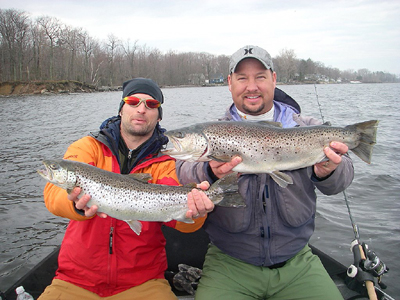 We even landed a smallmouth. Keep eating buddy!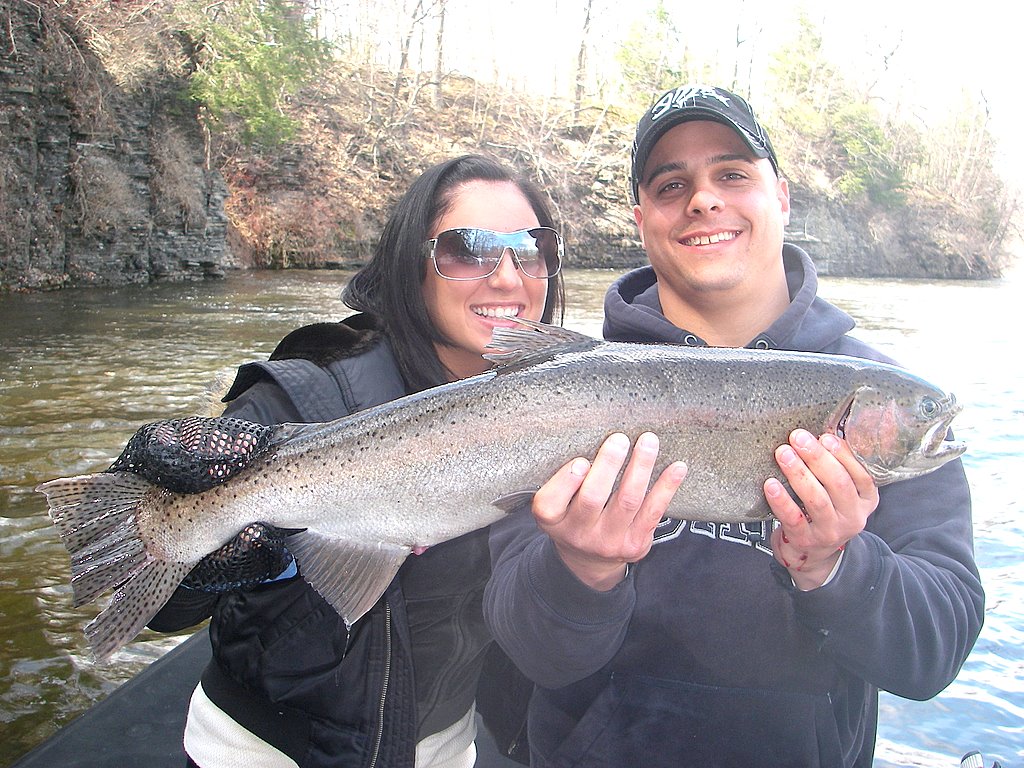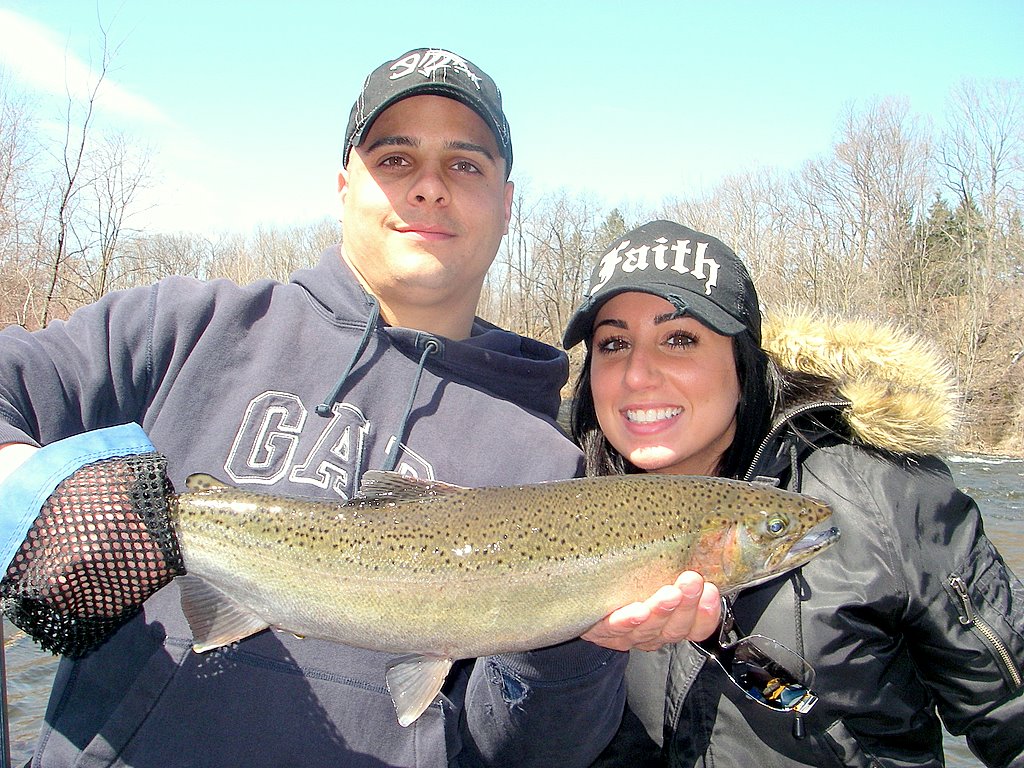 4/5/08
Rob & Stephanie from Long Island started slow but finished with bang. And yes as usual the girl(Steph) outfished the guy!!! Water was high and rising as there is still plenty of snow to melt. Steelhead and Browns are in the river, but the main dropback run is still to come.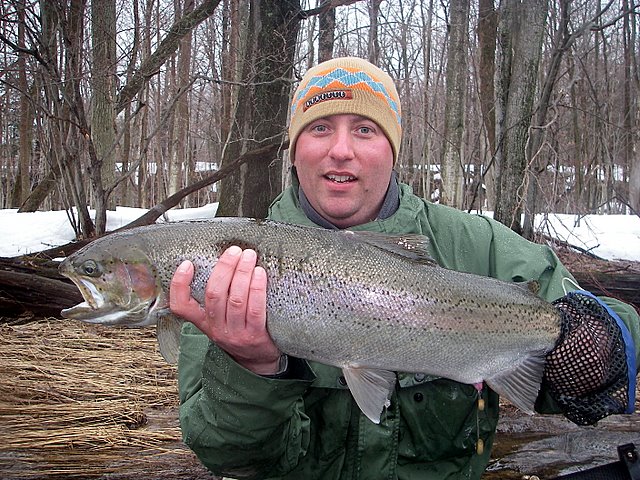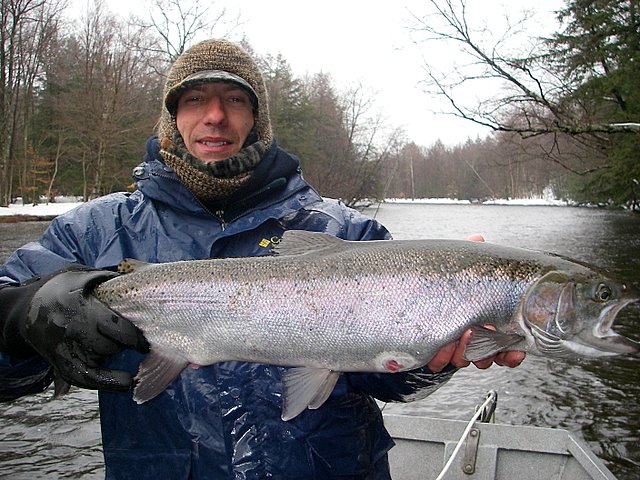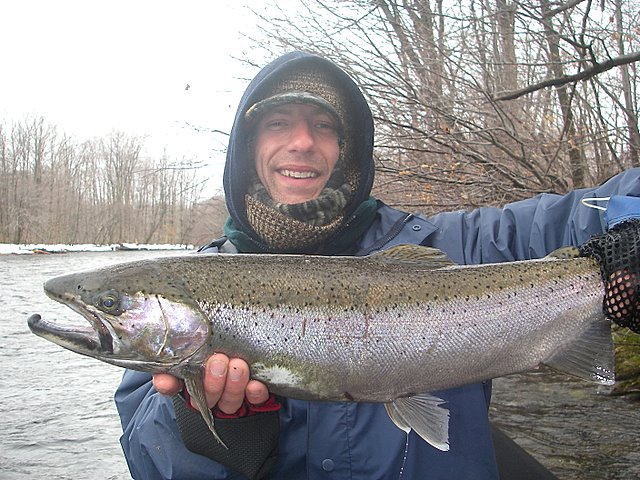 4/1/08
The brother team of Bill & Anthony Matyi from NJ ended March with a bang. Despite a cold rainy day with the water on the rise, the steelies were cooperative all day. Still a mix of pre-spawn, spawn & spawned out fish throughout the river. Blue sacs were the ticket again, and the brothers are still arguing over who got the biggest fish! Call now for a great last minute river trip before they're gone!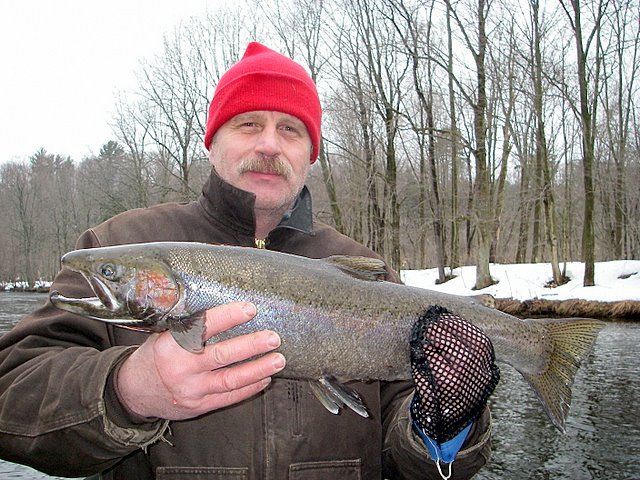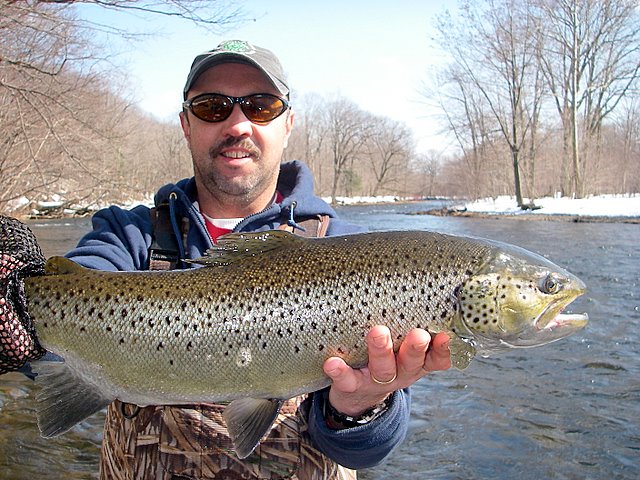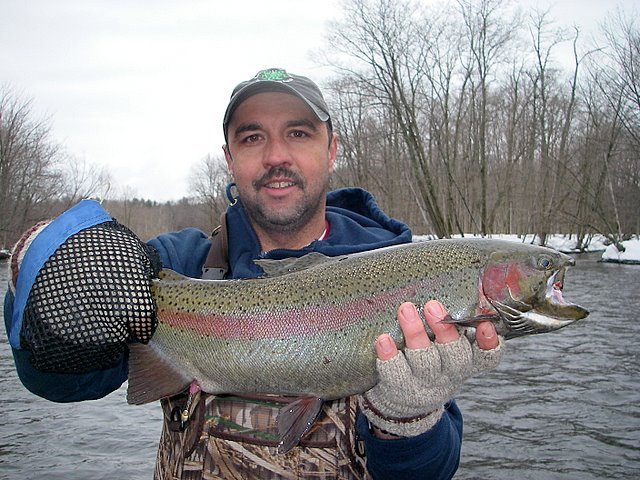 3/29/08
As usual March conditions change quickly. Water flows went from 1500cfs ith runoff, to 650cfs overnight. With a 38 degree rain warming the waters Larry & Fran from Ausable Forks NY enjoyed steady Steelhead action from start to finish, with a bonus Brown at the end. Water was scheduled to rise again to around 900 cfs. We have some April dates left open and fishing should be excellent!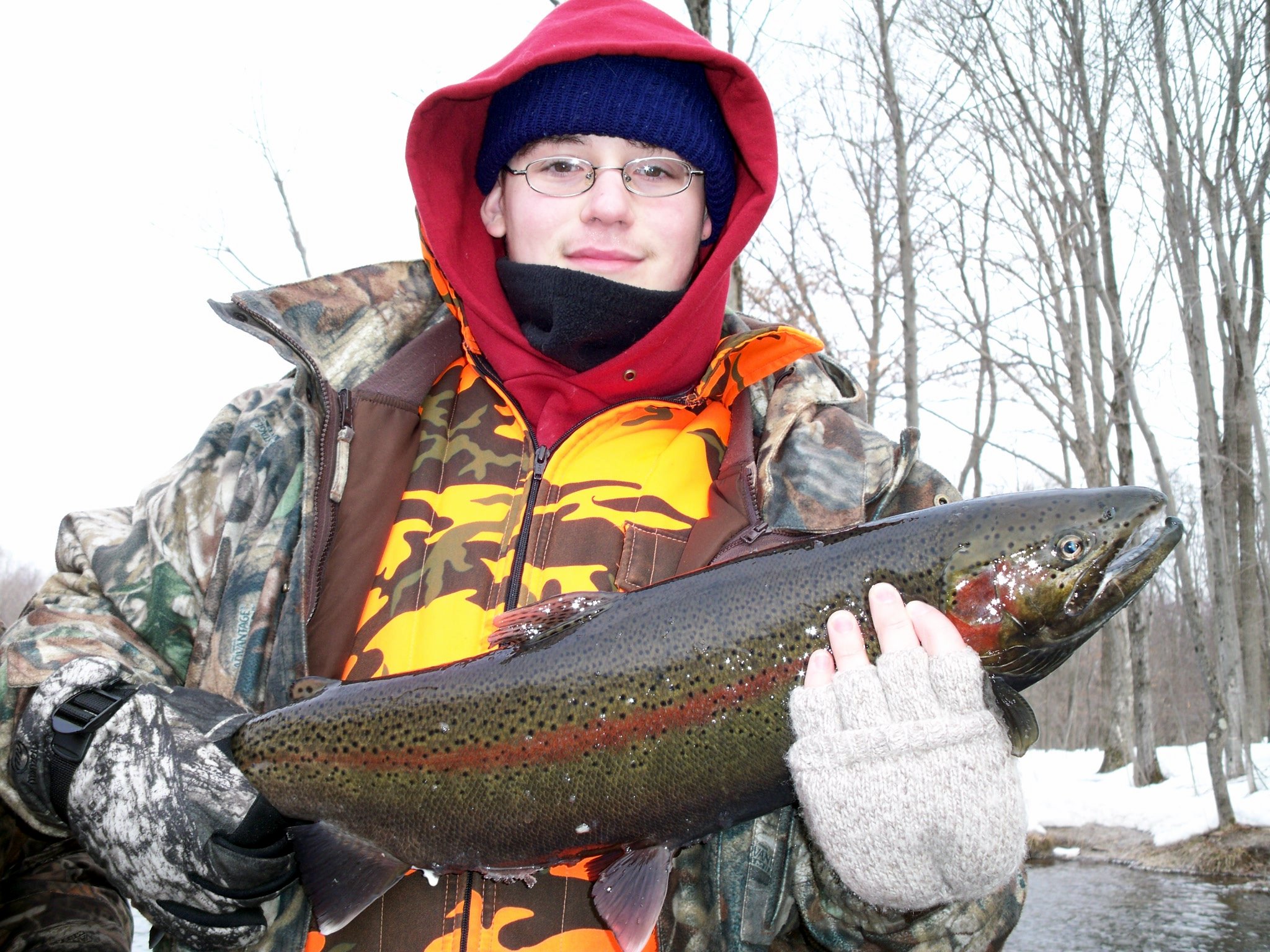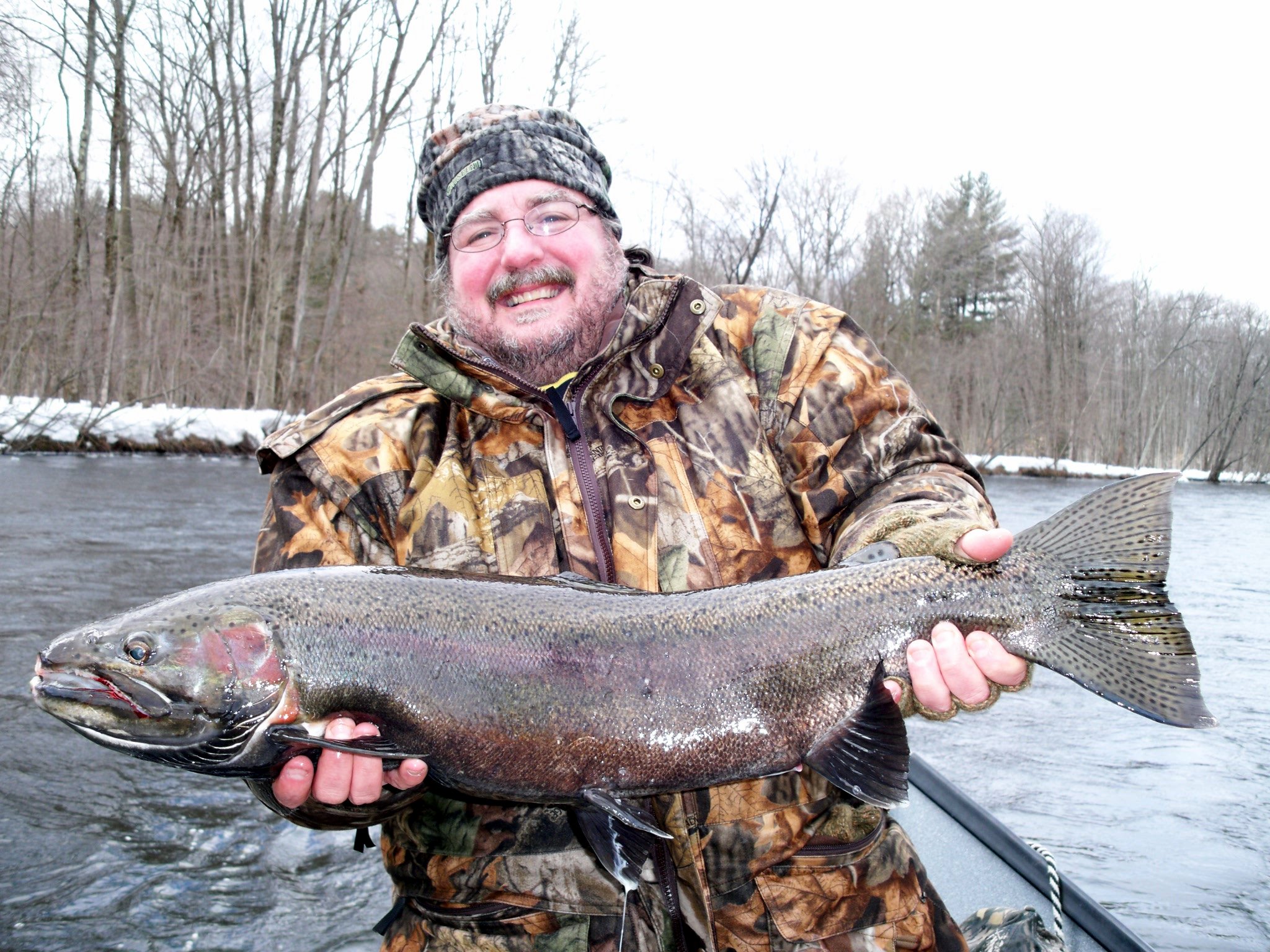 3/26/08
Even with the higher flows the last few weeks fishing has remained good. Its March a time of transition and the fish have showed signs of spawning. But, they are still cooperative most days. Mitch brought his son Zach up to catch his first Steelhead, mission accomplished! Many times over in fact! Though Dad did get the biggest! -Capt. Andy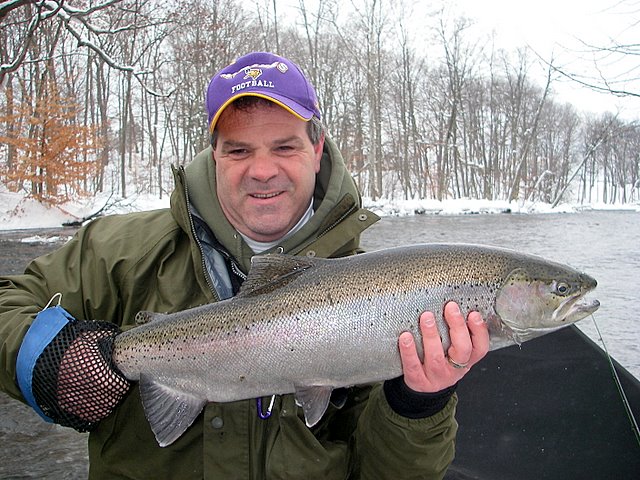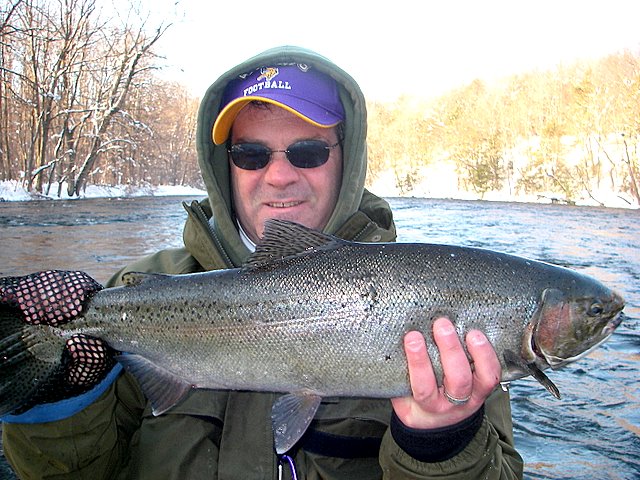 2/25/08
After a great week of fishing in early February, Gregg Gibbs fom NJ couldn't resist another day of steelheading before he got bogged down at work this spring. Not only did Greg get another good day but even the weather cooperated with temps above freezing and plenty of sunshine!! Oh yea, & fish!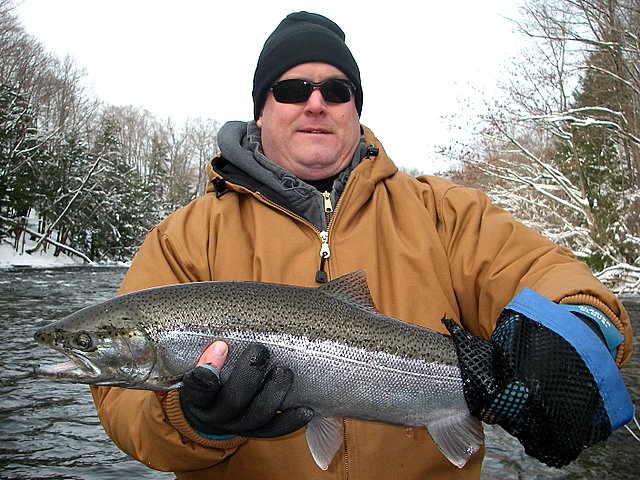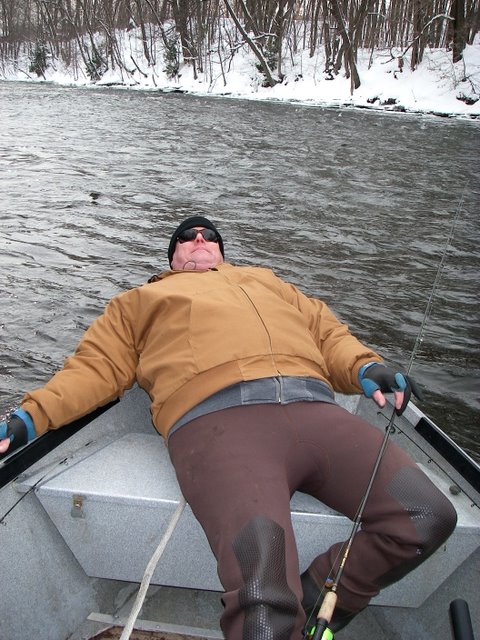 2/23/08
Taking a rest on the driftboat after landing a fresh February steelie. Action is picking up as temps are in the high 20's and low 30's.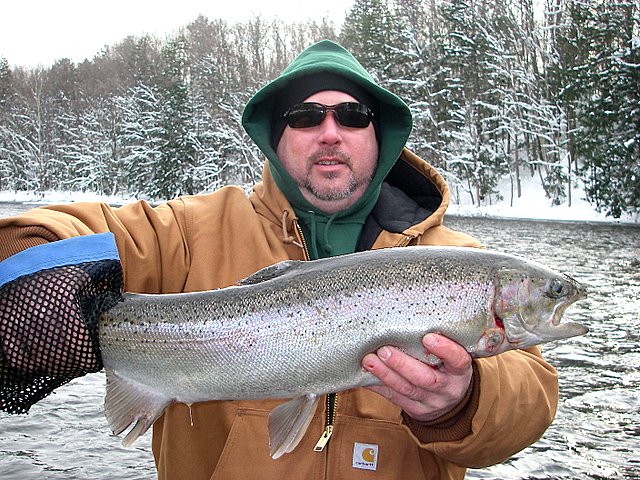 2/19/08
Good day of Steelhead fishing wtih Butch & Corey from NJ on Sunday. Several nice steelies landed, but we lost more battles then we won! Blue & Pink egg sacs were the ticket from Pineville to the compactor. Water was running around 950 cfs with runoff but we even had slush for an hour in the middle of the day under a strong cold wind. A lot of rain today so river may be on the rise again.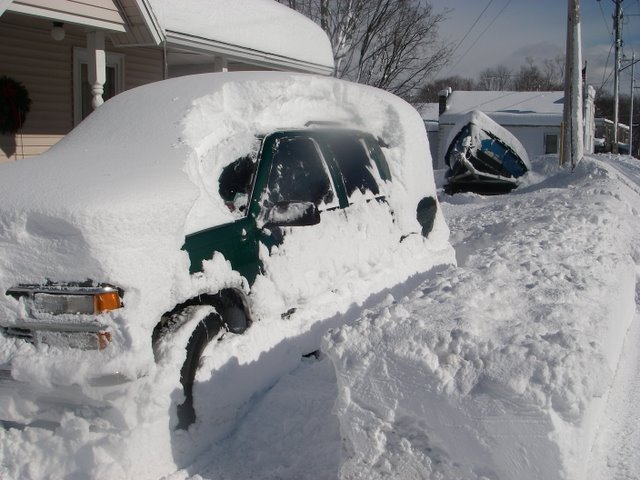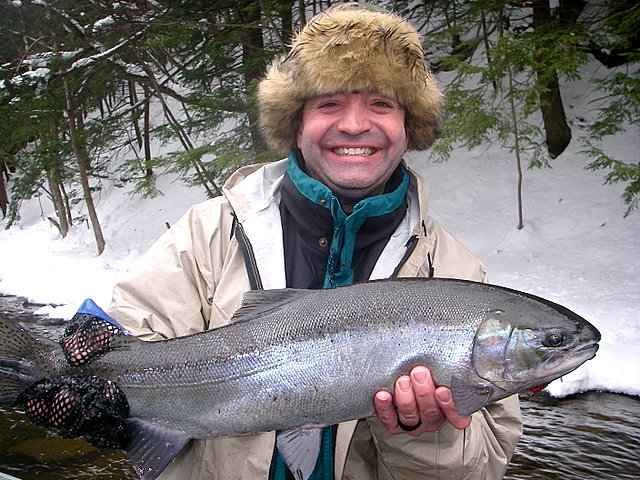 FISHING REPORT 2/16/08
An average February snow storm doesn't hinder the fishing.
Still lots of steelies active in the river.
New Winter Driftboat Rule: The guy who catches the fewest fish has to shovel out the next morning.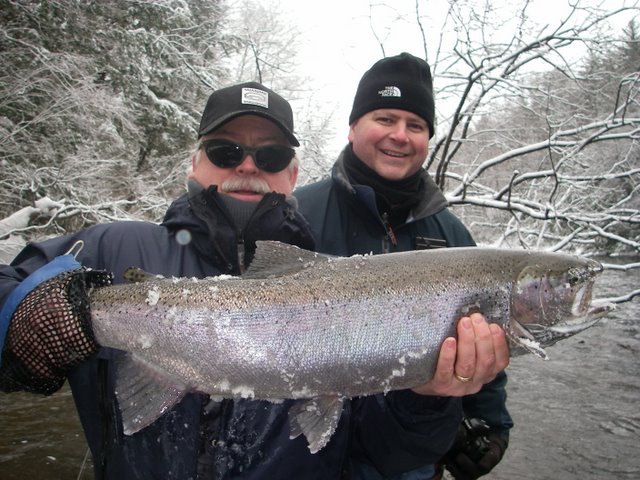 FISHING REPORT 2/11/08
There have been a lot of nice steelies like this in the river. After some warming and a lot of rain the river went over 2000cfs but is receding steadily.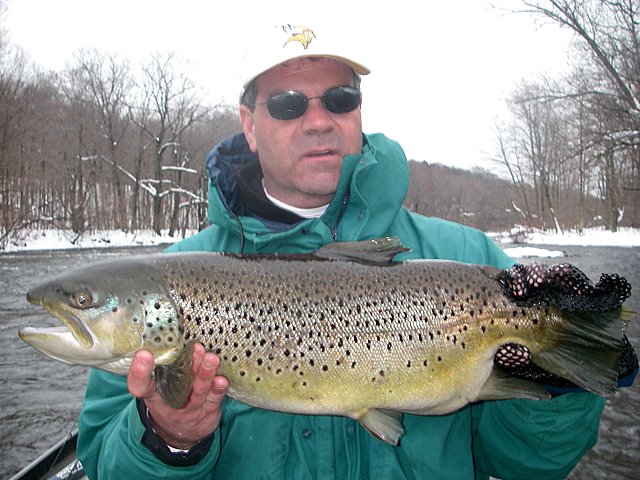 FISHING REPORT 2/7/08
With a new batch of snow, we'll be shoveling out for a day. But after a lot of action last weekend and warmer temps forecasted for the first part of this weekend, the fishing should pick up again. Aside from steelies we picked up two winter browns this past weekend.
ulaski, trophy, drift boat, charter, ser
P.O. Box 154 Altmar, NY 13302
(315) 298-2500-Home
(315)-391-8079-Boat
[email protected]